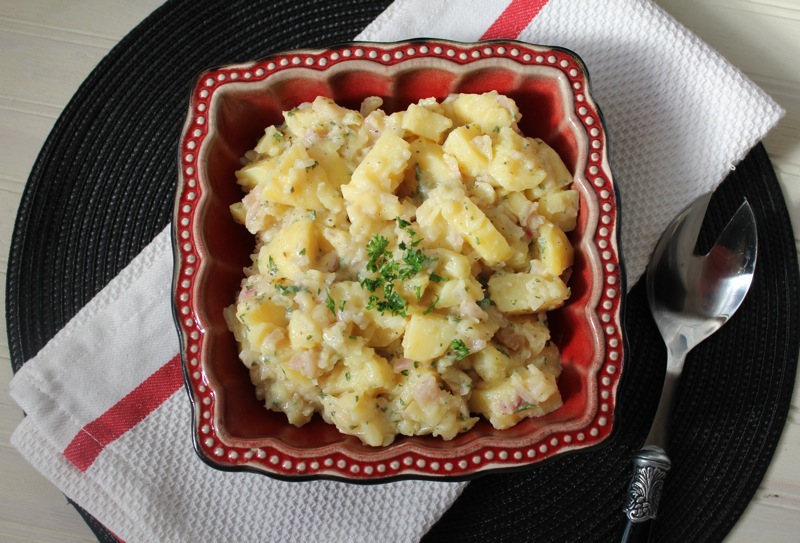 I have always been aware of French potato salad, hot German potato salad and good old American potato salad.  But Austrian potato salad is a new one to me.      I know now that Wolfgang Puck has a wonderful recipe for warm Austrian potato salad.  I found this particular recipe because I could not sleep.  Sometimes we insomniacs get up in the middle of the night to read in the hopes that it will lull us back into sleep.  I finished the last 20 pages of the novel I was reading and still wasn't tired.  There was a stack of  old Cooks Illustrated magazines sitting on my book shelf, so I dragged them out hoping that another half hour of perusing their pages would do the trick and send me back to bed.  I found the recipe for this potato salad and became intrigued, as I always am by any potato recipe.  But the question that nagged at me was – "What makes Austrian potato salad different from German potato salad?"  Or American for that matter?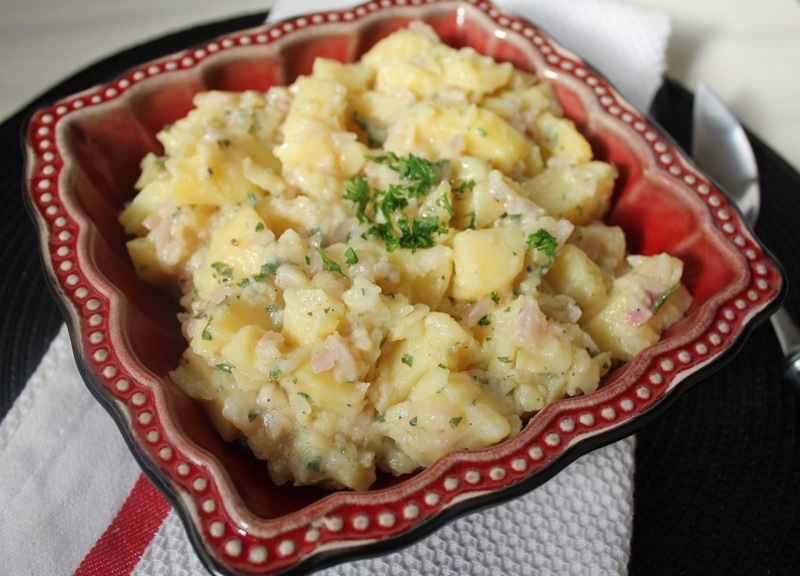 The difference is American potato salad is mayonnaise-based.  German potato salad has bacon in it.  Austrian potato salad is lighter; using very little fat.  Instead it uses the starch from the potatoes by mashing a few chunks into chicken broth to form a thick and velvety dressing.  It still has the tang of vinegar and a crunch with cornichons and diced red onions.  Unfortunately, when I made it the next day I did not have cornichons.  So I substituted the pickled red onions that I had made in my previous post.  Also instead of chives, I used parsley.  The dish is forgiving of these substitutions.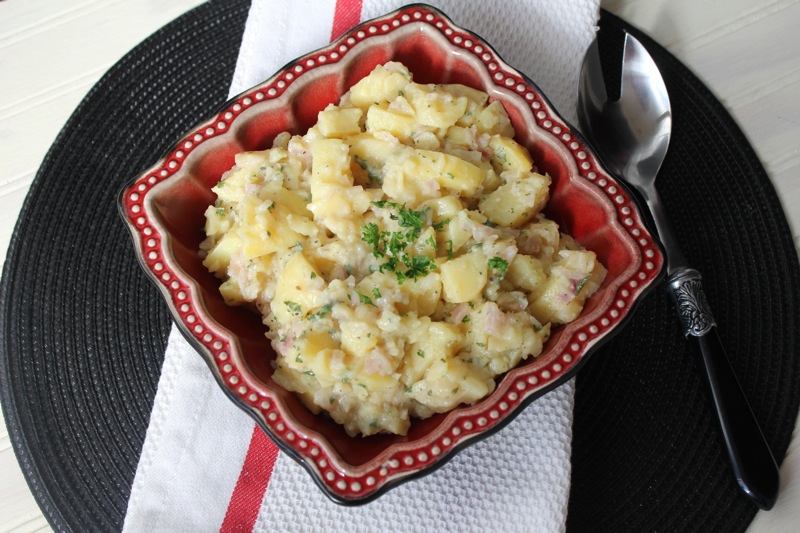 Traditionally Austrian potato salad (erdapfelsalat) is served with Wiener Schnitzel.  We had it with grilled barbecued ribs.  I highly recommend it.  Sometimes insomnia is a good thing.
AUSTRIAN POTATO SALAD (Cooks Illustrated)
2 pounds Yukon Gold potatoes (about 4 large), peeled, quartered lengthwise and cut into 1/2-inch slices
1 cup low-sodium chicken broth
1 cup water
Table salt
1 tablespoon sugar
2 tablespoons white wine vinegar
1 tablespoon Dijon mustard
1/4 cup vegetable oil
1 small red onion, chopped fine
6 cornichons (pickles), minced (about 2 tablespoons)
2 tablespoons minced fresh chives
Ground black pepper
1. Bring potatoes, broth, water, 1 teaspoon salt, sugar and 1 tablespoon vinegar to boil in 12-inch heavy-bottomed skillet over high heat.  Reduce heat to medium-low, cover and cook until potatoes offer no resistance when pierced with paring knife, 15 to 17 minutes.  Remove cover, increase heat to high (so cooking liquid will reduce), and cook 2 minutes.
2. Drain potatoes in colander ser over large bowl, reserving cooking liquid.  Set drained potatoes aside.  Pour off and discard all but 1/2 cup cooking liquid (if 1/2 cup liquid does not remain, add water to make 1/2 cup).  Whisk remaining tablespoon vinegar, mustard, and oil into cooking liquid.
3. Add 1/2 cup cooked potatoes to bowl with cooking liquid mixture and mash with potato masher or fork until thick sauce forms (mixture will be slightly chunky).  Add remaining potatoes, onion, cornichons, and chives, folding gently with rubber spatula to combine.  Season to taste with salt and black pepper.  Serve warm or at room temperature.