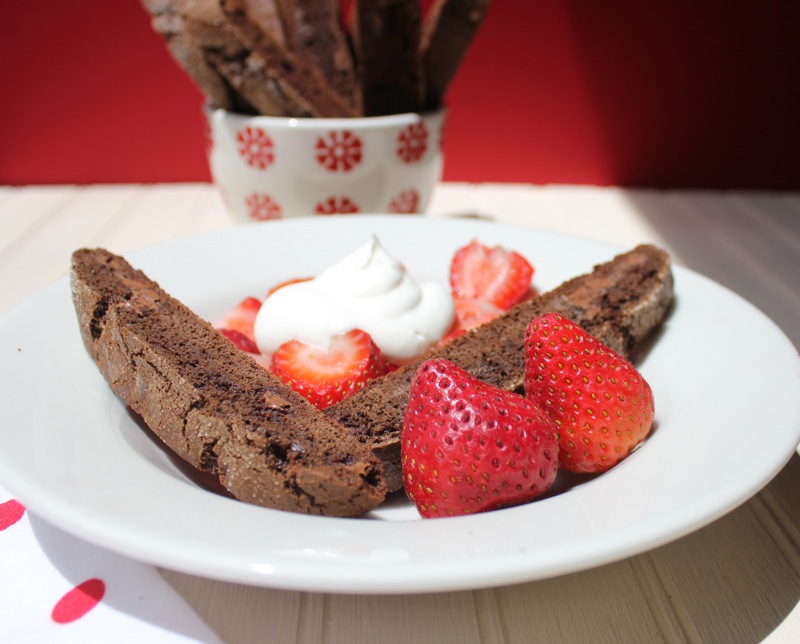 I have always loved biscotti but I have never made them.  While in Nantucket, I enjoyed this decadent chocolate biscotti at Mary Anne's house and got a lesson in how to make them.  Biscotti are baked twice.  That is why some would call them dry.  But the individual pieces are made to be dunked in hot coffee or tea so the dryness makes sense.  Of all of the biscotti I have had in the past,  this is the most moist and flavorful.  It is probably because of the chunks of chocolate chips strewn throughout and the sticky dough.  The original recipe came from the Union Square Cafe in New York City.  But I got the adapted recipe from Mary Anne's friend Barbara.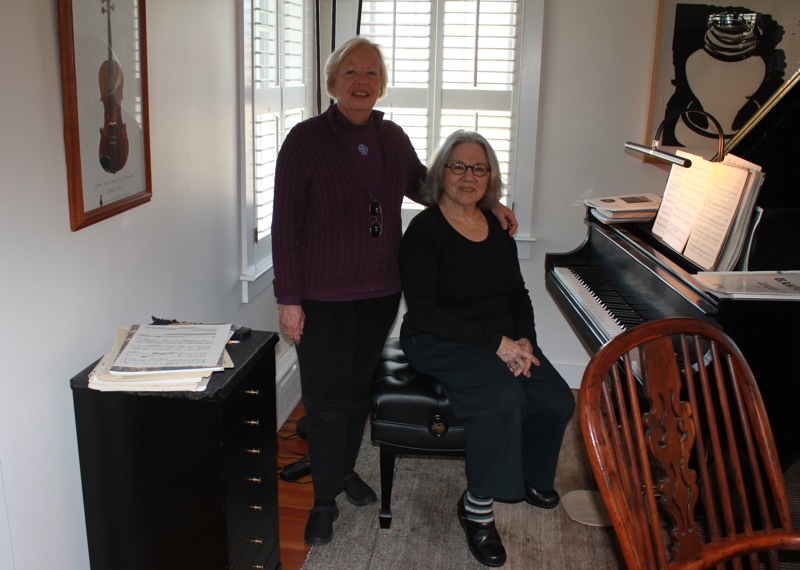 Barbara is such a delightful person.  She is an accomplished pianist, great cook and world traveler.  She will be spending her usual month in Paris next March; my kind of lady.  While we were being given a tour of her house, we all stopped in her homey kitchen.  What is it about kitchens that draw us in?  Her kitchen is light-filled with an inviting pine table for casual meals, brick wall and a generous bookcase full of cookbooks. David pulled a small cookbook from her collection because it was called Zinfandel Cookbook (his favorite wine).  Barbara immediately insisted that we take it;  "too many cookbooks, never used, glad to share".  I would do the same with some of mine I'm sure.  I have too many.  So we appreciated her generous spirit.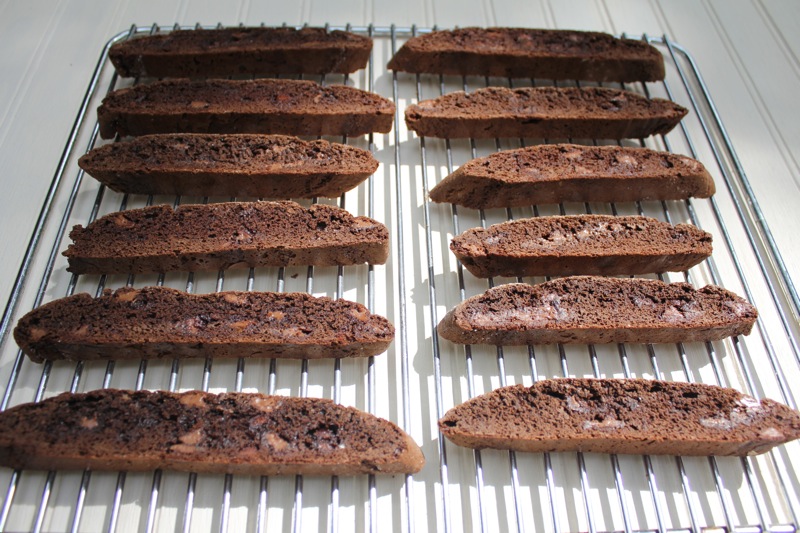 I don't think I would have had success with these biscotti if I hadn't been given specific instructions from Barbara.  They are easy to mix together, but the dough that you end up with is very sticky and wet.  That's probably why the end product is better than most.  Barbara swears by a flexible dough scraper like this.  It helps you get the mixture out of the mixing bowl.  Since I did not have her trusty scraper, I used a flexible spatula.  I lightly floured my board, floured my hands and working with half of the mixture at a time I formed them both into a loose log.  I placed them on a lined sheet and flattened them.  They should be about 2-inches thick.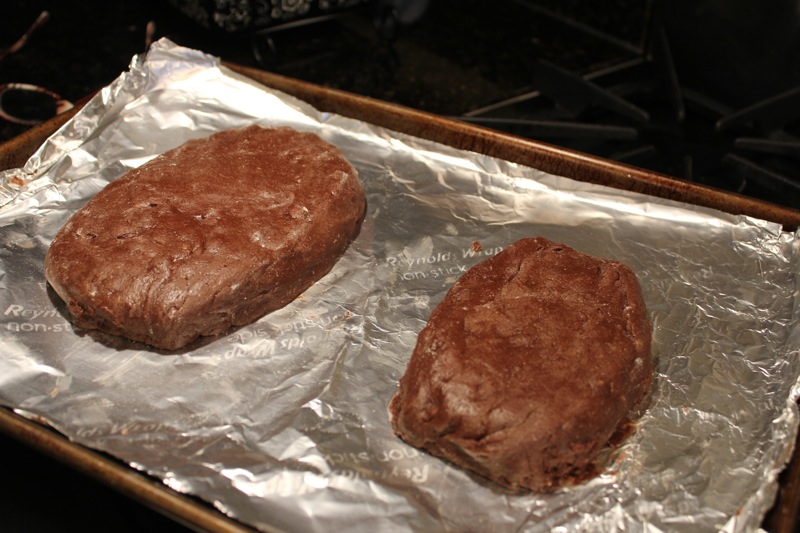 As you can see, I didn't get them quite equal.  I was just lucky to be able to transfer them.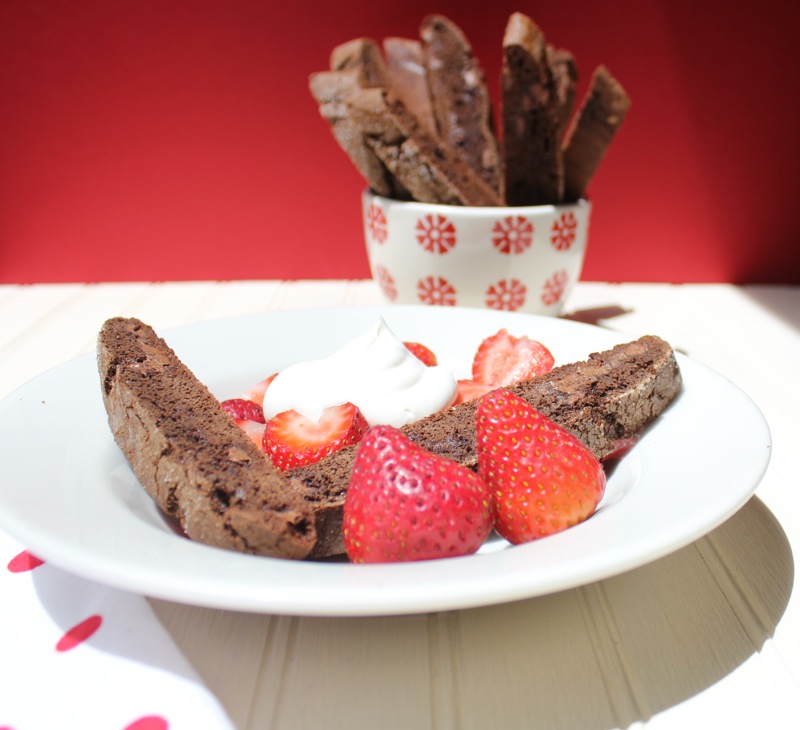 After the first baking they spread some and get crackly and drier.  Let them rest and cool for at least an hour and then cut into wedges and bake again.  It's really very simple after you figure out how to handle the wet mixture.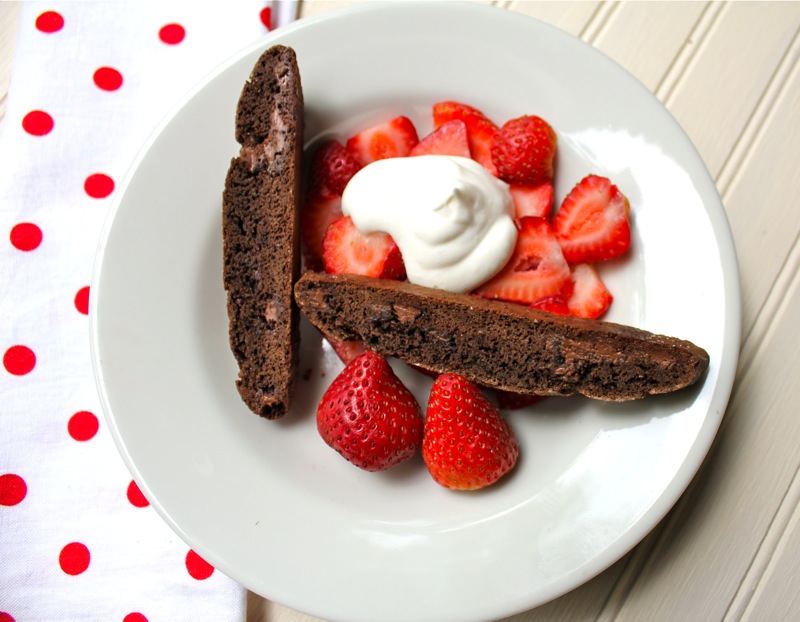 Wow, these were good.  Dipped in whipped cream with sweetened strawberries, I think this was better than strawberry shortcake.  Thank you Barbara and Mary Anne for introducing me to chocolate biscotti.  Here is Barbara's recipe.
CHOCOLATE BISCOTTI
2 cups all-purpose flour
3/4 cup plus 2 tablespoons cocoa powder
1 teaspoon salt
1 teaspoon baking soda
1 3/4 cups lightly packed dark brown sugar
1/3 cup granulated sugar
2 ounces (4 tablespoons) butter, at room temperature
1 tablespoon vanilla extract
1 teaspoon expresso or coffee
3 large eggs
7 1/2 ounces (1 rounded cup) small mild chocolate chips
1 large egg, beaten and mixed with 1 tablespoon water, for egg wash
2 tablespoons raw sugar
Preheat oven to 350 degrees.  Line a 12-by 17-inch baking sheet with parchment paper or nonstick liner.  Sift together the flour, cocoa, salt and baking soda; set aside.
Using a heavy-duty electric mixer, cream together the brown sugar, granulated sugar and butter for 3 to 5 minutes at medium speed.  Add vanilla extract and espresso.  Mix  10 seconds.  Add eggs one at a time, mixing for 10 seconds at medium-low speed after each addition.  Add sifted flour mixture and mix at low speed until dough comes together, 1 to 2 minutes.  Add chocolate chips and mix just until chips are evenly incorporated, 15 to 20 seconds.
Transfer dough to a work surface, lightly floured.  Divide in two.  Working with one piece at a time, with floured hands form each ball into a log 2′ inches wide or more.  Transfer logs to prepared baking sheet and flatten until the  depth is about 2- inches.  Brush tops of logs with egg wash and sprinkle  each log with 1 tablespoon raw sugar.  Bake until biscotti have spread, have a few cracks and bounce back slightly when pressed with fingertips, 30 to 40 minutes.  Remove from oven and let cool completely, about 1 1/2 hours.
Preheat oven to 325 degrees.  Using a sharp serrated knife, cut logs into 1/4-inch to 1/2-inch slices.  place each slice with a cut side down on a baking sheet lined with parchment paper or nonstick liner.  Bake until firm, crisp and slightly dry, about 15 mintes.  Store in an airtight container at room temperature for up to three days, or freeze for up to three months.