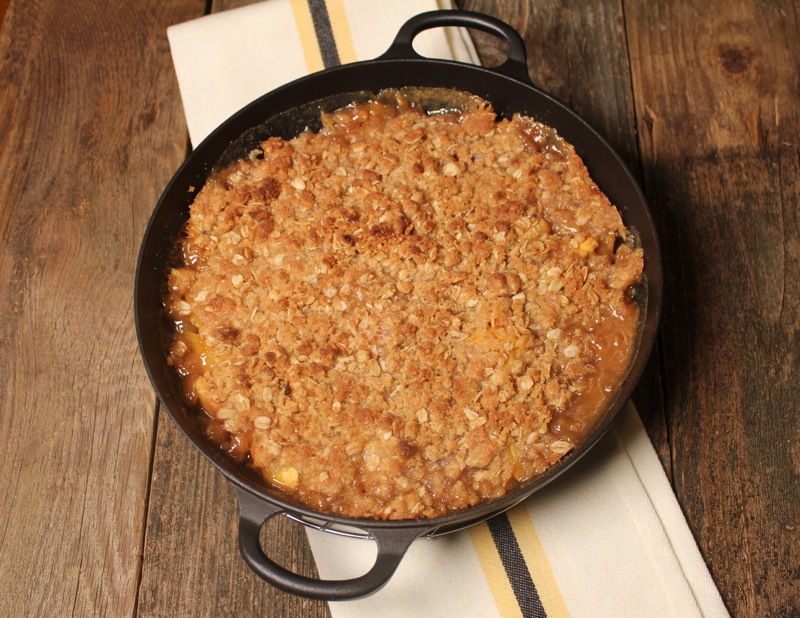 Peaches n' Cream is a Southern tradition.  Fresh peaches, sliced and topped with whipped cream are hard to beat.  But I just entered the weekly contest over at Food 52 and we were asked to come up with a recipe for a cobbler, crumble, crisp, pandowdy or any other buttery topped fruit dessert.  Since peaches are in season here in the South, that was my fruit of choice.  The expression "peaches n' cream" led me to the idea of cream in the dessert.  But not just any cream.  Bailey's Irish Cream came to mind.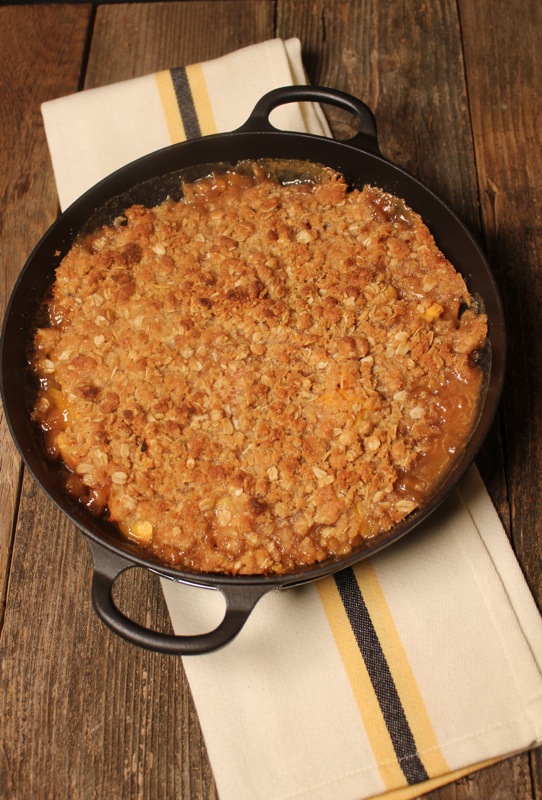 I really liked this combination.  The Bailey's Irish Cream added a rich note to the peaches but was not overpowering.  The crumble topping was enhanced with a touch of cardamom and cinnamon.  And if you add a dollop of whipped cream flavored with Bailey's and sugar you will be a very happy camper indeed.  No matter how well I do in the recipe contest, I am happy that I came up with this summer dish.  It is best enjoyed on a screened in porch after dark with a chorus of crickets serenading you.
PEACHES n' IRISH CREAM CRUMBLE
For the Peaches:
8 Peaches, peeled and sliced
3 tablespoons Irish Cream (I used Bailey's)
2 tablespoons Sugar
Zest of 1 lemon
For the Crumble:
2/3cups All-purpose flour
2/3cups light brown sugar
1/2cups old-fashioned rolled oats
1/4 teaspoon cinnamon
1/4 teaspoon cardamom
1/4 teaspoon salt
6 tablespoons butter, cold, cut into 1/4 inch pieces
Preheat the oven to 375 degrees F. Butter a 9 to 10 inch pie plate or casserole. Place peaches in a bowl and mix with the Irish Cream, sugar and lemon zest. Turn mixture into prepared dish.
In a mixing bowl combine the flour, brown sugar, oats, cinnamon, cardomon and salt. Add the cubed butter and with your fingers knead the butter into the dry ingredients until it is crumbly. Top the peaches with the mixture
Bake the crumble for 30 to 35 minutes. Let rest for 15 minutes and serve topped with whipped cream.