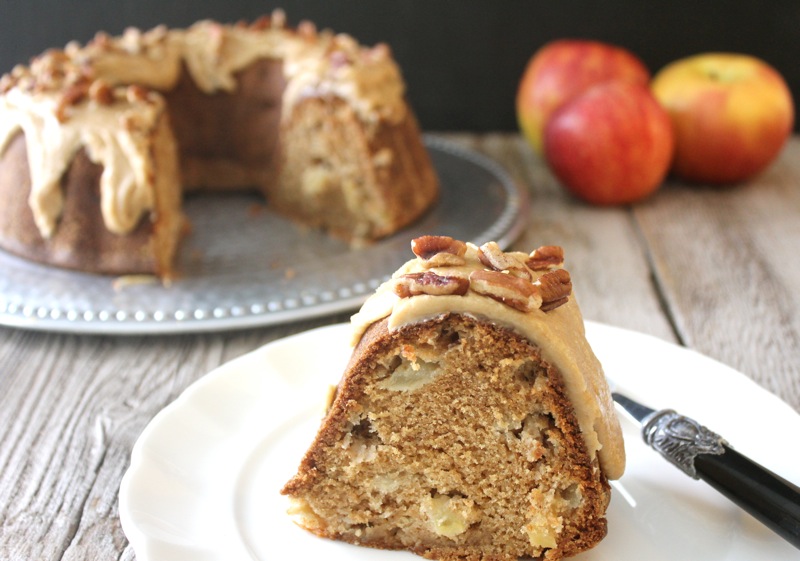 Why not shake things up a bit for Thanksgiving this year.  As much as I love pie, there are some in our family who would rather have cake.  Let them eat cake. This apple spice cake with a caramel frosting would make the perfect alternative.  I found this recipe on a website called Crunchy Creamy Sweet.   Anna has come up with a wonderfully easy bundt cake with an effortless caramel frosting.  I love bundt cakes.  But if you have ever had a problem with them releasing from the pan, worry no more.  Cooks Illustrated has come up with a great tip.  Simply combine 1 tablespoon of softened butter with 1 tablespoon of flour.  Using a pastry brush, paint the whole interior of the bundt pan with the mixture and the cake will pop right out when it is done.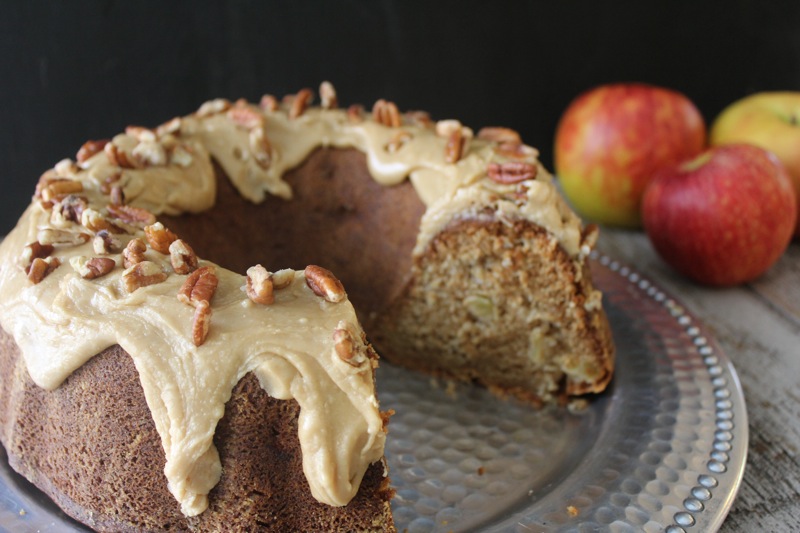 The only thing I would have done differently with this cake, would be to thin the frosting a little bit.  It was suggested in the directions, but I did not feel at the time that it was necessary to add more milk.  But the frosting thickens a little as it cools.  Just be aware of this.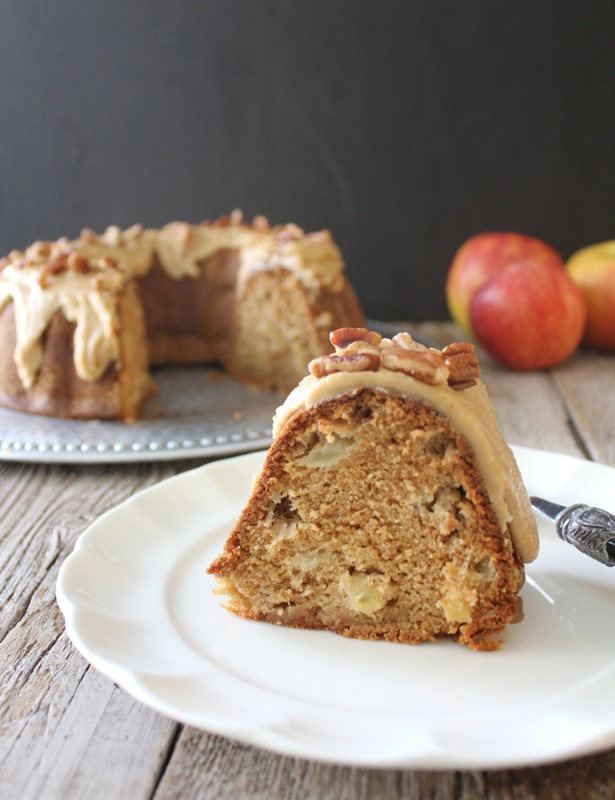 I still plan on making a pumpkin pie and an apple pie for Thanksgiving.  But a cake this easy is well worth your time.
APPLE BUNDT CAKE WITH CARAMEL FROSTING
For the cake:
3 cups all-purpose flour
1 tsp baking powder
1 tsp baking soda
1 tsp cinnamon
1/4 tsp ground cloves
1/4 tsp salt
1 cup granulated sugar
1 cup brown sugar
1 cup vegetable or canola oil
1/2 cup apple sauce
2 large eggs, room temperature, beaten
2 tsp vanilla extract
2 cups chopped Granny Smith apples
For the Frosting:
1/2 cup packed brown sugar
1/4 cup unsalted butter
3 Tbsp milk
1 tsp vanilla extract
1 cup confectioners' sugar
3/4 cups chopped pecans
Prepare the 10 cup bundt pan:  In a small bowl, mix 1 tablespoon melted butter (cool) with 1 tablespoon flour.  With a pastry brush (or by using your fingers) grease the bundt pan.  Set aside.
Preheat the oven to 350 degrees F.
In a large mixing bowl, whisk together flour, baking powder, baking soda, cinnamon, cloves and salt.  Set aside.
In a large mixing bowl place granulated sugar, brown sugar, oil, applesauce, eggs and vanilla.  Beat with electric mixer on medium speed for 2 minutes.  Add the dry ingredients and beat on low until combined.  The batter will be thick.  Stir in chopped apples.  Scrape the batter into the prepared pan.
Bake the cake for 1 hour or until a toothpick inserted near the center comes out clean.  Cool the cake for 10 minutes in the pan.  Place a large plate over the top of the pan and invert the cake onto the plate.  Let cool completely.
To make the frosting:
In a medium saucepan, combine brown sugar, butter and milk.  Whisking constantly, bring to a boil.  Remove from heat, stir in vanilla ad cool for 10 minutes.  Add sugar.  Whisk until drizzling consistency.  If the frosting is too thick, add more milk.  Drizzle over the cake.  Sprinkle chopped pecans over the almost set frosting.