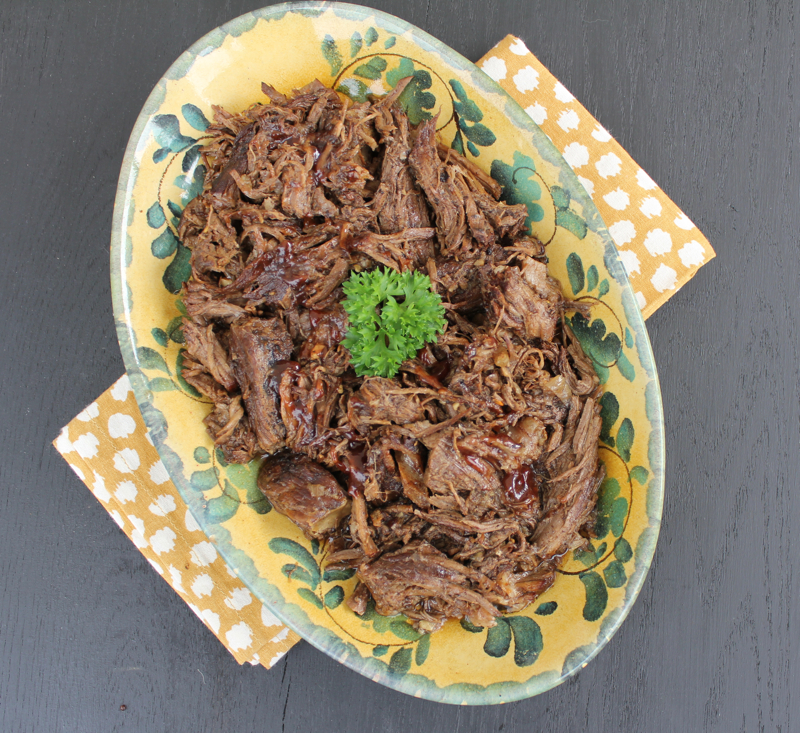 Because it has been so cold in Florida and because I have been reading so many blogs from the more frigid regions of our country, I just had to pull out the slow cooker to cook something long and slow all day; something that would perfume the house and build an anticipation for the satisfying meal to come. I had a chuck roast freshly defrosted from the freezer and several different recipes for crock pot beef to choose from. I ended up combining several.   What I was looking for was intense flavor to offset the richness of the beef.  The balsamic vinegar went a long way in achieving that goal.  There are some recipes for slow cooker beef that include dried onion soup mix and cream of "whatever" soup.  I try to stay away from those recipes.  The additive ladened products just seem to intensify over long cooking, in my humble opinion. And not in a good way.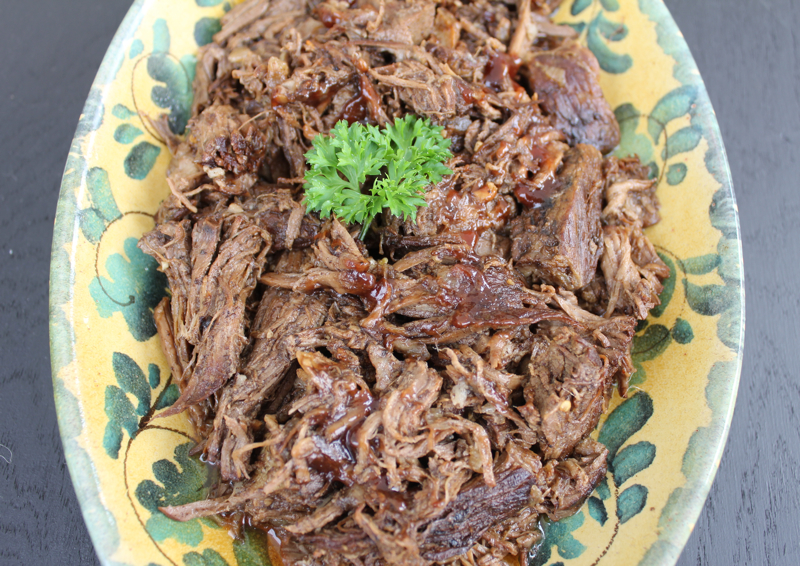 The ingredients I used were simple; beef broth, balsamic vinegar, soy sauce, Worcestershire sauce, brown sugar and a bit of ketchup.  The resulting beef was succulent and delicious.  The sauce was especially good.  It was so good in fact that for lunch the next day I made a "Dip Sandwich".  The tender beef and juices made for a marvelous sandwich.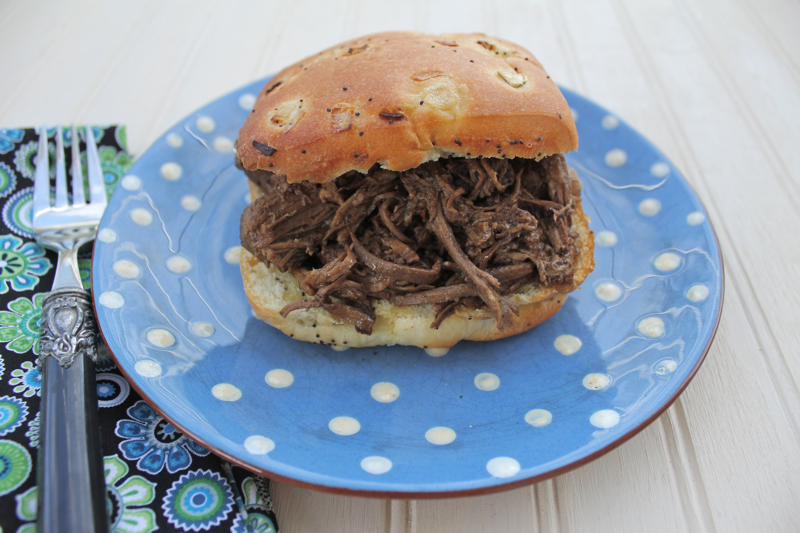 The sandwiches would be great for a super bowl party.
CROCK POT BALSAMIC SHREDDED BEEF
1 4 to 5 pound chuck roast
1 tablespoon of canola oil
1 large onion, halved and sliced
3 cloves of garlic, minced
Salt and pepper to taste
1 cup beef broth
1/2 cup balsamic vinegar
1 tablespoon Worcestershire sauce
1 tablespoon low-sodium soy sauce
1 tablespoon brown sugar
1/4 cup ketchup
Red pepper flakes to taste, 1/4 to 1/2 teaspoon
Place 1 tablespoon of oil in a heavy bottomed skillet.  When hot, add chuck roast and cook until browned on one side.  Turn, add onions and garlic to pan along with the meat.  Cook on second side until it is browned and onions are softened.  Salt and pepper to taste.
Place browned meat. onions and garlic in a slow cooker.  Mix together the remainder of the ingredients and pour over beef.  Cook the beef, covered in the slow cooker on a low setting for 7 to 8 hours.  Remove beef to a plate.  Shred it with two forks and return to slow cooker to combine with the juices.   Serve.