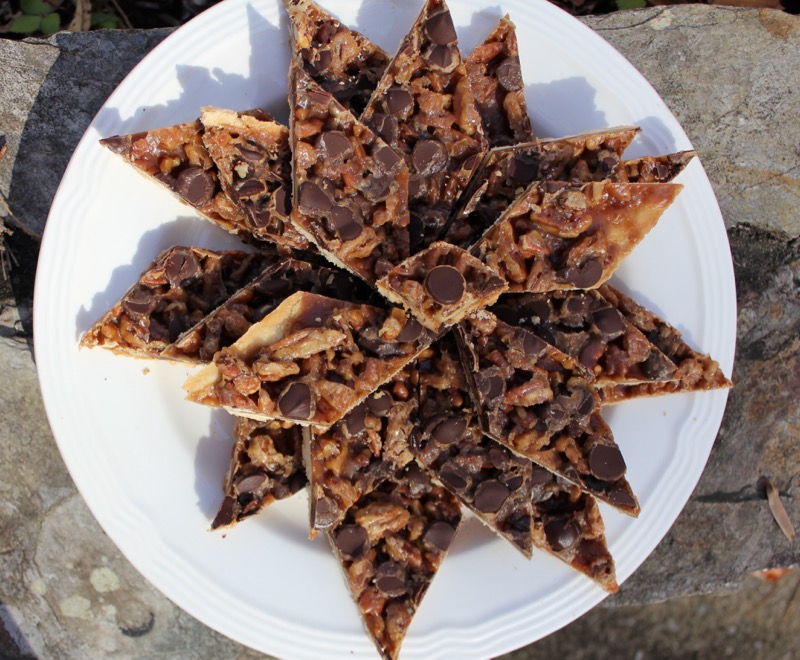 We had a festive Thanksgiving celebration with the kids this year.  My DIL Kristen is a creative cook and likes to shake things up a bit.  Instead of a traditional pecan pie, she made these Chewy Pecan and Chocolate Diamonds.  The original recipe came from Epicurious.   The shortbread crust is topped with a caramel pecan topping.  To make it even more delicious, Kristen added chocolate chips to the final baking.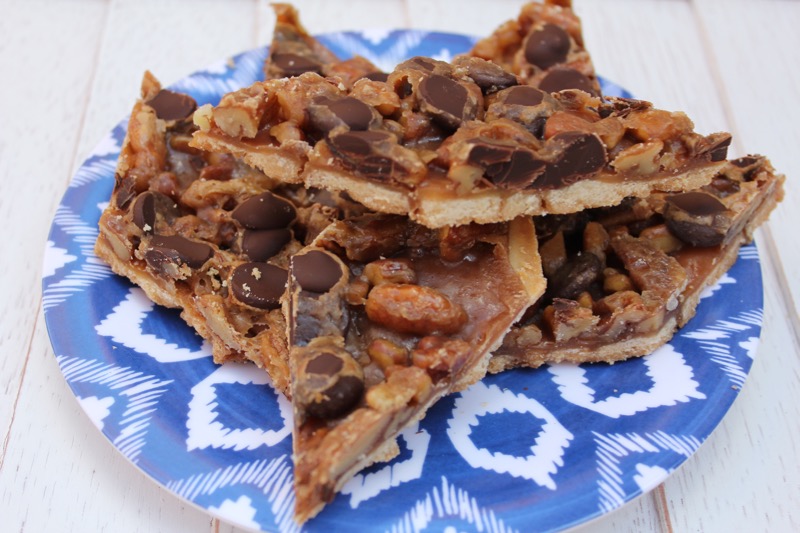 We loved these bars.  By cutting them into diamond shapes, there are edge scraps left for the cook and other family recipients.  Your guests or gift receivers can have the pretty ones, but the scraps are a treat just for you.  I will be making these as Christmas treats.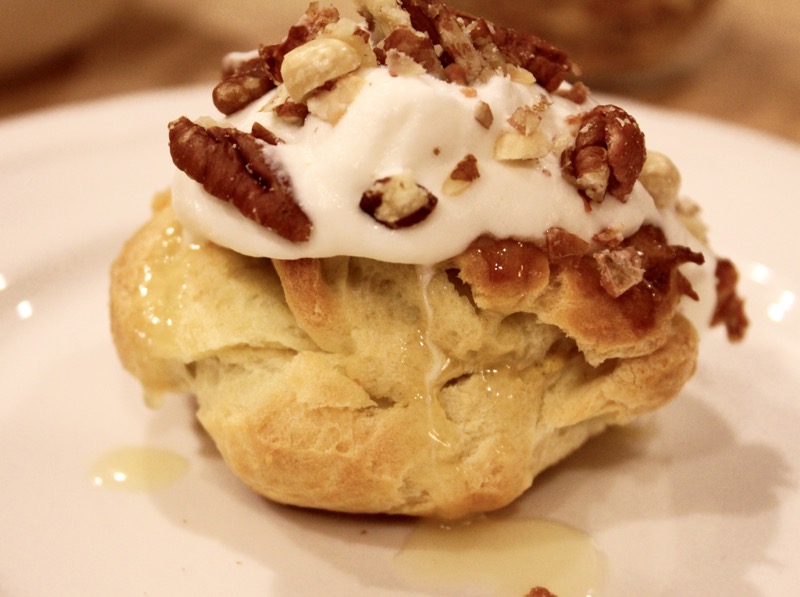 Instead of Pumpkin Pie, we had Pumpkin Custard Profiteroles with Maple Caramel.  Rachel helped her Mom make these amazing cream puffs.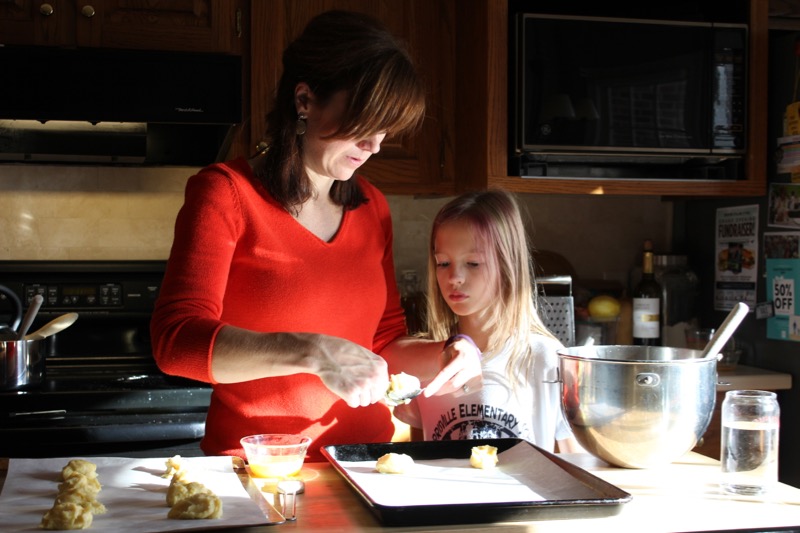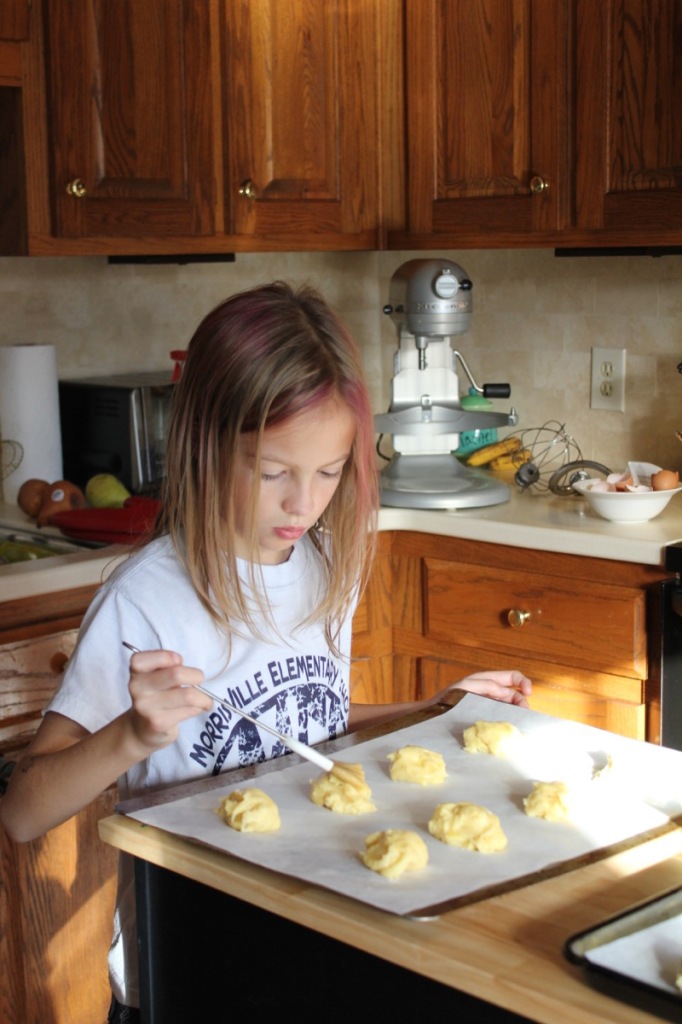 It is great to have the kids participate in the meal preparation.  Four year old Cameron also got into the act by helping with the pecan diamonds.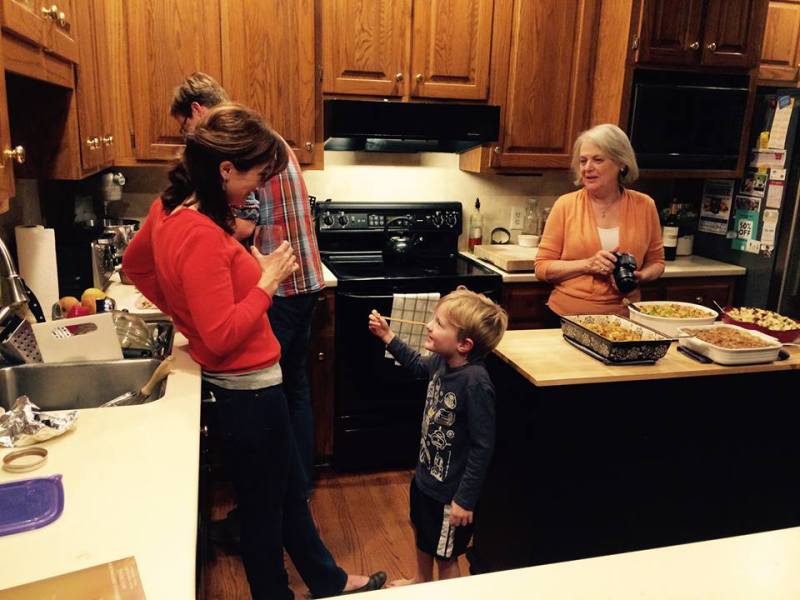 As the casseroles came out of the oven, Michael carved the turkey and we sat down to our delicious meal. I am thankful for my family and for all of you who follow my blog.
To get you into the Christmas spirit watch this video of Rachel.  She is a new member of a competitive jump roping team and shows lots of talent.  https://youtu.be/ly-yG94eqBU   Here is another one https://youtu.be/QQJBbWjG-F4  Our dog, Daisy seems to be enjoying the show.  Rachel's team will be performing at Disney World and possibly at next year's Macy's Thanksgiving Day Parade.
CHEWY PECAN AND CHOCOLATE DIAMONDS
INGREDIENTS
Crust

1 3/4 cups all purpose flour
1/3 cup powdered sugar
1/4 cup cornstarch
1/2 teaspoon salt
3/4 cup (1 1/2 sticks) chilled unsalted butter, cut into 1/2-inch pieces

topping

1 1/4 cups (packed) golden brown sugar
1/2 cup light corn syrup
1/4 cup (1/2 stick) unsalted butter
4 cups coarsely chopped pecans (about 14 1/2 ounces)
1/2 cup whipping cream
2 teaspoons vanilla extract
PREPARATION
for crust:

Preheat oven to 350°F. Line 13x9x2-inch baking pan with foil, leaving 1-inch overhang on all sides. Butter foil. Blend flour, powdered sugar, cornstarch and salt in processor. Add butter and process until mixture begins to clump together. Press dough evenly onto bottom of foil-lined pan. Bake crust until set and light golden, about 25 minutes. Remove from oven. Let stand while preparing topping. Reduce oven temperature to 325°F.

for topping:

Stir brown sugar, corn syrup and butter in heavy medium saucepan over medium-high heat until sugar dissolves and mixture boils; boil 1 minute. Add pecans and cream; boil until mixture thickens slightly, about 3 minutes. Stir in vanilla. Pour hot topping over warm crust.
Bake nut-topped crust until caramel is darker and bubbles thickly, about 20 minutes. Transfer pan to rack. Cool completely in pan (topping will harden).
Lift foil out of pan onto cutting board. Using heavy sharp knife, cut crust with nut topping into 1 1/2×1-inch diamonds. (Can be made 1 week ahead. Store between sheets of waxed paper in airtight container at room temperature.)
For variation, add 1 cup of chocolate chips sprinkled over the top near the end of baking time.