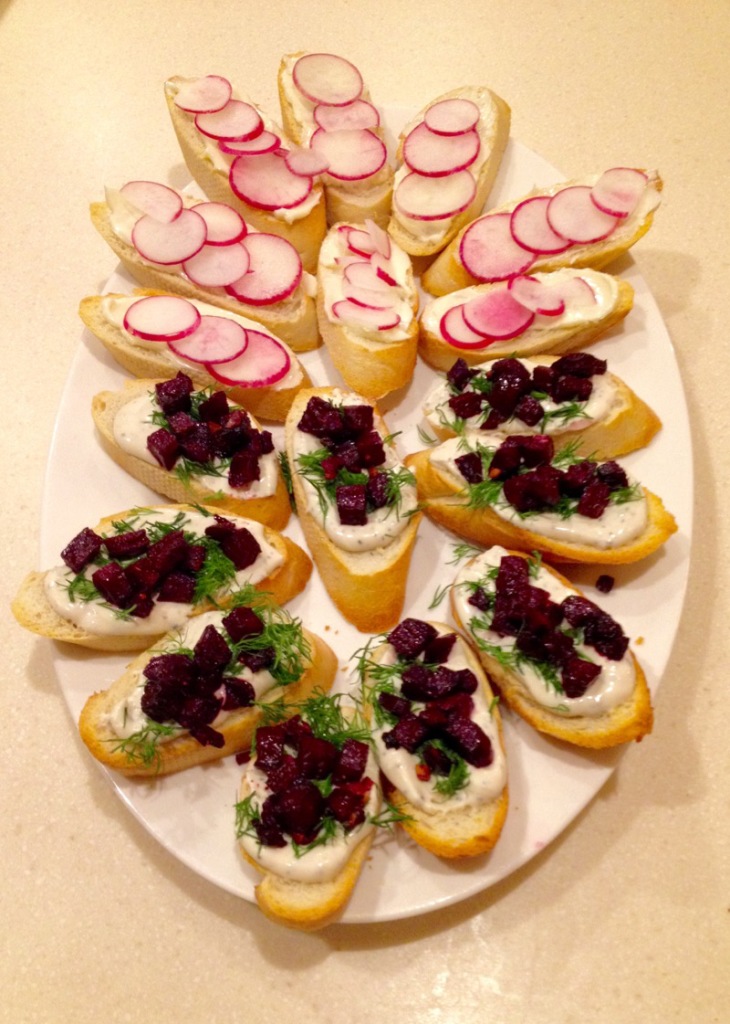 This will be a very quick post, but an important one.  Because we loved these Crostini Appetizers that our DIL made for Christmas, I had to share them with you.  Either one of them would be perfect for your New Year's Eve celebration.  I plan on making the roasted beet, dill and boursin crostini for our contribution to the appetizer table when our friends' get together this year.
We celebrate with the same group of long time friends each year.  This year we will be in Hilton Head SC.  We spend three days together eating, laughing, playing cards, shopping, golfing for the guys, and movie going for the gals. The menus vary little from the traditions that we have established. New Years Eve includes numerous appetizers, filet of beef, potato casserole and a gorgeous salad.  New Year's Day is slow roasted pork, black-eyed peas, rice, collard greens and corn bread.
Either one of these appetizers would be a colorful addition to your appetizer tray.  The radish and butter crostini is very simple and elegant.  The beet and dill appetizer is colorful and delicious.  Happy New Year to all of you.  I look forward to starting 2016 here with all of my blogging friends.
OPEN-FACE RADISH AND BUTTER SANDWICHES
A mandoline or V-slicer makes quick work of slicing the radishes.
2 1/2 bunches radishes, trimmed
Unsalted butter, room temperature
20 1/4-inch-thick diagonal slices baguette, lightly toasted
Maldon sea salt or coarse kosher salt
Place radishes in medium bowl of ice water and chill at least 30 minutes and up to 2 hours. Drain radishes and slice thinly.
Spread butter generously over baguette slices and sprinkle lightly with sea salt or coarse kosher salt. Arrange radish slices atop buttered baguette slices and serve.
ROASTED BEET, DILL AND BOURSIN CROSTINI
3 to 5 beets peeled and cut into small dice
Olive oil and garlic powder
Sourdough baguette slices, lightly toasted
Fresh dill fronds
1 50z, package Garlic and Fine Herbs Boursin Cheese Spread
Preheat oven to 375 degrees F.  Place diced beets on small roasting pan.  Coat with olive oil and a little garlic powder.  Roast until cooked through, about 10 to 15 minutes.  Cool.
Lightly toast baguette slices.
Assemble crostini;  Spread with cheese, top with dill and sprinkle with cooled diced beets