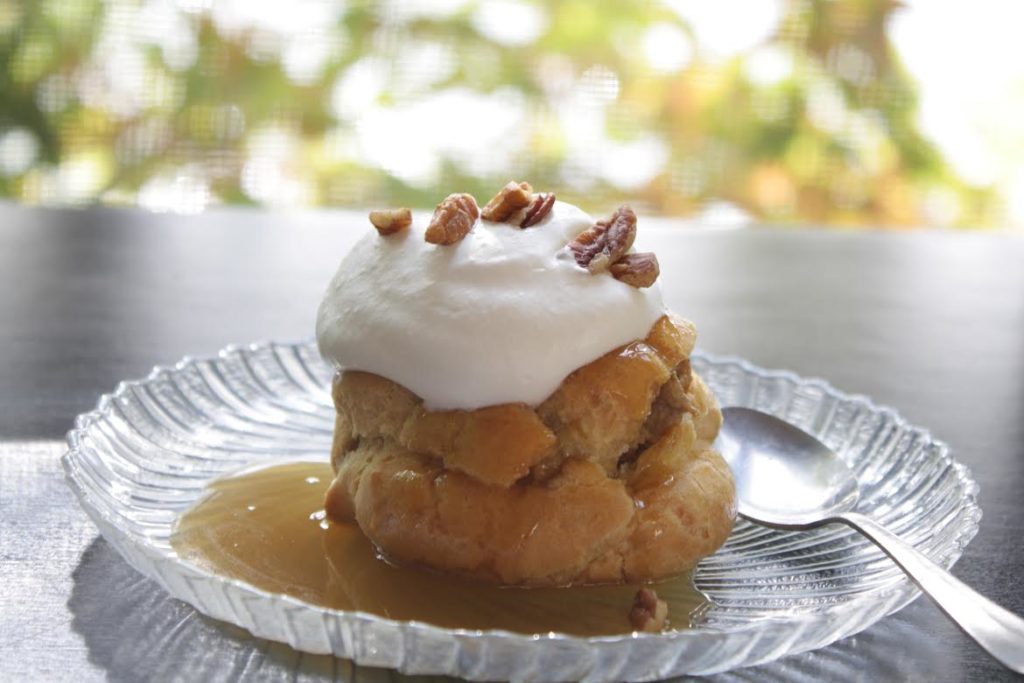 "Anyone who thinks fallen leaves are dead has never watched them dancing on a windy day." (Shira Tamir). The leaves are falling and the colors are changing to russet and saffron.  Our roof is being bombarded with falling acorns.  I even dodge them when walking the dog.  I am literally being hit in the head with autumn.  So naturally my thoughts turn to the foods of the season.  When contemplating dessert I think of pumpkins and apples.  Last year my Daughter-in-law made Pumpkin Custard Profiteroles with Maple Bourbon Caramel for Thanksgiving instead of pumpkin pie.  It was such a pleasant surprise.  Last weekend David and I had the other Penny (of Enjoying the Simple Things) and her husband over for lunch.  I made these delicious cream puffs filled with pumpkin custard, drizzled with a maple bourbon custard and topped with whipped cream and chopped pecans.  I loved the fact that I could do everything ahead of time.  It was just a matter of assembly before they were served.  You can go to Penny's blog for a snapshot of the whole meal that I served.  You can find this dessert recipe here on Epicurious.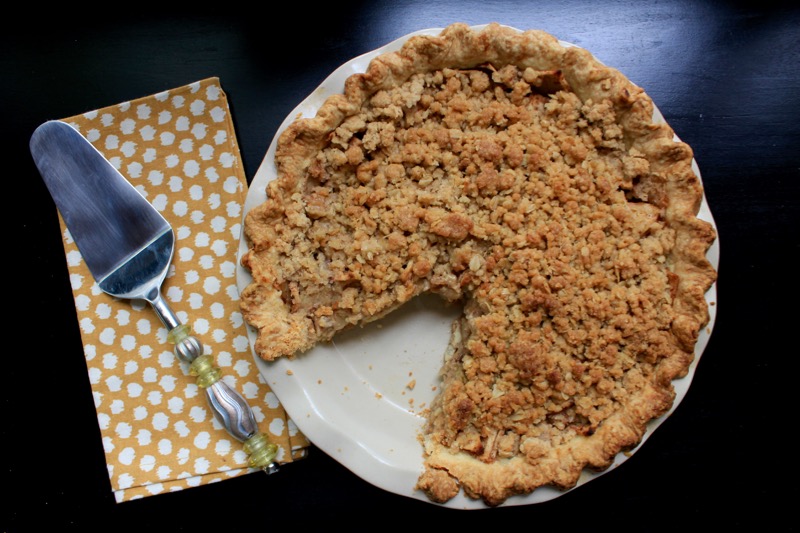 I know there are thousands of apple pie recipes out there.  But I came up with a winner with this one. I combined several recipes for this Apple Crumble Pie.  I was first inspired by Monique of La Table de Nana.  She takes such beautiful pictures and just looking at her apple pie made me hunger for it.  I used her tried and true pie crust recipe.  For the apples and crumb topping I adapted Ina Garten's apple crisp recipe.  It was truly delicious.  The pie crust was flaky, the apples a little on the tart side and the crumble topping crunchy and sweet.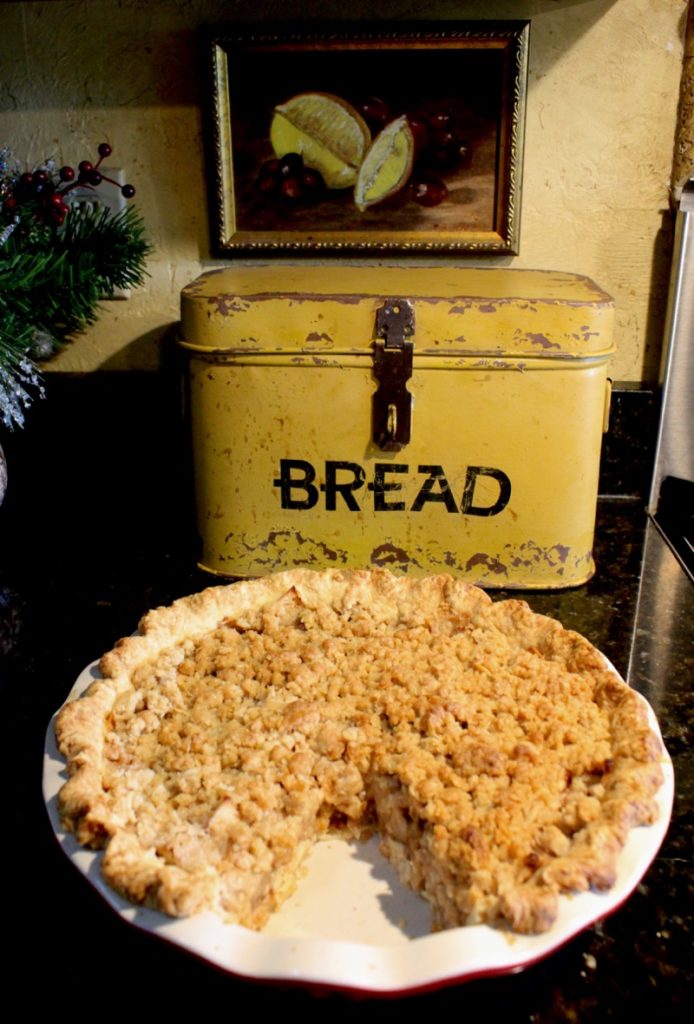 Don't wait to be hit in the head by falling acorns to get inspired.
APPLE CRUMBLE PIE
For the Crust: From Monique:
2 cups of flour,
2 tbsps granulated sugar(I put 3)
1/2 tsp salt..not me..my butter is salted
3/4 cup cold unsalted butter
3 tbsps ice cold water.  ( I used 4 tbsps)
In a food processor pulse the first 3 ings..cut up your butter and sprinkle on top of the flour mixture..pulse until coarse crumbs..through the feed tube w/ motor running add the water slowly until it starts to come together.
Mine came out of the recipient so nicely..I just formed a flat disk on parchment..wrapped and refrigerated 30 minutes.
Preheat the oven to 350 degrees F.
For the Apples:
5 Granny Smith Apples, peeled and sliced thin
1/4 cup granulated sugar
1 teaspoon ground cinnamon
1/2 teaspoon ground nutmeg
For the Topping:
3/4 cup all-purpose flour
1/3 cup granulated sugar
1/3 cup light brown sugar
1/4 teaspoon kosher salt
1/2 cup oatmeal
1/4 pound cold unsalted butter, diced
After resting the pastry dough in the refrigerator for 1/2 hour, roll out into a circle to fit into a 9 inch deep dish pie dish.  (There will be extra left.  Save for future use.)  Flute edges.
Combine the sliced apples with sugar and spices in a large bowl.  Let rest until juices start rendering.  Toss well.  Place apples into prepared pie dish.
To make the topping, combine the flour, sugars, salt, oatmeal and cold butter in the bowl of an electric mixer fitted with the paddle attachment.  Mix on low speed until the mixture is crumbly and the butter is the size of peas.  Scatter evenly over the apples.
Place pie on a baking sheet and bake for one hour or until the top is brown and the apples are bubbly.  Serve warm.