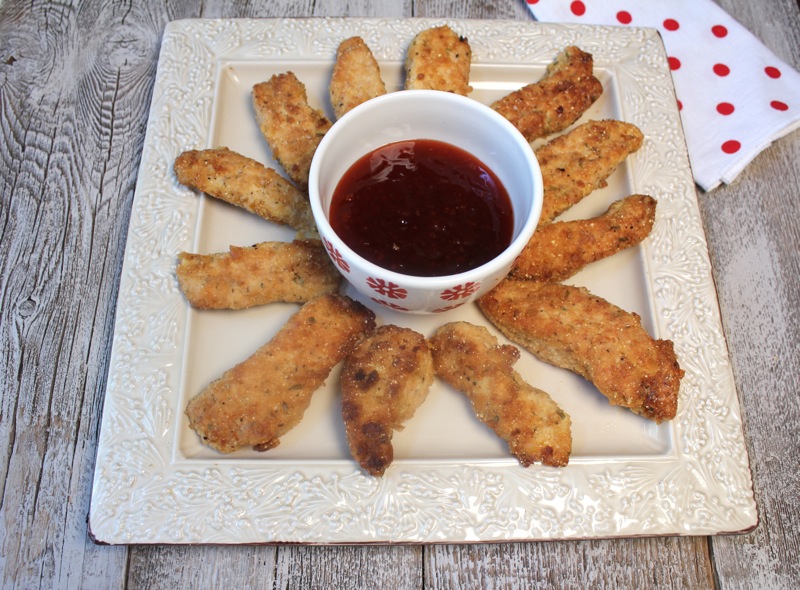 I have made so many variations of chicken strips.  The first one was the one that my Mother loved.  I blogged about it here.  That was a few years ago.   Oven baked chicken strips are great, but sometimes I just want to fry them in a little oil.  Deep fat you are calling me!  Can't help it.  I know, I know, . . . .  It is better to get along with less fat, but sometimes a nice crispy chicken piece cooked in oil is worth it.  This idea works for me.  The original recipe that gave me the idea appeared on Road Trip with G. Garvin on the Food Network.  While visiting Austin, Texas he ate at a diner that served flattened pork tenderloin pieces breaded in crackers, corn meal and flour.  They were deep fried and served as a sandwich on a bun.  I happened to have a pork tenderloin in the freezer, so the next night I duplicated the recipe without the bun.  It was not deep-fried, but cooked in a puddle of hot oil.  The pork was awesome.  It had implications for other dishes.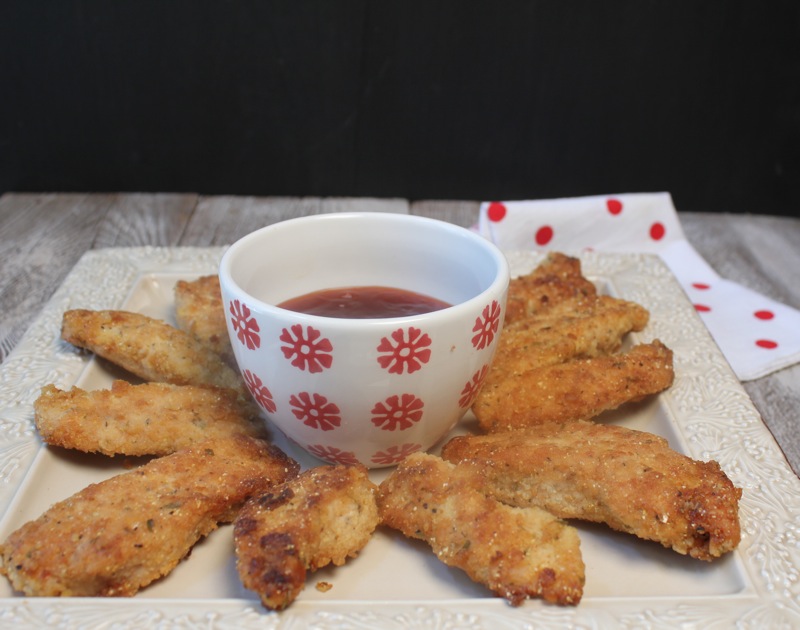 We loved the pork tenderloin cutlets so much that I decided to try the same method with chicken strips.  The secret to the breading on this dish is to put the dredged chicken strips in the freezer for 15 minutes before you fry them.  The breading adheres perfectly and after frying in 2-inches of hot oil,  the chicken strips come out perfectly cooked and crisp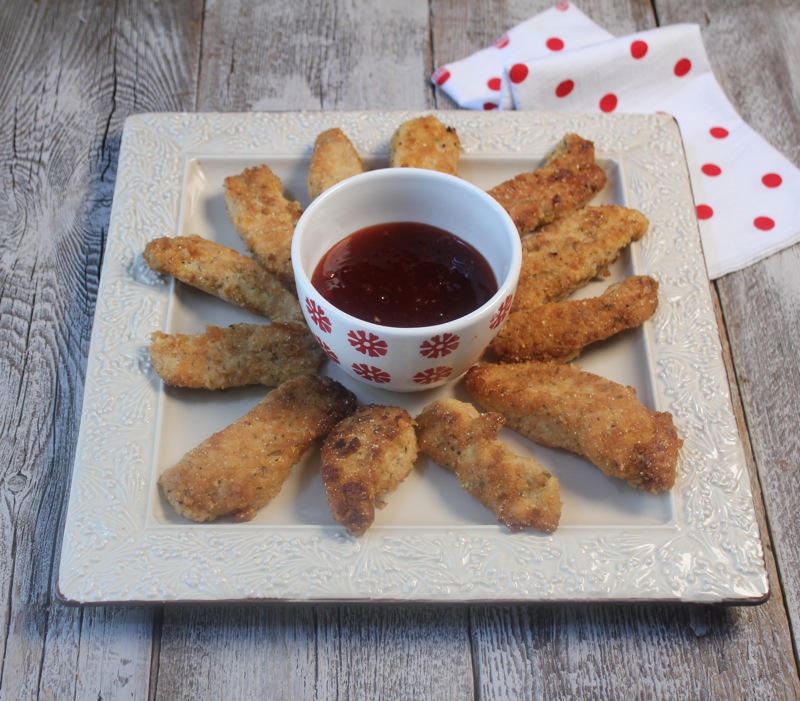 What is not to love about this chicken?  My Mother would have approved.  She loved fried chicken.  But I have to say that, in spite of the brief saute in oil, these chicken strips are probably less caloric than most fried chicken.  Dipped into a sweet and sour sauce there is nothing better.
CRACKER CRUMB CHICKEN STRIPS
1 pound skinless, boneless chicken breasts (About 3)
24 Ritz crackers (Crushed in a baggie with a rolling pin)
1/4 cup cornmeal
1/8 cup flour
1/2 teaspoon garlic powder
1/4 teaspoon paprika
1/2 teaspoon tarragon
Salt and pepper to taste
2 eggs, beaten
1/4 cup milk
Cut each chicken breast into 6 strips.  Combine crackers, cornmeal, flour and seasonings in a large bowl.  Beat egg and milk is separate bowl.  Dip each breast strip into egg mixture and then into crumbs.  Coat well on all sides.  Place each breaded strip on small baking sheet.  Place baking sheet in the freezer for about 15 minutes.  Pour canola oil to a depth of about 1 to 2 inches in a large frying pan.  Heat oil.  Cook the chicken strips in batches until golden brown on all sides.  Drain and paper towels.  Serve with your favorite dipping sauce.