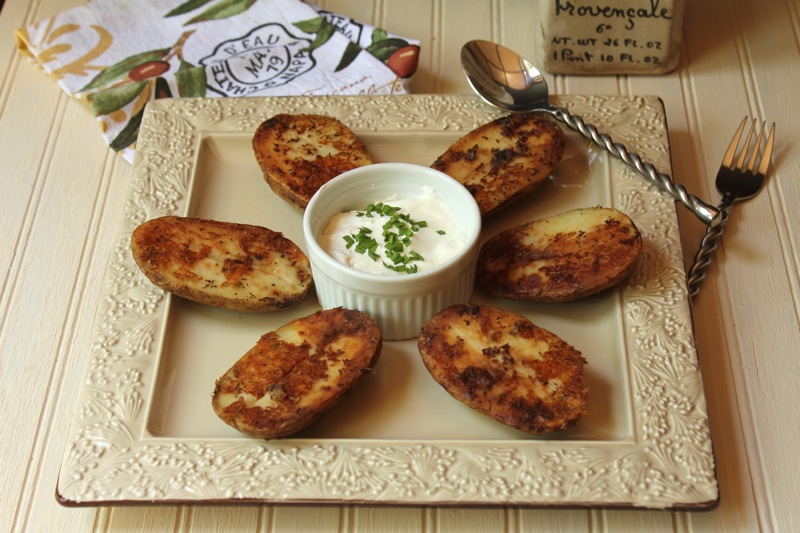 This is one of my favorite ways to do baked potatoes for a crowd.  I have always done a version of these, but was able to update my procedure from a recipe that appeared on Pinterest.  It came from the blog Family Favorite Recipes.  I had always cut baking potatoes in half, added salt, pepper and spices or herbs, then put a pat of butter  on each cut side and cooked them cut side down on a cookie sheet in the oven.  This recipe had a few additions and tweaks  and that made all of the difference.  Crusty parmesan went a long way to take these potatoes over the top.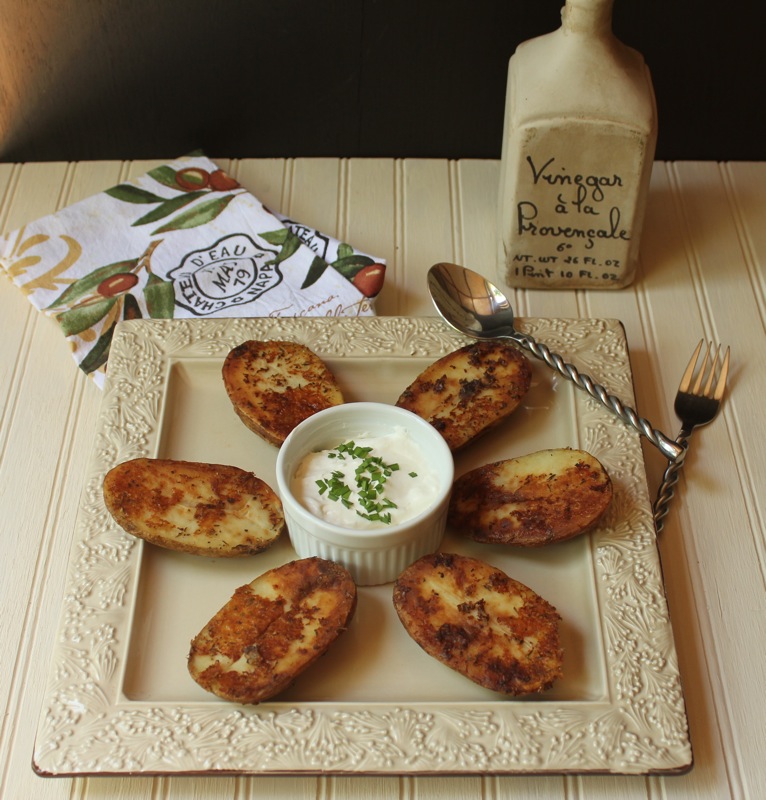 These potatoes are baked in a 9×13-inch pan which has been coated with melted butter, grated Parmesan cheese, garlic powder and any herbs or spices that you prefer.  The recipe can be adjusted to the number of people that you are serving.  Since I am a lone diner this week, I made 3 potatoes and plan to make several meals from them.  If you have a crowd you can double the recipe and do two pans.  Serve with sour cream and chives or do like I do and add a splash of vinegar.
PARMESAN BAKED POTATO HALVES
Ingredients
6 medium baking potatoes, scrubbed and cut in half
1/4 cup butter
grated Parmesan cheese to taste,
garlic powder
other seasonings (to personal preference)
Instructions
Preheat oven to 400 degrees. Melt butter and pour into a 9×13 inch pan and spread evenly across the bottom. Generously sprinkle parmesan cheese and lightly sprinkle other seasonings all over the butter. Place potato halves face down on the butter and seasonings. Place in preheated oven and bake for 40 to 45 minutes. Cool for 5 minutes before removing from pan. Serve on a plate with a side of sour cream for dipping.