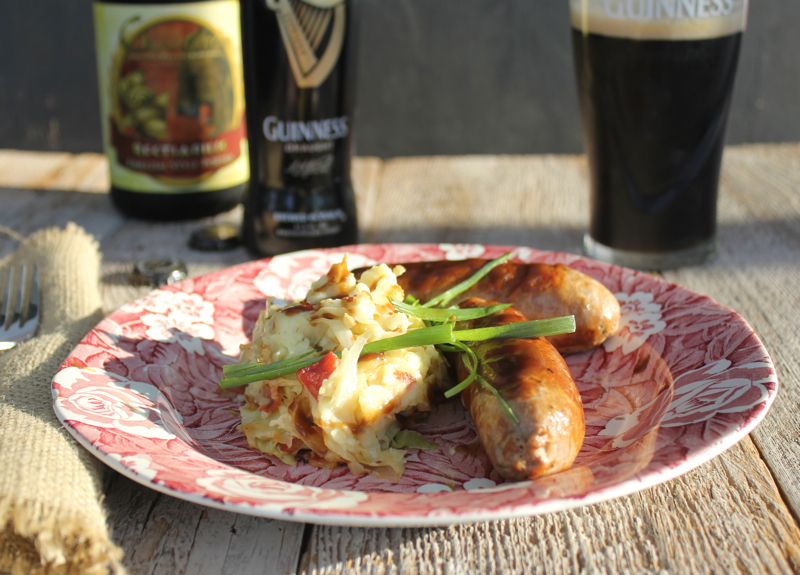 If you want to try something a little different for St. Patricks Day, I highly recommend this riff on the traditional corned beef and cabbage.  The colcannon is a mixture of cabbage, mashed potatoes and bacon.  If you are lucky you can find authentic bangers which are British pork sausages.  They got their name because they are said to make a bang sound when they split while cooking.  But the star of this dish is the brown sugar and Guinness Stout gravy.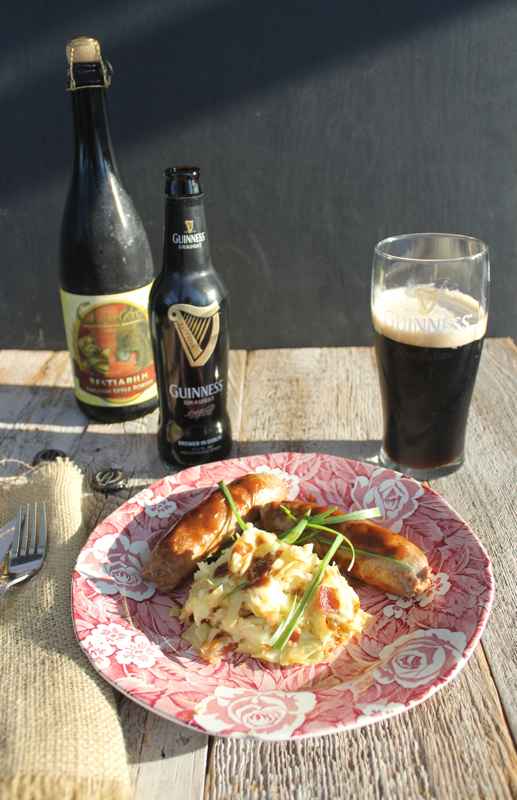 The sausages are cooked in the beer and then the beer and brown sugar are thickened with a butter and flour mixture.  The taste is excellent with both the sausages and the potato, cabbage mash.  Unfortunately, I did not put much of the gravy on my plate when I photographed it.  I corrected that mistake when I dug into it.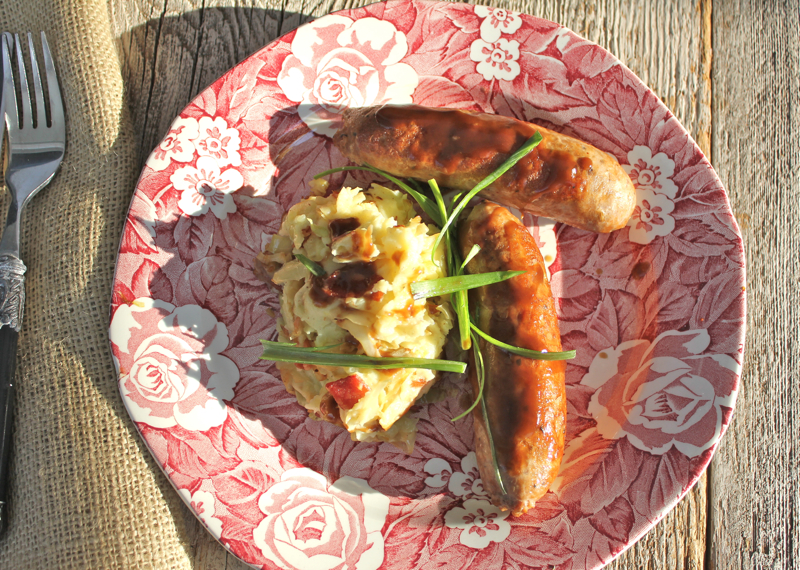 As far as I know the original recipe came from Tara at Smells Like Home.  You can visit her site to see a better picture of the dish with the gravy.  If you can't find bangers, any mild sausage will do.  I used an Italian turkey sausage.  The dish is garnished with scallion tops.  It is well worth a celebration.
BANGERS AND COLCANNON WITH BROWN SUGAR GUINNESS GRAVY
For the bangers and gravy:
6 Irish bangers (or mild sausage)
12 oz Guinness beer
1 1/2 tbsp brown sugar
1 1/2 tbsp unsalted butter mashed with 1 1/2 tbsp flour
Pinch of Kosher salt
1-2 tbsp chicken stock, as needed
1. In a 12″ sauté pan, brown bangers on all sides over medium heat. Add beer to pan, reduce to a simmer. Braise bangers until they are fully cooked and the beer reduces by half, about 10 minutes.
2. Remove bangers from the pan and whisk in brown sugar, butter/flour mixture, and salt until the mixture is smooth.  Bring gravy to a gentle boil and reduce to a simmer until thickened.  If the gravy thickens too much, add 1-2 tbsp of chicken stock as needed.
For the Colcannon:
1 1/2 lbs potatoes, peeled and cubed(I used Yukon Gold, but russets would do too)
2 3/4 tsp Kosher salt, divided
4 oz bacon, diced
3 cups cabbage, thinly sliced
3 tbsp unsalted butter, divided
1/2 tsp freshly ground black pepper, divided
1/4 cup heavy cream
1. Place potatoes in a medium saucepan and cover with cold water.  Add 1 1/2 tsp Kosher salt and bring to a boil over medium-high heat.  Boil until potatoes are fork tender, about 10-12 minutes. Drain and keep warm in the saucepan you boiled them in.
2. While the bangers brown and potatoes boil, cook bacon in a 12″ skillet over medium heat until almost crisp, rendering as much bacon fat in the pan as you can.  Add 2 tbsp butter, allow to melt, and then add the cabbage. Sauté mixture until cabbage is almost tender but a slight amount of crunch remains, about 10-15 minutes while stirring occasionally.
3. Add heavy cream and 1 tbsp butter to the pot