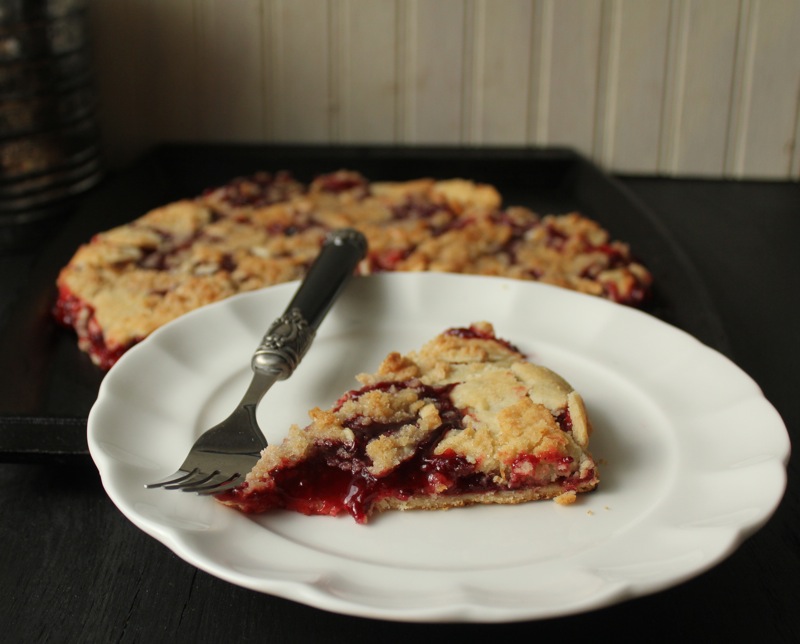 I decided to make a dessert with what I had on hand.  I don't often use canned pie filling, but at Christmas time I bought a can of raspberry pie filling to make a breakfast pastry.  I never got around to using that recipe; can't even find it now.   The can of raspberry pie filling has been sitting in my pantry for a while now.  One of my favorite desserts is Ina Garten's Apple Crostata.  Why couldn't I substitute raspberry pie filling for the apples?     It sounded like a winner to me.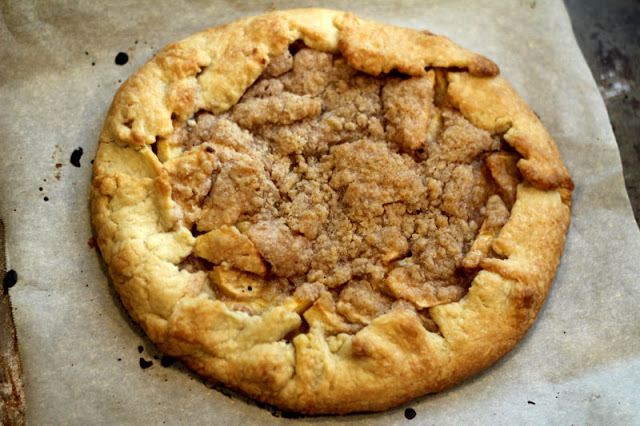 Just don't expect it to look like this apple crostata above.  You see, I neglected to take into consideration that the apples were raw and not juicy when added to the pastry circle.  They released their juices while baking but never became runny.  The canned raspberry was juicy from the beginning.  It resulted in leakage and expansion.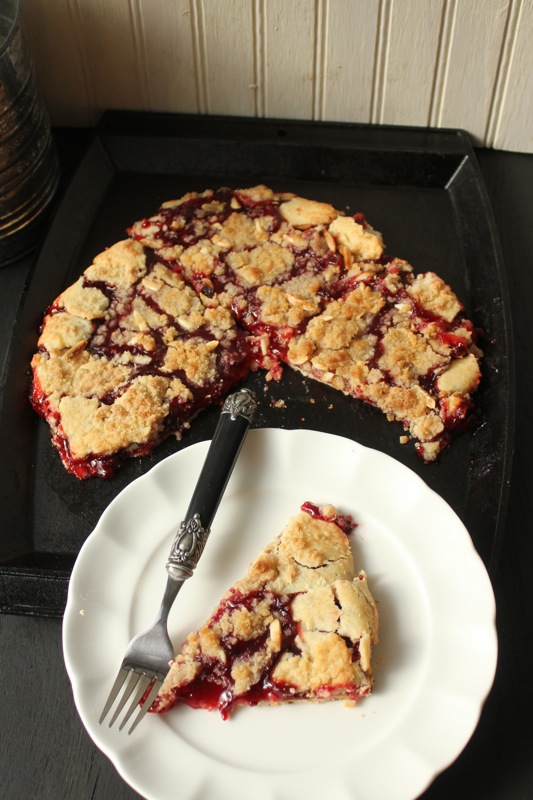 Thank goodness I baked the tart on parchment paper.  It was easy to clean up the errant juices.  As a matter of fact, this tasted really good.  So here is my mistake in all of its messy glory.  I've had two pieces so far.  Next time I think I will bake it in a pie pan.  The canned raspberry pie filling has potential.
RASPBERRY TART
For the Pastry:
1 cup all-purpose flour
1/8 cup sugar
1/4 tsp salt
4 Tbls. cold butter
4 Tbls. vegetable shortening
2 Tbls. ice water
For the Filling and Topping:
1 18 ounce can of raspberry pie filling
1/4 cup flour
1/4 cup sugar
1/4 tsp salt
1/4 tsp cinnamon
4 Tbls cold butter, diced
1/4 cup sliced or slivered almonds
Preheat oven to 450 degrees F.
For the pastry, place the flour, sugar, and salt in the bowl of a food processor fitted with a steel blade.  Pulse a few times to combine.  Add the butter and toss quickly with your fingers to coat each cube of butter with the flour.  Pulse 12 to 15 times, or until the butter is the size of peas.  With the motor running, add the 2 Tablespoons of ice water all at once through the feed tube.  Keep hitting the pulse button to combine, but stop the machine just before the dough comes together.  Turn the dough out onto a well-floured board and form into a disk.  Wrap with plastic and refrigerate for at least an hour.
Roll the pastry into an 11-inch circle on a lightly floured surface.  Transfer it to a baking sheet lined with parchment paper.  Alternately, place in a 9″ pie pan, trim and flute the edges.  If cooking on the parchment paper, add the pie filling to the center of the pastry circle leaving a 1 1/2 " border.  Fold the edges up over the pie filling, pleating as you go.
Combine the flour, sugar, salt, and cinnamon in the bowl of a food processor fitted with a steel blade.  Add the butter and pulse until the mixture is crumbly.  Pour into a bowl, add the almonds and rub it with your fingers until it starts holding together.  Sprinkle evenly on the pie filling whether on parchment paper or in the pie shell.
Bake the tart in the hot oven for 20 to 25 minutes.  Remove and cool before serving.