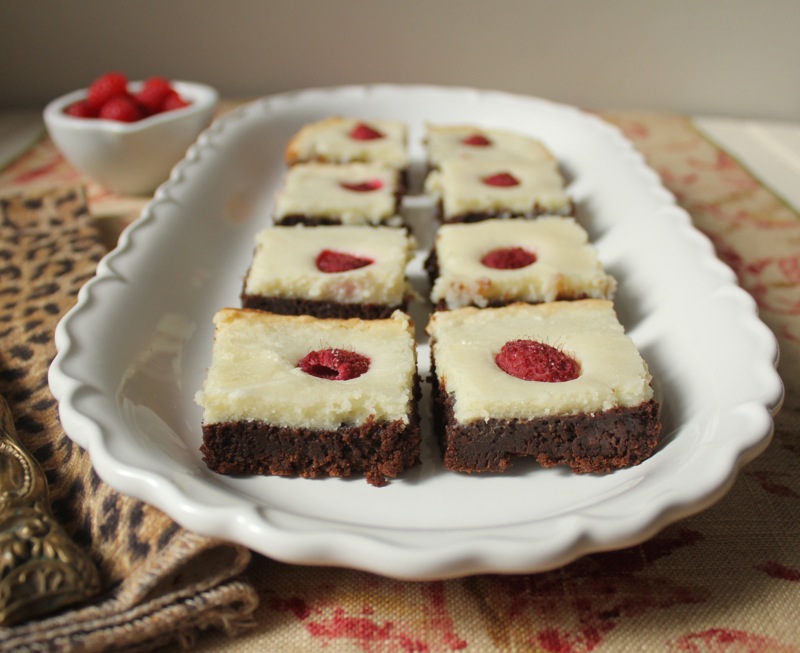 What could be better than rich chocolate brownies with a sweet and tart cheesecake topping?  That would be the same with a hit of fresh raspberries.  I have been cleaning and organizing the Florida house in preparation for our return to Lake Lure.  In the little used cabinet over the refrigerator I rediscovered my notebook of recipes from a whole live time ago.  Yellowed pages, stained and annotated by a younger me, brought back memories of the young wife and mother I used to be.  Dishes that I have not prepared in years reminded me of specific dinners with friends and family.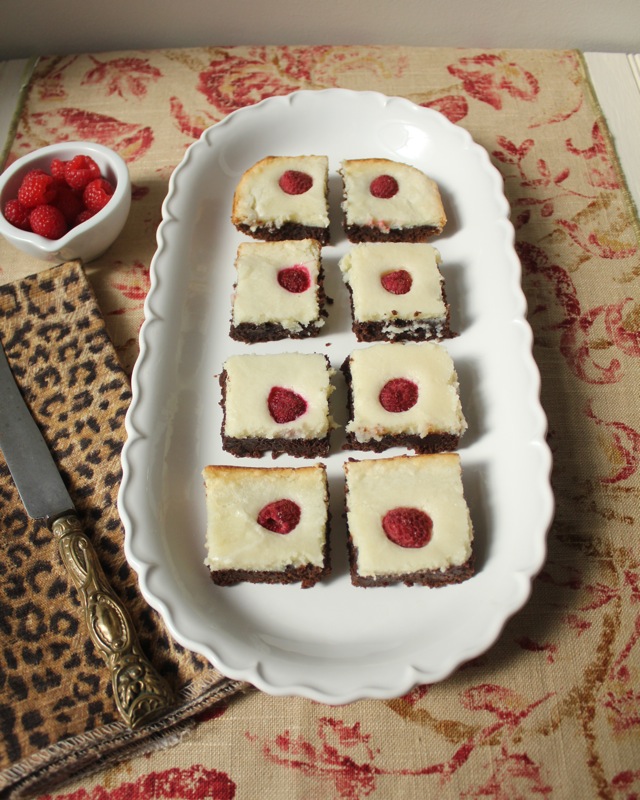 This brownie recipe is one of them .  It is an old recipe from Gourmet Magazine.  They are relatively easy to make; only requiring a few steps to make the layers.  My husband has always claimed the brownie prowess in our family.  He won a blue ribbon from 4-H for his recipe as a child.  But he is considering  yielding his status as "Brownie Expert" after tasting this rendition.  To me, the cream cheese layer lightens the richness of the chocolate brownie.  In addition, raspberries go so well with chocolate.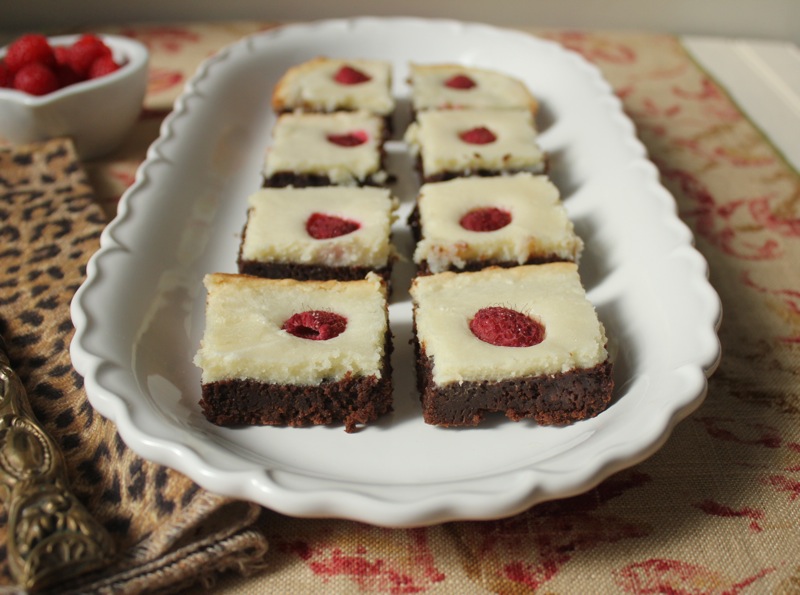 I feel like I have found a treasure trove of memories through recipes.  Another recipe I will share soon is my Texas Pecan Torte.  It was a dinner party favorite for many years.  I just hope our diets can survive this onslaught.
RASPBERRY CHEESECAKE BROWNIES
For Brownie Batter:
4 ounces fine-quality bittersweet chocolate, chopped
2 ounces unsweetened chocolate, chopped
1 stick (1/2 cup) unsalted butter
1 1/4 cup sugar
3 large eggs
1 1/2 teaspoon vanilla
3/4 teaspoon salt
3/4 cup all-purpose flour
For Cheesecake Topping:
8 ounces cream cheese, softened
2/3 cup sugar
2 teaspoons fresh lemon juice
1 large egg
1/2 teaspoon vanilla
1/4 teaspoon salt
2 tablespoons all-purpose flour
1 1/2 cups raspberries
1 tablespoon sugar
Preheat oven to 350 degrees F. and butter and flour a 13-by 9-inch baking pan.
Make Brownie Batter:
In a metal bowl set over a pan of barely simmering water melt chocolates with butter, stirring, and cool.  Whisk in sugar and eggs, 1 at a time, and whisk in vanilla and salt.  Whisk in flour until just combined and spread batter evenly in prepared pan.
Make Cheesecake topping:
In a bowl with an electric mixer cream together cream cheese and sugar until light and fluffy and beat in lemon juice, egg, vanilla, and salt.  Beat in flour and spread mixture in an even layer over batter.
Scatter raspberries over topping and sprinkle with sugar.
Bake brownies in middle of oven 35 to 40 minutes, or until top is puffed and pale golden and a tester comes out with crumbs adhering to it.  Cool brownies completely in pan on a rack and chill, covered, at least 6 hours or overnight.
Cut brownies into bars and sprinkle with confections' sugar if desired.  Serve brownies cold or at room temperature.  Makes about 24 brownies.