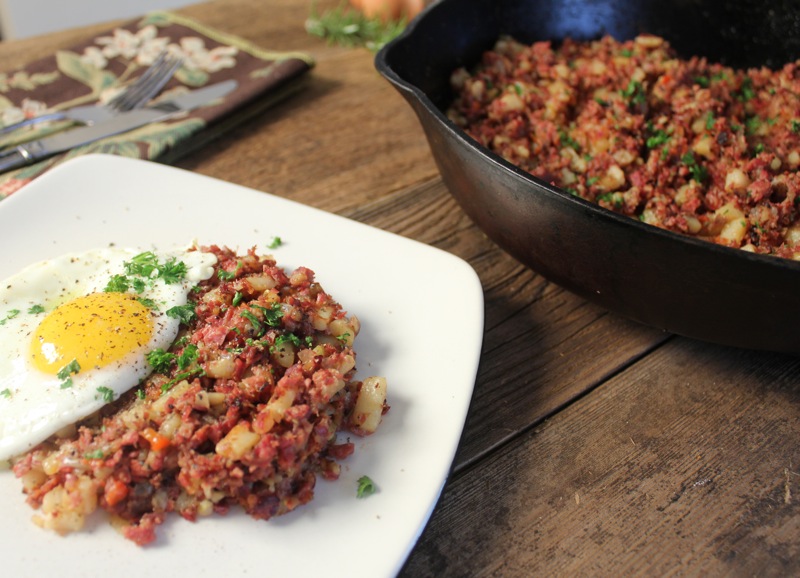 One of my favorite restaurant breakfasts is corned beef hash.  If it is on the menu, it is on my plate.  I like it with crispy edges and crusty bits.  Up until now, I have never made it at home.  Probably because in order to make corned beef hash you need to have corned beef on hand.  We had company last week and I thought it would be fun to make corned beef and cabbage.  Corned beef is plentiful in the supermarkets this time of year.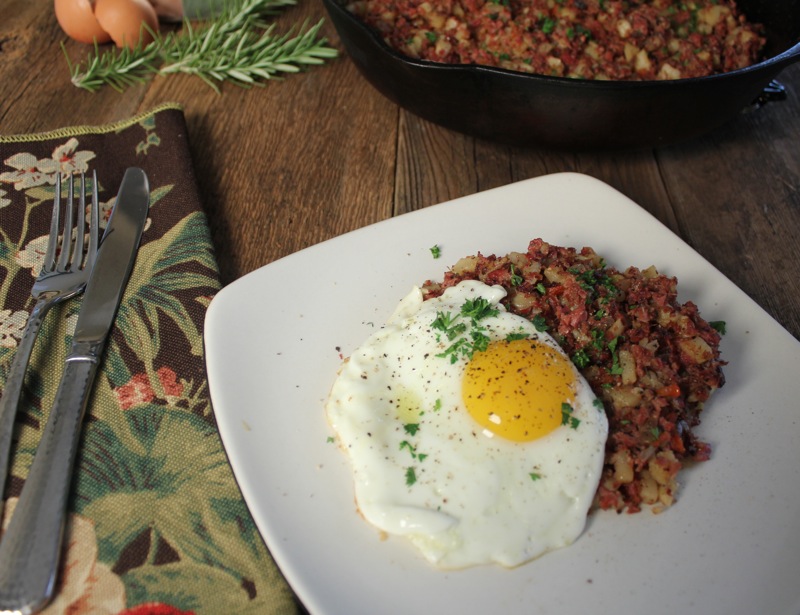 Before I used my leftover corned beef for the hash, I did a little research on the internet.  One of the first requirements was to use a cast iron skillet.  It is also recommended to place your chunks for corned beef in a food processor and grind them to small bits.  All recipes included chopped onions, some called for chopped carrots and some for chopped peppers.  I decided to go with chopped red peppers for their color.  The tricky part is adding some kind of binder.  Some used beef broth, some used chicken broth and some used cream.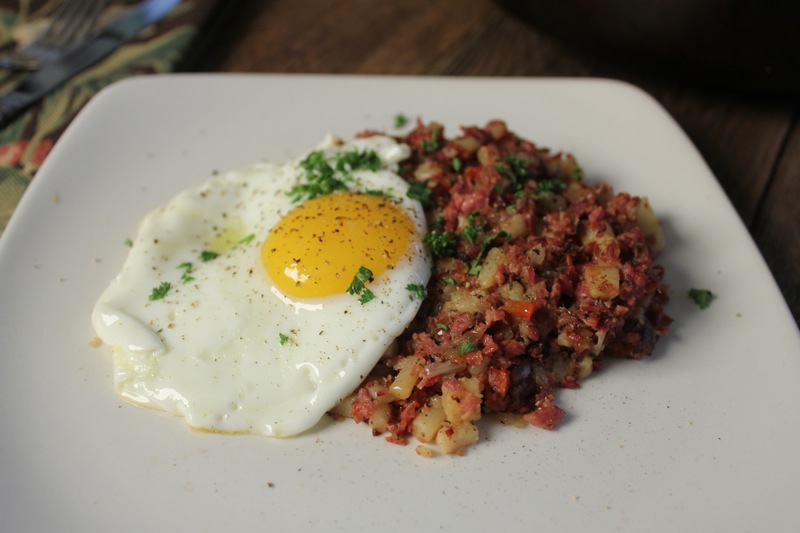 Then there is husband David's suggestion…use chitlins.  He is reading The Nero Wolfe  series of books by Rex Stout.  The mysteries were written over a period of forty years starting in 1934.  There was also a short-lived television series a few years back starring Timothy Hutton and Maury Chakin.  You can order the DVDs of the series through Netflix.  We are enjoying them.  Nero Wolfe is a detective who loves his food, his beer and his orchids.  He has a chef named Fritz.  David was reading Cordially Invited to Meet Death  at the gym yesterday, and when he came home and found me making corned beef hash he said, "you are using chitlins aren't you"?   In the book, Fritz and Wolfe are trying to solve the conundrum of dry corned beef hash.  A young Southern Belle comes to the rescue by telling them that corned beef hash must include chitlins.
"Chitlins!"  Wolfe bellowed.  Maryella nodded.  "Fresh pig chitlins.  That's the secret of it.  Fried in shallow olive oil with onion juice.  "Good heavens!"  Wolfe was staring at Fritz.  Fritz was frowning thoughtfully.  "It might do"  he conceded . . . .   They loved it.
I used chicken broth.
CORNED BEEF HASH
1 pound cooked corned beef (about 3 cups),  pieces diced small in a food processor
6 medium size cooked red potatoes, cut into small dice (about 3 cups)
1 medium onion, minced
1/2 sweet red pepper, cut into small dice
1 teaspoon dried thyme
1 teaspoon fresh rosemary leaves, diced fine
Salt and pepper to taste
1/2 cup chicken or beef broth
2 tablespoons canola oil
Parsley for garnish
Place the ground corned beef and the rest of the ingredients in a large bowl.  Stir to combine.  Heat the oil over medium-high temperature in an iron skillet.  Add the corned beef mixture.  Press mixture down with a spatula.  Turn heat to medium to medium low and cook undisturbed for about 5 to 10 minutes.  As the mixture starts to brown and crust up turn it gently.  Press down again with a spatula.  Leave alone to continue crusting for about 10 minutes.  Turn and continue the process two more times.  When browned to your liking.  Remove to plate, garnish with parsley and serve topped with a fried or poached egg.