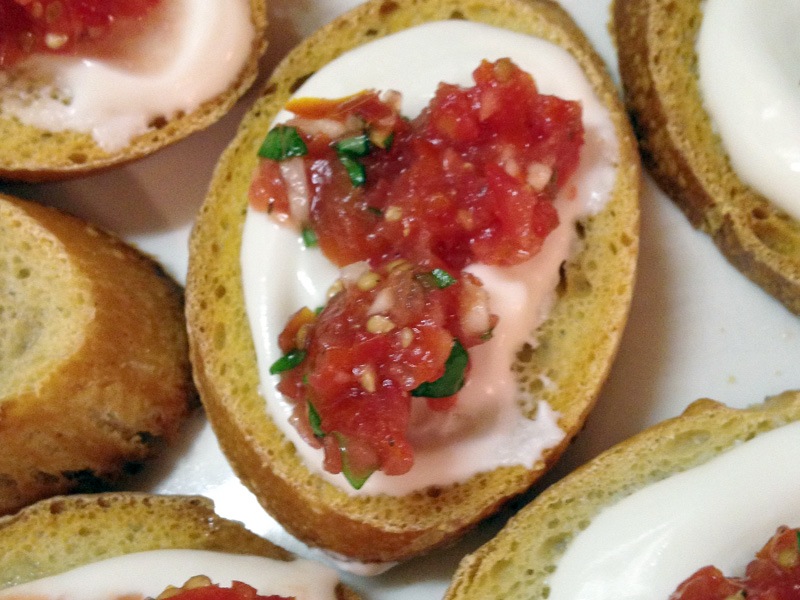 Today I am posting a recipe from my DIL Kristen.  She made similar crostini for us over the holidays.   She changed the recipe a little since Christmas and likes this version even better.  What is so unique about these crostini is the creamy consistency of the goat cheese spread and the freshness of the tomato and basil garnish.  I thought they would make a great appetizer for a Super Bowl party or for any party for that matter.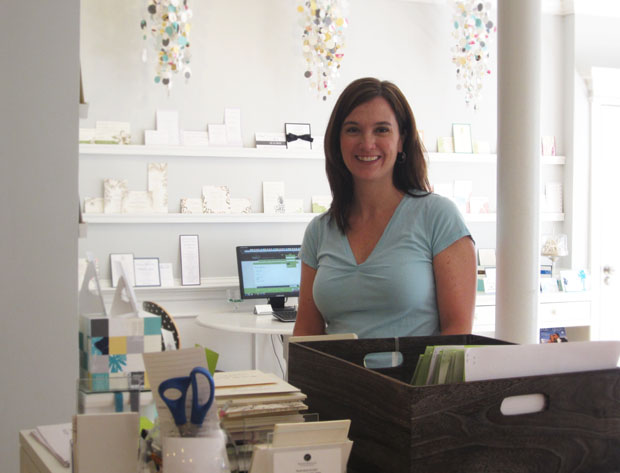 Kristen is very dear to me.  She and I have much in common.  She loves to cook and she is very good at it.   But she is also a savvy business woman who runs a very successful online stationery boutique specializing in unique wedding invitations called The Green Kangaroo.  The name of her business came from the title of the book The One in the Middle is the Green Kangaroo by Judy Blume.  It is a story of a middle child  (which Kristen is) trying to be unique and special. She is both of these in spades.
When she emailed me this recipe and the accompanying pictures, I knew I wanted to share it with you.  I have never had a bad meal from her kitchen.   Thank you Kristen!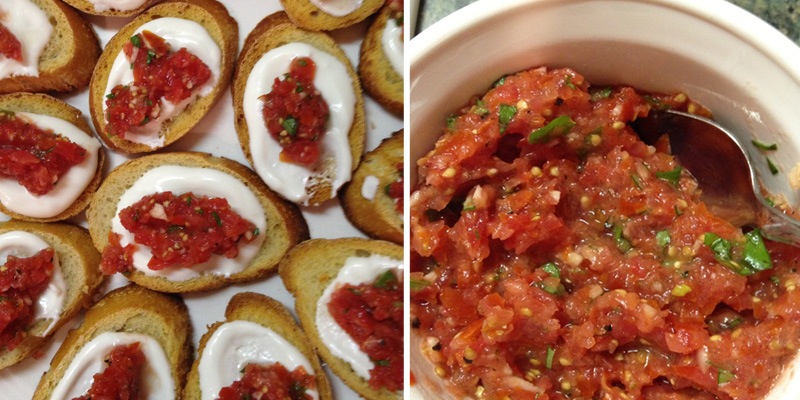 I am linking this recipe to Tailgating Time -Super Bowl at Seaside Simplicity.  There are lots of great recipes for your Super Bowl party on this post.
TOMATO-BASIL AND GOAT CHEESE CROSTINIS  (Kristen Klett)
1 Baguette
1 4 oz. log of Goat Cheese such as Montchevre or Il de France
1/4 cup of skim milk
3-4 Roma Tomatoes
1 clove of garlic
1 tablespoon of fresh basil
Salt and Pepper to taste
Slice the baguette on the bias and place pieces on a cookie sheet.  Toast in the oven at 450 degrees until lightly brown.
In a bowl, combine the goat cheese and milk.  Use a spoon to mash/stir and work the goat cheese and milk into a smooth paste.
Slice roma tomatoes (and deseed if preferred).  Use a food processor, chopper, or immersion blender to briefly pulse the tomatoes, garlic and basil into a relish-like consistency.  Add salt and pepper to taste.
Next, pour the tomato relish into a fine mesh sieve.  Gently shake it until most of the visible, separate moisture has drained out.  The tomato relish will form somewhat of a ball.  This is good!  If you don't have a sieve, use multiple layers of paper towels and pour the tomato relish onto the paper towels to absorb the moisture.  You don't want soggy crostinis!
Assemble your Crostinis – spread a liberal amount of goat cheese onto the toasted side of each crostini.  Spoon tomato relish on top of the goat cheese and present on a platter.  These would also be delicious with a drizzle of balsamic vinegar!  I've even considered assembling a small salad on top of the goat cheese.  You could do goat cheese, micro greens, tomato-basil relish, & vinaigrette.  The possibilities are endless!
This appetizer should take about 20 minutes or less to make and your guests will be asking for more!