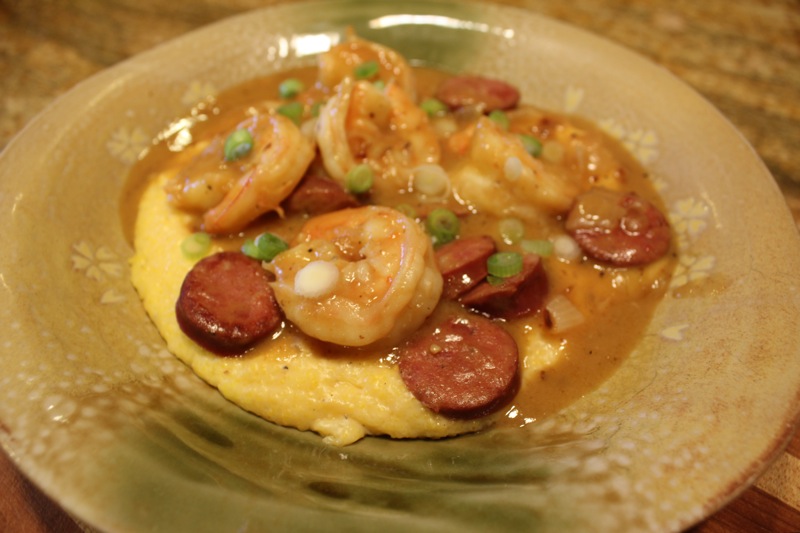 The first time I had shrimp and grits was in the early 80's at a small restaurant in Chapel Hill, North Carolina called Crooks Corner.  As it turns out this was not just any restaurant and not just any dish.  Crook's Corner was the birthplace of shrimp and grits. The dish has been copied all over the south and has made its way onto menus from New York City to Sante Fe, New Mexico.  The original chef, the late Bill Neal, caught the attention of Craig Claiborne who wrote about Shrimp and Grits and the Southern menu in The New York Times. Crook's Corner is "sacred ground for Southern foodies".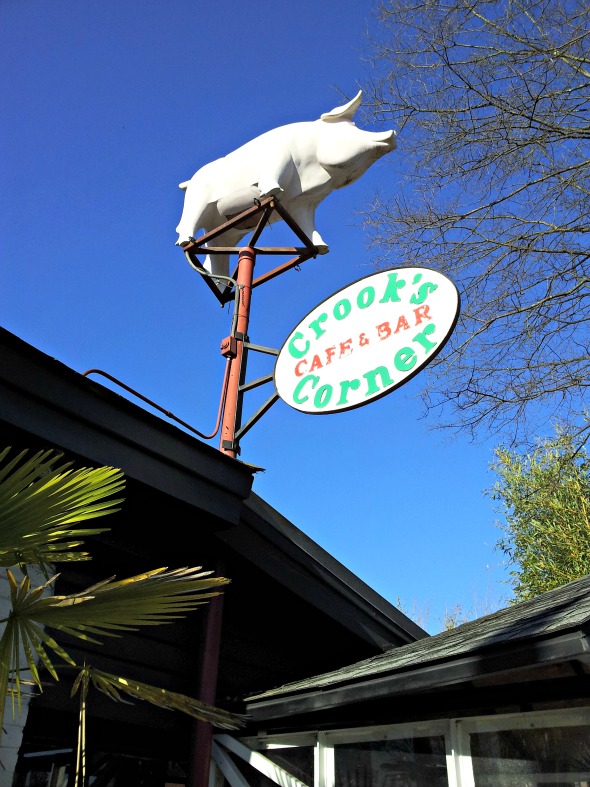 Today under the leadership of Chef Bill Smith, many of the original recipes of Chef Neal are still served.  Chef Smith has added many of his own signature southern classics, but the shrimp and grits recipe has remained the same.  We love it.  But over the years David, my in-house shrimp and grits guru, has combined recipes from several sources including Tyler Florence, Martha Nesbit of Savannah, GA, and Slightly North Of Broad restaurant in Charleston, SC.  I'm going to let him take over from here.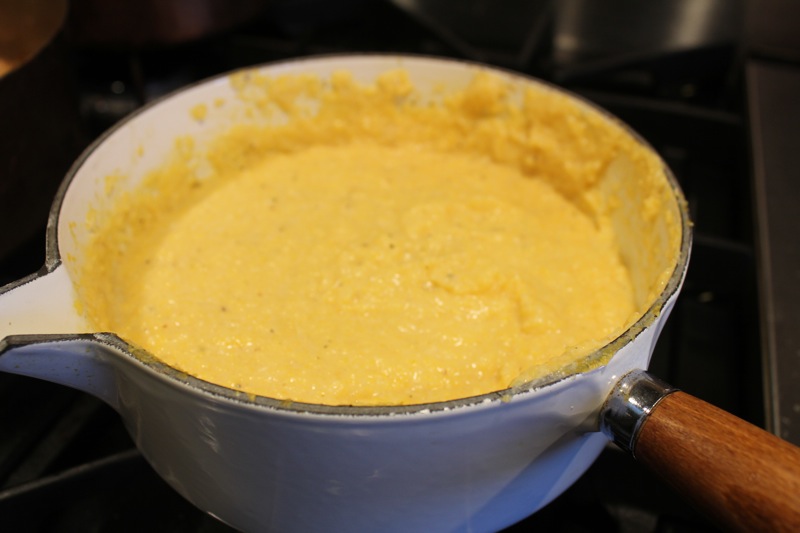 Penny asked me stop at the grocery store and pick up some milk and orange juice.  I put the milk and juice in the cart and then took a stroll past the seafood case to see what Ingles had to offer that day, and there they were, some of the most gorgeous 10-15 per pound shrimp I had ever seen. Visions of shrimp and grits immediately flashed through my mind.  By the time I checked out, I had in my cart a package of the shrimp, packages of bacon and andouille sausage, a package of stone ground grits, a hunk of sharp cheddar, and some scallions.  The check-out girl looked at the shrimp and said, "Boy, those are some nice looking shrimp."  I nodded and said, "Yeah, I know…I just came in here for some milk and orange juice until I saw those shrimp."
This recipe uses both bacon and andouille sausage for the fat component, and the grits are cooked in milk instead of water, a la Tyler Florence, and  include cheddar cheese, a la Martha Nesbit.  Tyler actually cooks his grits in a mixture of whole milk and heavy cream, but in an effort to lighten things up a bit, I used Smart Balance skim milk which almost tastes like 2%.  Stirring in grated cheddar cheese at the end makes a deliciously rich bowl of grits.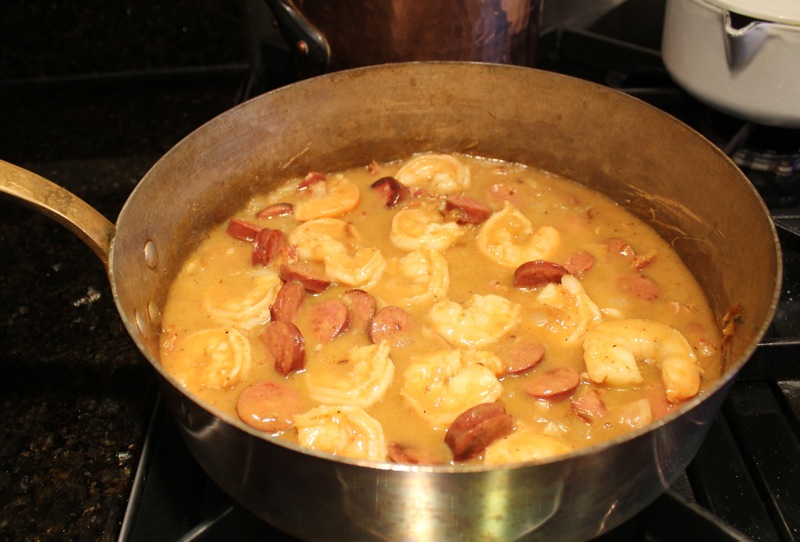 We are traveling right now.  We have been visiting friends on Nantucket Island for the daffodil festival.  I hope to have some awesome pictures to share with you soon.  In the meantime, here is David's recipe for Shrimp and Grits.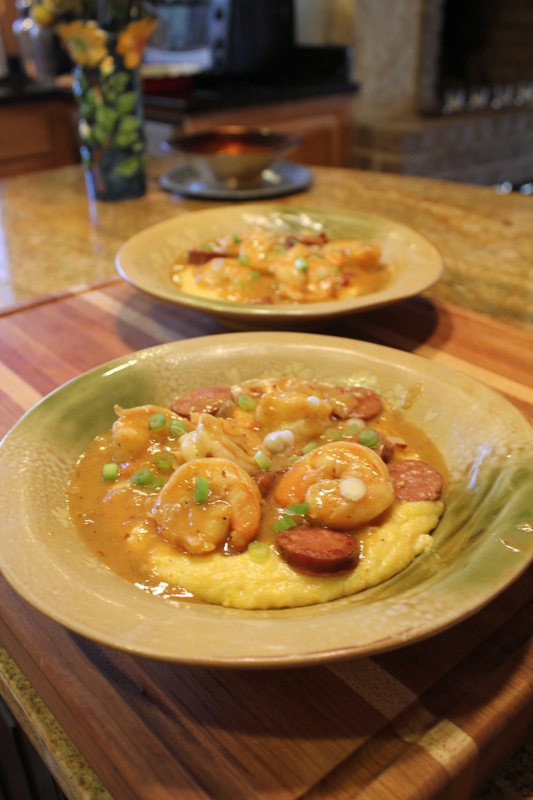 SHRIMP AND GRITS
For the grits:
4 cups milk (We use Smart Balance Skim Milk)
1 cup stone-ground grits
2 tablespoons unsalted butter
Kosher salt and freshly ground black pepper
1 cup grated sharp cheddar cheese
For the shrimp:
3 strips of bacon cut into small pieces
1 medium onion, minced
3 garlic cloves, minced
1/2 pound andouille or spicy Italian sausage, cut in chunks
1/4 cup all-purpose flour
2 cups chicken stock
2 to 3 bay leaves
1 pound large shrimp, peeled and deveined
Pinch cayenne pepper, adjust to personal preference
1/2 lemon, juiced
Kosher salt and freshly ground black pepper
2 tablespoons finely chopped fresh flat-leaf parsley
4 green onions, sliced
For the grits:
Place a 3-quart pot over medium-high heat.  Add the milk.  Slowly whisk in the grits.  When the grits begin to bubble, turn the heat down to medium low and simmer, stirring frequently with a wooden spoon.  Allow to cook for 10 to 15 minutes, until the mixture is smooth and thick.  Remove from heat and stir in the butter and cheese, thin it out with a little extra milk if necessary.  Season with salt and pepper to taste.
For the shrimp:
Place a deep skillet over medium heat and coat with a little olive oil.  Add the bacon and cook until done.  Remove bacon to a paper towel.  Add the onion and garlic; saute for 2 minutes to soften.  Add the sausage and cook, stirring, until there is a fair amount of fat in the pan and the sausage is brown.  Sprinkle in the flour and stir with a wooden spoon to create a roux.  Slowly pour in the chicken stock and continue to stir to avoid lumps.  Toss in the bay leaves.  When the liquid comes to a simmer, add the cooked bacon and the shrimp.  Poach the shrimp in the stock for 2 to 3 minutes, until they are firm and pink and the gravy is smooth and thick.  Add the cayenne pepper and lemon juice.  Season with salt and pepper; stir in the parsley and green onion.  Spoon the grits into individual bowls and add the shrimp mixture on top.  Serve immediately.