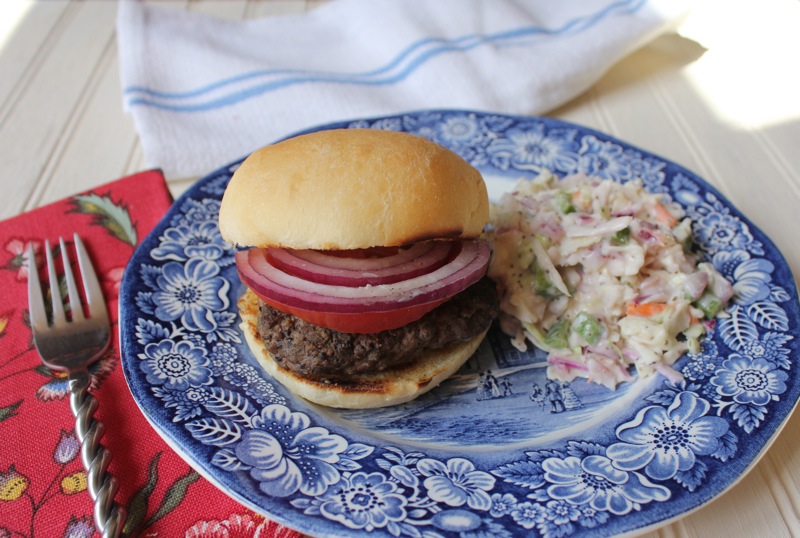 I have been trying to buy the majority of my meat and poultry from The Chop Shop in Asheville.  All of their inventory comes from local Western North Carolina farmers. I just feel better about supporting local farmers and avoiding chemically altered meat.  Last week I bought some ground chuck that came from Apple Brandy Farms.  It is a third generation family farm in the foothills of Western North Carolina.  All of their beef is corn fed and raised naturally.  I planned on using the ground chuck to make hamburgers, but on the way home I remembered that I didn't have any hamburger buns.  Since I was feeling so virtuous about the quality of my hamburgers, I decided that  plain ol' store-bought hamburger buns wouldn't do.  I would make them from scratch.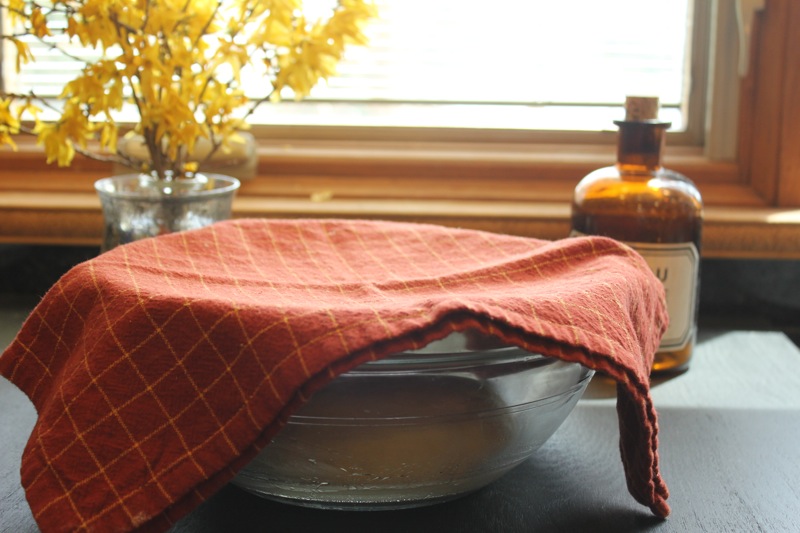 I found a recipe on theKitchn website.  These hamburger buns couldn't be easier.  After mixing and kneading the dough in a stand mixer, it is left to rest and rise in a bowl for an hour.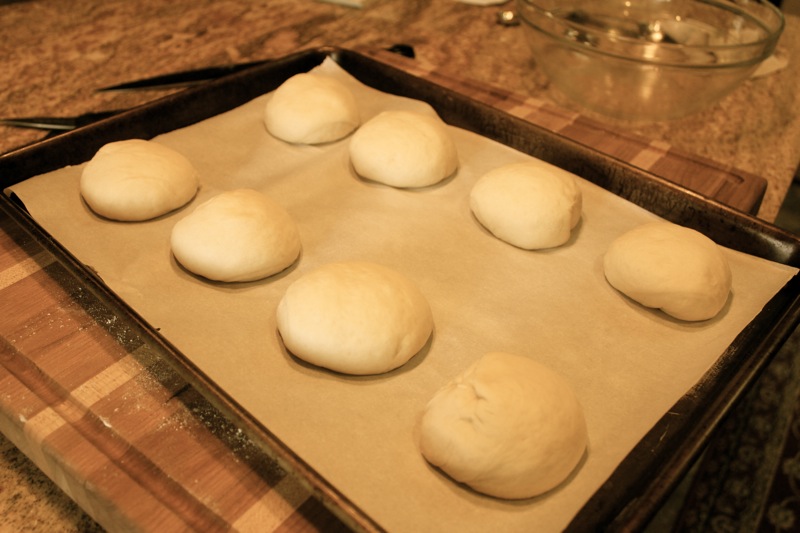 The buns are rolled and left to rise again.  They are then baked.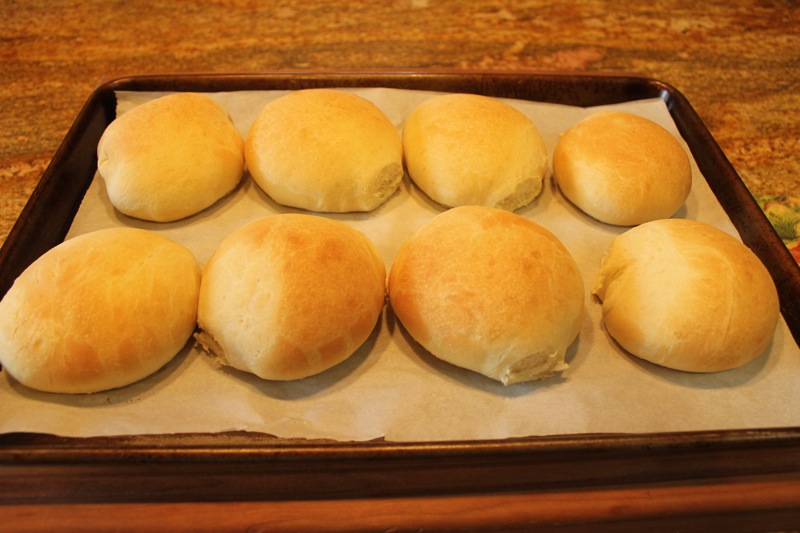 This was so easy, that I see no reason not to do it on a regular basis.  I might just experiment with different flours and toppings like sesame seeds or chia seeds in the future.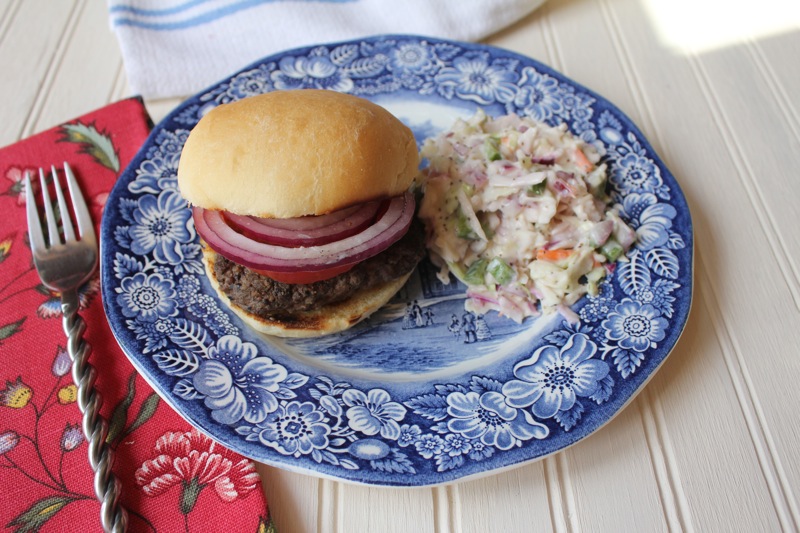 I have to say that both the hamburgers and the buns were delicious.
HOMEMADE HAMBURGER BUNS
1 tablespoon active-dry yeast
1/2 cup (4 oz) warm water
1/2 cup (4 oz) milk (whole, 2%, or skim)
1 large egg
2 tablespoons vegetable oil
2 tablespoons sugar
1 teaspoon salt
3 cups (15 oz) all-purpose flour
1 tablespoon butter
In the bowl of a standing mixer (or a large bowl, if mixing by hand), stir the yeast into the warm water and let it sit until dissolved.
In a separate bowl, whisk together the milk, egg, oil, sugar, and salt. Add this to the yeast mixture and stir until combined. Add all the flour and stir until it forms a shaggy dough. Knead at low speed, or by hand for 10 minutes. The finished dough should be smooth, feel slightly tacky, and spring back when poked.
Return the dough to the mixing bowl and cover. Let the dough rise in a warm spot until doubled in bulk, about an hour.
Dust your work surface with a little flour and turn out the risen dough on top. Divide the dough into 8 pieces and shape each into a tight ball. Transfer the balls to a baking sheet and let rise until they look puffy and hamburger-sized, roughly 30-40 minutes.
Pre-heat the oven to 375°F.
Melt the butter and brush it over the risen hamburger buns. This helps the tops to brown and keeps the crust soft. Bake the buns until golden, 15-18 minutes.
Let the buns cool to room temperature before slicing and using. They are best if eaten within the next day or two, but will keep in an airtight container on the counter for up to a week.
Additional Notes:
• For Whole Wheat Buns – Substitute 1/2-1 cup of the all-purpose flour with whole wheat flour and prepare the recipe as usual. The texture of the buns will be a bit more dense, but still very delicious and burger-worthy.
• Doubling the Recipe – Double all of the ingredients except for the yeast. To make even more buns, it's best to prepare separate batches as the dough becomes too cumbersome to work with easily.
• Freeze Buns for Later – Wrap the buns in aluminum foil and then store in an air-tight container or freezer bag. Let them thaw in their packaging overnight on the counter. Foil-wrapped buns can also be thawed more quickly or re-warmed in a 300°F oven for about 10-15 minutes.