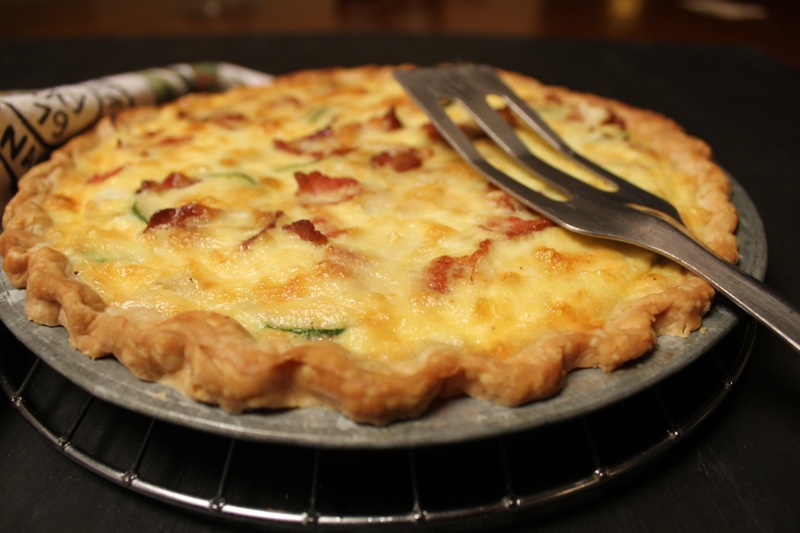 When in doubt about what to have for supper, I tend to favor making a quiche.  After all, the ingredients are always in my fridge.  As luck would have it, I also had a perfectly formed pie crust in its pan in my freezer from a previous cook-a-thon.  The inspiration for using zucchini came from a post by David Lebovitz.  Here is the picture from his blog that inspired me.  The tart was made by a friend that he was visiting in the French countryside.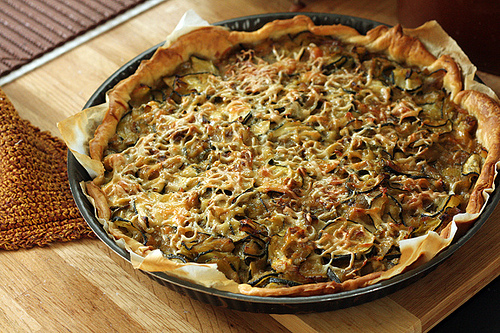 Quiches and tarts seem very French to me.  I guess that is one of the reasons I am drawn to them.  It may also have something to do with the buttery richness of the pastry.  There is something to be said for the creative ways that the French use seasonal vegetables.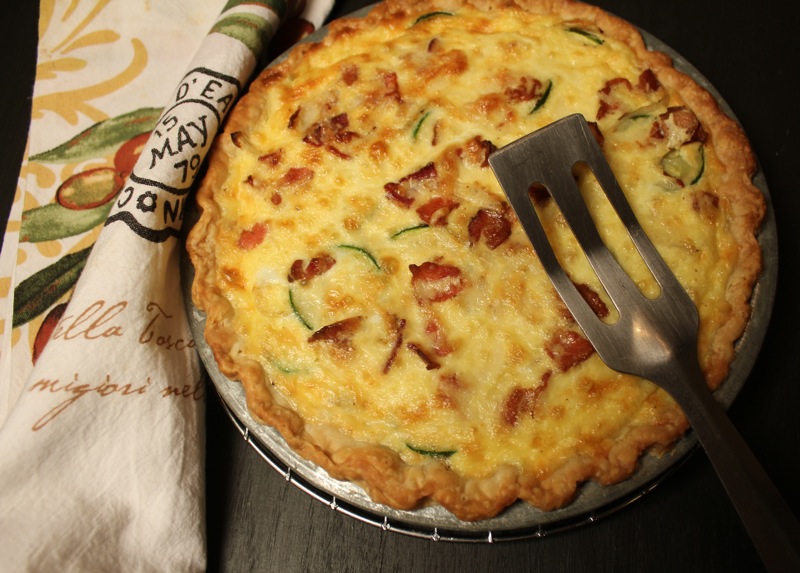 The other ingredients in this particular quiche were bacon, Gruyere cheese and a pinch of nutmeg.  Because my pie pan, which I picked up at an antique store,  was very shallow I needed only 2 eggs and 1 cup of cream.  The quiche was one of the best I've ever made.  The pastry is a "no fail" recipe from Ina Garten.  I strongly suggest that you get out your food processor and make a batch of pastry dough.  Either freeze it in individual discs or do like I did and have it ready to go in your pie plates.  You won't be sorry.
Hope everyone had a great Labor Day Weekend.  We spent four wonderful days with the extended family and enjoyed swimming, tubing, skiing, hiking and eating.  Everyone slowed down long enough for this group picture (minus David and me.)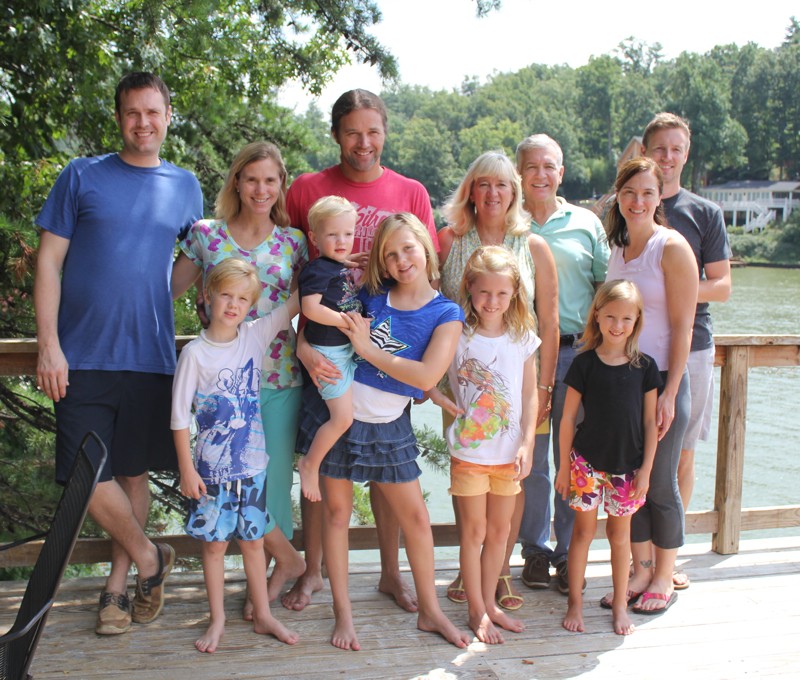 ZUCCHINI QUICHE (Adapted from Gourmet Magazine)
1  9- inch partially baked pastry dough (recipe follows)
1/4 lb sliced bacon, coarsely chopped
2 medium zucchini, halved lengthwise, then cut crosswise into 1/8-inch thick slices
1/2 teaspoon salt
3/4 cup heavy cream
3/4 cup whole milk
Coasley ground black pepper to taste
3 large eggs
1 cup Gruyere cheese, coarsely grated
Preheat oven to 350 degrees F.  Cook bacon in a 12-inch skillet over moderately high heat, stirring occasionally, until just crisp.  Transfer bacon with a slotted spoon to a paper-towel-lined plate, reserving the fat in the skillet.  Add the zucchini and 1/4 teaspoon salt and saute over moderately high heat, stirring frequently, until zucchini is tender and starting to brown, about 5 minutes, then transfer with slotted spoon to a plate.
In a large bowl, whisk together the beaten eggs, cream, milk, pepper and remaining 1/4 teaspoon salt.  Stir in the bacon, zucchini, and cheese and pour into prepared piecrust.  Bake until filling is just set, 25 to 30 minutes.  Transfer quiche in pan to rack to cool slightly and serve.
PERFECT PIE CRUST (Ina Garten)
Makes 2 10-inch crusts
12 tablespoons (1 1/2 sticks) very cold unsalted butter
3 cups all-purpose flour
1 teaspoon kosher salt
1/3 cup very cold vegetable shortening (Crisco)
6 to 8 tablespoons (about 1/2 cup) ice water
Dice the butter and return it to the refrigerator while you prepare the flour mixture.  Place the flour, salt,and sugar in the bowl of a food processor fitted with a steel blade and pulse a few times to mix.  Add the butter and shortening.  Pulse 8 to 12 times, until the butter is the size of peas.  With the machine running, pour the ice water down the feed tube and pulse the machine until the dough begins to form a ball.  Dump out on a floured board and roll into a ball.  Divide the dough in half and flatten each ball into a disc.  Wrap in plastic wrap and refrigerate for 30 minutes.  At this point you could freeze one or both of the discs.
If using immediately, generously flour a board and roll one of the discs into a circle, rolling from the center to the edge, turning and flouring the dough to make sure it doesn't stick to the board.  Fold the dough in half, place in a pie pan, and unfold to fit the pan.  Crimp edges. Repeat with second dough round. Can be frozen, well wrapped, at this point.
If using for quiche immediately, return dough in its pan to refrigerator for 30 minutes.  Remove from fridge and line with parchment paper.  Dump enough dried beans into parchment paper lining to fill the pan 3/4 full.  Bake at 450 degrees for 15 minutes.  Carefully remove parchment paper and beans from pie plate and continue to bake for 5 more minutes until pastry is just starting to brown.  Remove from oven.  Proceed with quiche recipe.