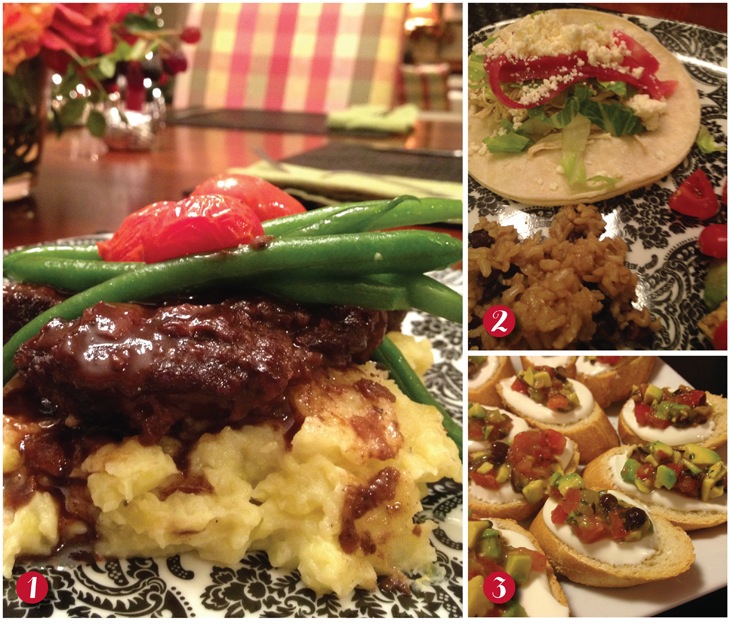 In my last post I included the above picture of dishes that I served over the holidays.  Number 1 is Braised Short Ribs on Garlic Mashed Potatoes with Green Beans and Roasted Tomatoes. If you want to impress your guests on New Year's Eve, you won't do better than this.  It is pretty to look at and the beef is so tender that all you need is a fork to enjoy it.  I have several boneless short ribs recipe in my repertoire,  but this one is so special that I will make it for birthday parties, Christmas dinners, New Year's or any other special occasion for which I want to make people feel special.
The presentation is the key.  If you have a wide mouth white soup bowl it would be stunning.  But even served on my black and white dinner plates it looked festive.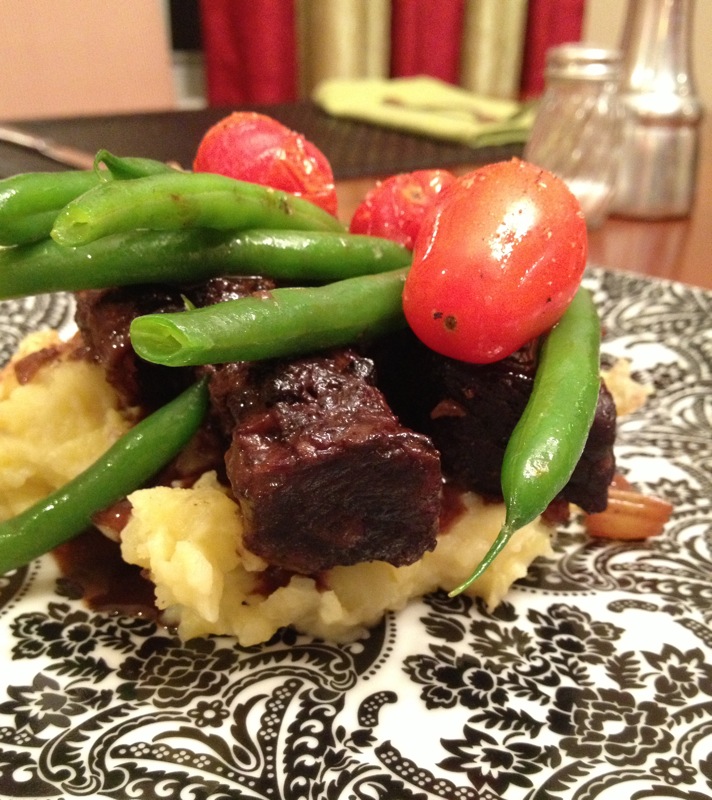 The recipe came from Chuck Hughes on The Food Network.  I was intrigued by it because of the unusual ingredients including beets, cinnamon, cocoa powder and brown sugar.  The beets impart a dark color to the sauce and the flavorings give it a hint of sweetness.  I have changed the amount of brown sugar.  It called for 1 cup but that seemed excessive.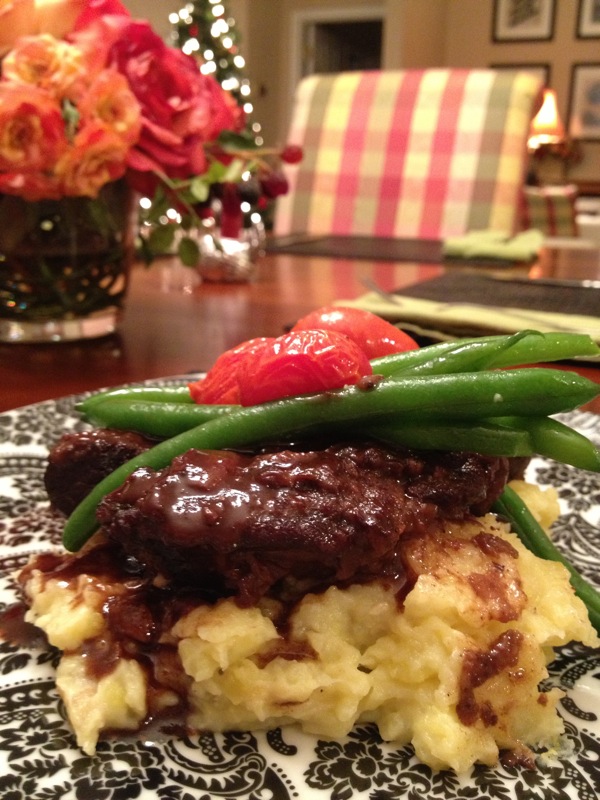 I can't think of a better way to bring in the New Year.  Your friends and family will thank you.  Happy New Year everyone.
BRAISED SHORT RIBS
2 packages boneless short ribs (about 16 to 18 total) or 8 bone-in short ribs
3 large onions, coarsely chopped
3 to 4 stalks celery, coarsely chopped
4 carrots, peeled, trimmed and cut into 2-inch chunks
2 beets, peeled, trimmed and cut into 1-inch cubes
3 heads of garlic, cut in half
2 sprigs of rosemary
2 sprigs of thyme
1 star anise (optional)
1 cinnamon stick
Coarse salt
1 cup flour
Canola oil
2 bottles red table wine
2 tablespoons cocoa powder
1/2 cup brown sugar
Handful peppercorns
1 to 2 tablespoons butter
Preheat the oven to 350 degrees F.
In a large bowl, combine the onion, celery, carrots, beets and garlic.  Add the rosemary, thyme, star anise, and cinnamon stick, and set aside.
If using bone-in ribs, trim off the excess outer fat.  Season the ribs well with coarse salt.  Dredge in flour until well coated.
In a (very) large Dutch oven or wide soup pot on high heat, pour in enough oil to coat the bottom of the pan.  Add the ribs to the hot oil and sear the ribs so they are browned on all sides.  You will have to do this it batches for the boneless ribs.  Remove the ribs and set aside.
In the same pan, transfer all the vegetables from the bowl, and stir to caramelize and pick up all the brown bits.  Add the meat back into the pot.  Pour the wine over top.  Ensure all is covered with the liquid and if not, top up with water.
Add the cocoa powder, brown sugar and peppercorns, and bring to a boil, cover with a lid or foil, and place in the oven until the meat is fork tender, about 3 hours.  Remove the ribs to a platter, and strain out the solids to use for something else.
Boil the cooking liquid in a wide shallow pan until it is reduced by half.  It will be richer, more flavorful and thicker.  Add a nub of butter at the end for sheen and flavor.
Serve the short ribs on a mound of Garlic Mashed Potatoes, topped with green beans and roasted cherry tomatoes.
GARLIC MASHED POTATOES
1 heat garlic
1 tablespoon good, fruity olive oil
Salt and freshly ground black pepper
A sprig or 2 of fresh herbs (rosemary or thyme)
6 large Yukon Gold potatoes, scrubbed but not peeled, and quartered
1 stick butter
1 cup cream or half and half
Slice the top off a garlic head and drizzle with olive oil.  Sprinkle with salt, pepper and the fresh herbs.  Wrap in a tin foil packet, and roast in the oven for about 1 hour.
Fill a large saucepan with water; add a few good pinches of coarse salt and the potatoes.  Bring to a boil, reduce the heat and simmer until just fork tender.  Do not over cook or the potatoes will be soggy.  Drain off the water, leaving the potatoes in the pot.
Add the butter and cream to the potatoes and mash well.
Remove the garlic from the oven.  Squeeze the garlic cloves into the potatoes, and stir in.  The consistency you want is rough, with some lumps.  Seaon the potatoes with salt, and pepper, if desired.
BEANS AND TOMATOES
Stem the beans and place them in boiling water.  Cook until crisp tender.  Plunge the beans into a bowl of ice water to stop the cooking and set the color.  Set aside until ready to assemble dish.  Just before serving time, heat a couple of tablespoons of butter in a large skillet.  Add beans and toss to coat.  Cook until just heated through.
Place a pint of cherry tomatoes on a small baking sheet.  Coat with olive oil, coarse salt and pepper.  Place in a 400 degree oven and cook just until skins begin to burst, about 10 minutes.