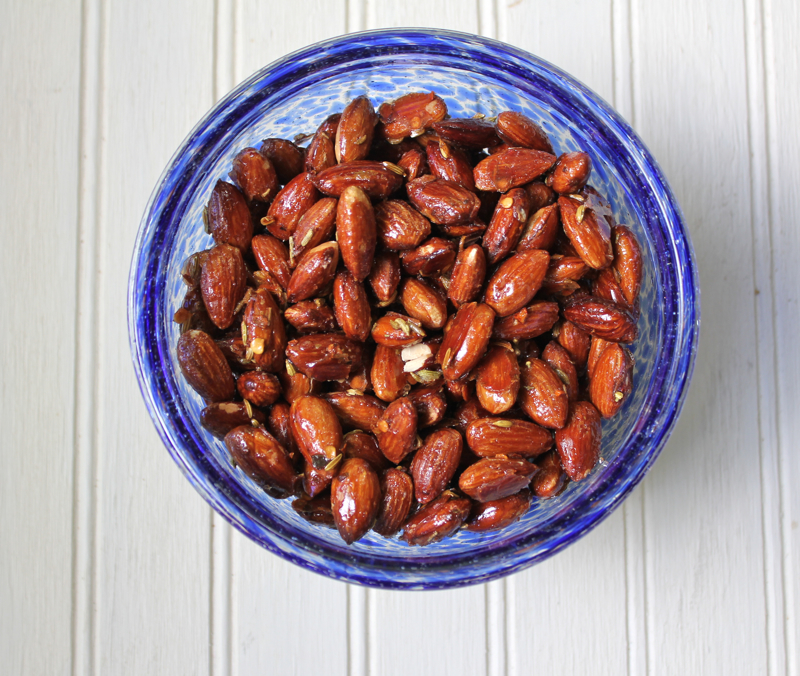 Dorie Greenspan says that everyone should have a favorite flavored nut recipe; a specialite de la maison so to speak.  Nuts on their own are rather bland, but the possibilities are endless for flavoring them.  What would be your specialty of the house?  This combination that I found in Bon Appetit Magazine is certainly a contender in my house.  It starts with simple whole almonds.  They are combined with a sugar, fennel, red pepper and salt mixture.  A little water is added and the mixture is put in the oven so that the sugar will melt and coat the almonds.  I love the kick from the red pepper flakes and the unique flavor of the fennel seeds.
Here are a few of the nut recipes from food authorities.  Dorie adds sugar, salt, chili powder, cinnamon and cayenne to her nut recipe. Ina has a recipe using maple syrup, brown sugar, chipotle powder and rosemary.  Giada has a curried version of nuts that sounds very interesting.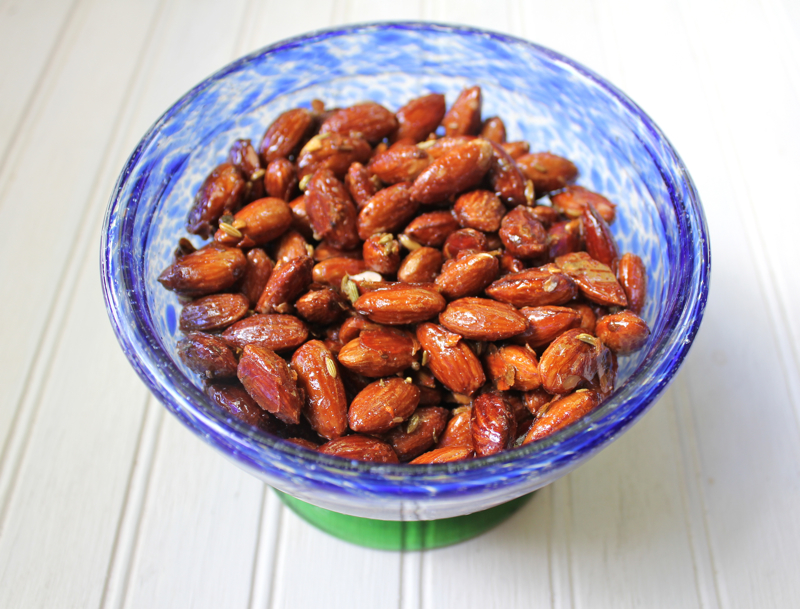 The next time you have people over for cocktails, why not put out a bowl of flavored nuts;  your specialty of the house .  I would be curious to hear what that might be.
GLAZED RED PEPPER-FENNEL ALMONDS  (Bon-Appetit)
Nonstick vegetable oil spray
3 tablespoons sugar
2 teaspoons fennel seeds
1 teaspoon dried crushed red pepper
1 teaspoon salt
1 cup whole almonds
1 tablespoon water
Preheat oven to 325 degrees F.  Line a heavy baking sheet with foil; spray with nonstick spray.  Combine sugar, fennel seeds, crushed red pepper, and salt in medium bowl.  Mix in almonds and 1 tablespoon water.  Spread mixture on prepared baking sheet in single layer.  Bake until sugar melts and almonds are deep golden brown and glazed, stirring often, about 22 minutes.  Separate almonds with fork; cool completely on sheet.  Transfer almonds to bowl and serve.  Can be prepared 1 week ahead.  Store in plastic bag.