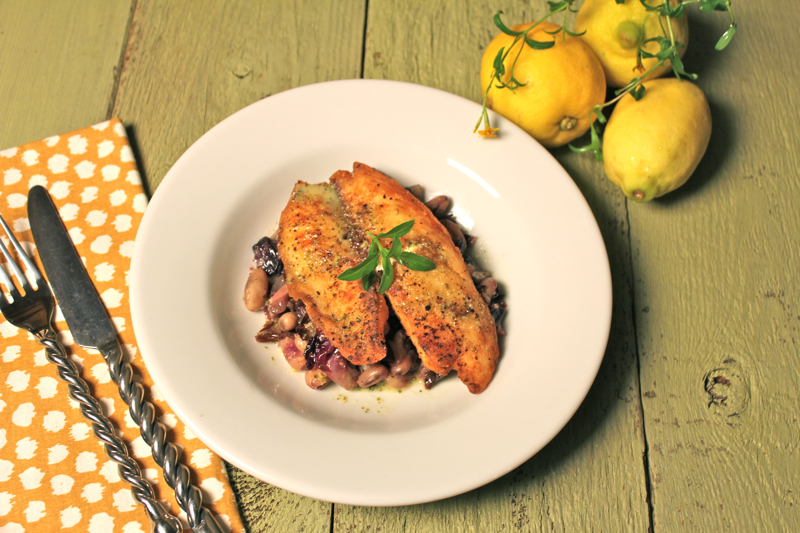 After two weeks with company, we are on our own again.  The house feels empty.  I am missing the chaos and children's laughter and even the shrieks of discontent.  But the house is back in order and the refrigerator looks less like a dumping ground for a crowd with disparate appetites.  At one time we had 5 different kinds of milk; soy milk, almond milk, whole milk, 2% milk and skim milk.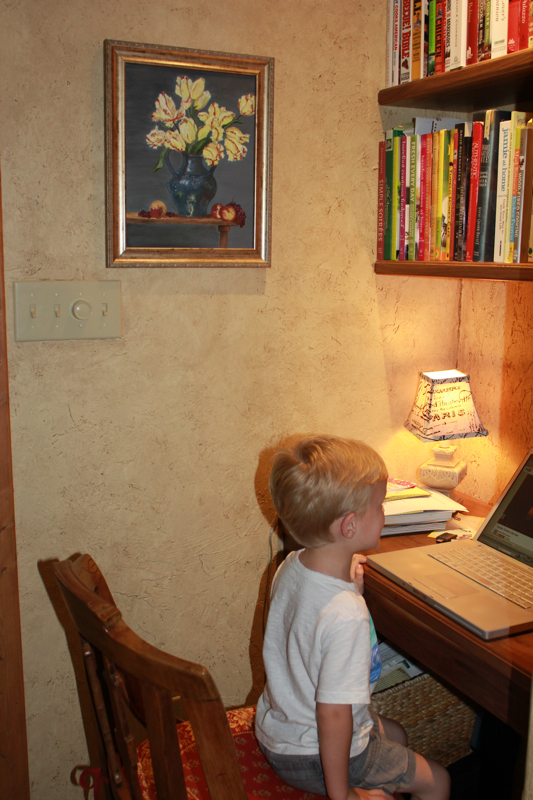 I have reclaimed my computer from my 3 year old Grandson.  He loves watching You tube videos of Thomas the Train.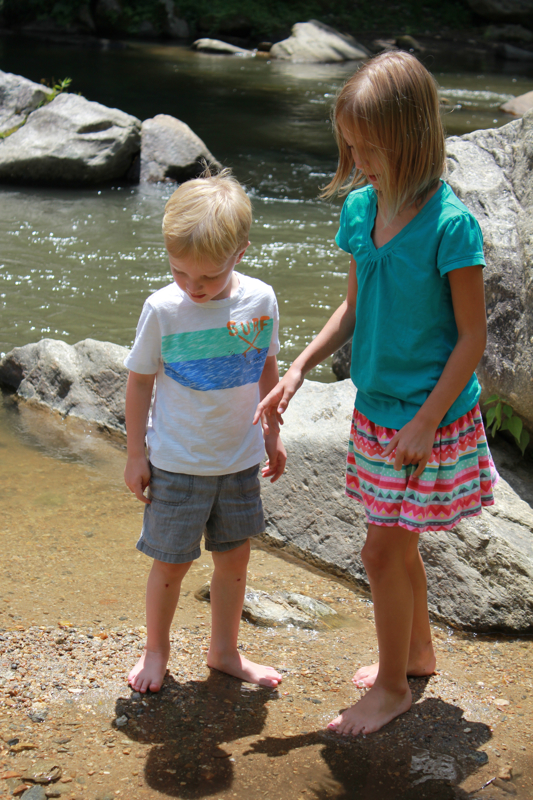 We took the Grandkids to the Rocky Broad River one day to play and splash in the water.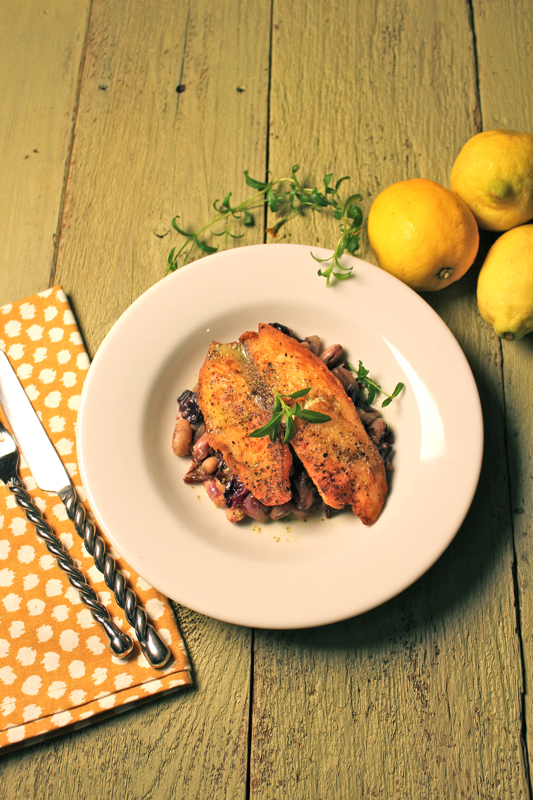 So now we are back to meals for two.  This recipe for Tilapia with Lemon Vinaigrette is one of our favorites.  It is a Giada De Laurentiis recipe and we have been making it for several years now.  It is always a collaborative effort.  I make the lemon vinaigrette and white beans and radicchio and David pan fries the fish.  It comes together in a flash.  The vinaigrette is perfect with the fish and the combination of white beans and radicchio is a stellar accompaniment. The bitterness of the radicchio is tempered both by sauteing and by being mixed with the mellow cannellini  beans.  It is a simple dish with lots of flavor.
TILAPIA WITH LEMON VINAIGRETTE AND WHITE BEANS AND RADICCHIO (Adapted from Giada De Laurentiis)
8 tablespoons olive oil
3 shallots, thinly sliced
1 large head radicchio (about 12 ounces), coarsely chopped
1 (15-ounce) can cannellini beans, drained and rinsed
1/3 cup chicken broth
Salt and freshly ground pepper
6 (5 to 6-ounce) tilapia fillets
All-purpose flour, for dredging
Lemon Vinaigrette, recipe follows
Heat 2 tablespoons of oil in a heavy large skillet over medium heat.  Add the shallots and saute until tender, about 2 minutes.  Add the radicchio and saute until wilted, about 5 minutes.  Add the beans and broth and cook until the beans are heated through, stirring often, about 5 minutes.  Season the radicchio mixture, to taste with salt and pepper.
Meanwhile, heat 3 tablespoons of oil in a 14-inch (or 2 smaller) nonstick frying pan over medium-high heat.  Sprinkle the fillets with salt and pepper.  Dredge the fillets in flour to coat completely.  Shake off the excess flour and fry 3 fillets in each pan until they are golden brown and just cooked through, about 3 minutes per side.
Spoon the radicchio mixture over the center of the plates.  Top with the fillets.  Drizzle the the vinaigrette over and serve immediately.  Serves 6
LEMON VINAIGRETTE
1/4 cup fresh lemon juice
1/4 cup lightly packed Italian parsley and fresh tarragon leaves
2 cloves garlic
2 teaspoons finely grated lemon zest
1/2 teaspoon salt
1/4 teaspoon fresh ground black pepper
1/3 cup olive oil
Blend the lemon juice, parsley, tarragon, garlic, lemon zest, salt, and pepper in a blender or food processor.  With the machine running, gradually blend in the oil  Season the vinaigrette, to taste, with more salt and pepper.