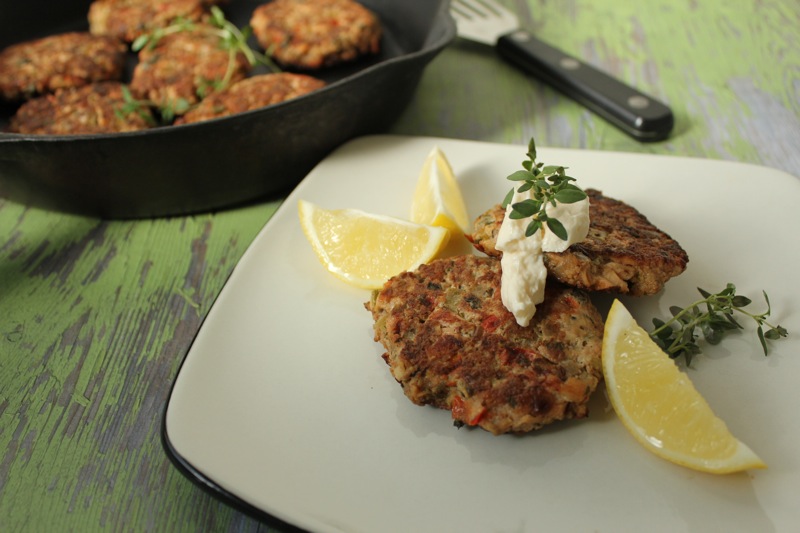 David asked me to make salmon cakes for him last week.  I had a can of salmon in the pantry.  I threw together a hasty batch of them and although they were good, they were not memorable.  He is nothing if not persistent.  He researched different recipes, finally settled on a Barefoot Contessa recipe, bought all of the ingredients and made a batch himself.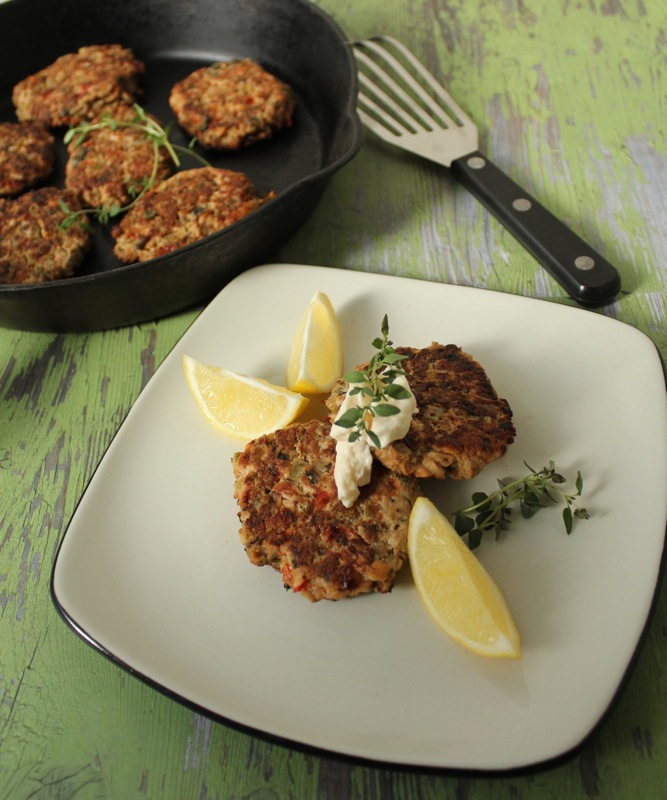 This recipe used fresh salmon, lots of fresh vegetables and Old Bay Seasoning.  It seemed like he was in the kitchen for hours.  I have learned that when he is cooking it is wise to move my pretty rug that is usually in front of the stove and make myself scarce.   Things tend to fly.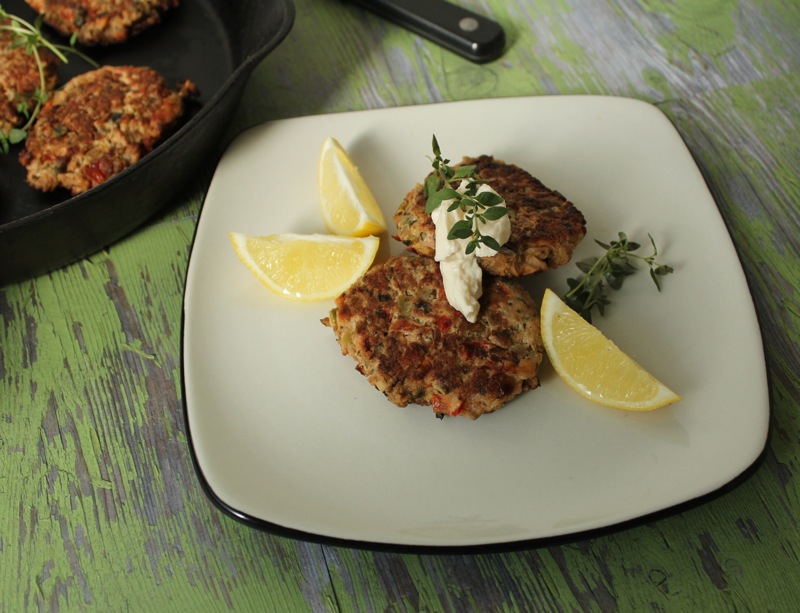 His salmon cakes were delicious.  He had almost decided that they were too much trouble until we tasted them.  Wow!  Leave it to the Barefoot Contessa to have the perfect recipe.  And he cleaned up the kitchen too.  Think I'll keep both him and this recipe.
SALMON CAKES ( The Barefoot Contessa )
1/2 pound fresh salmon
Good olive oil
Kosher salt and freshly ground black pepper
4 tablespoons unsalted butter
3/4 cup small-diced red onion (1 small onion)
1 1/2 cups small-diced celery (4 stalks)
1/2 cup small-diced red bell pepper
1/2 cup small-diced yellow bell pepper
1/4 cup minced fresh flat-leaf parsley
1 tablespoon capers, drained
1/4 teaspoon hot sauce
1/2 teaspoon Worcestershire sauce
1 1/2 teaspoons Old Bay seasoning
3 slices stale bread, crusts removed
1/2 cup mayonnaise
2 teaspoons Dijon mustard
2 extra-large eggs, lightly beaten
Preheat the oven to 350 degrees F.
Place the salmon on a sheet pan, skin side down.  Brush with olive oil and sprinkle with salt and pepper.  Roast for 15 to 20 minutes, until just cooked.  Remove from the oven and cover tightly with aluminum foil.  Allow to rest for 10 miutes nd refrigerate until cold.
Meanwhile, place 2 tablespoons of the butter 2 tablespoons olive oil, the onion, celery, red and yellow bell peppers, parsley, capers, hot sauce, Worcestershire sauce,  crab boil seasoning, 1/2 teaspoon salt , and 1/2 teaspoon pepper in a large saute pan over medium-low heat and cook until the vegetables are soft, approximately 15 to 20 minutes.  Cool to room temperature.
Break the bread slices in pieces and process the bread in a food processor fitted with a steel blade.  You should have about 1 cup of bread crumbs.  Place the read crumbs on a sheet pan and toast in the oven for 5 minutes until lightly browned, tossing occasionally.
Flake the chilled salmon inot a large bowl.  Add the bread crumbs, mayonnaise, mustard, and eggs.  Add the vegetable mixture and mix well.  Cover and chill in the refrigerator for 30 minutes.  Shape into 10 cakes.
Heat the remaining 2 tablespoons butter and 2 tablespoons olive oil in a large saute pan over medium heat.  In batches, add the salmon cakes and fry for 3 to 4 minutes on each side, until browned.  Drain on paper towels; keep them warm in a preheated 250 degree F oven and serve hot.