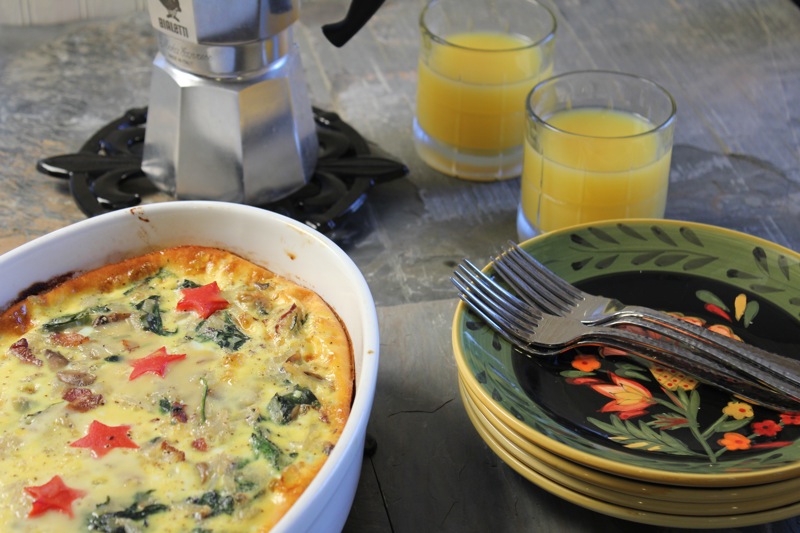 December and the holidays are upon us.  We need all the help we can get this month.  My thoughts are on baking cookies, buying presents, entertaining and trying to cram it all into a three to four week period.  I actually relish the festive atmosphere of the month.  Our family will be visiting us in Florida for the holidays for the first time and we have our long standing New Year's celebration with dear friends to look forward to.  What could be better?  But it does require a little planning.
Let's consider breakfast for company.  We all have that breakfast casserole that can be assembled and placed in the refrigerator overnight.  Just put it in the oven in the morning and breakfast is on the table within an hour.  Most of those casseroles are based on bread, whether it is sour dough, challah, croissants or French.  I love all of them.  But I was looking for something a little less dense.  I should say lighter.  Since the inspiration for this recipe came from Cooking Light that would be the case.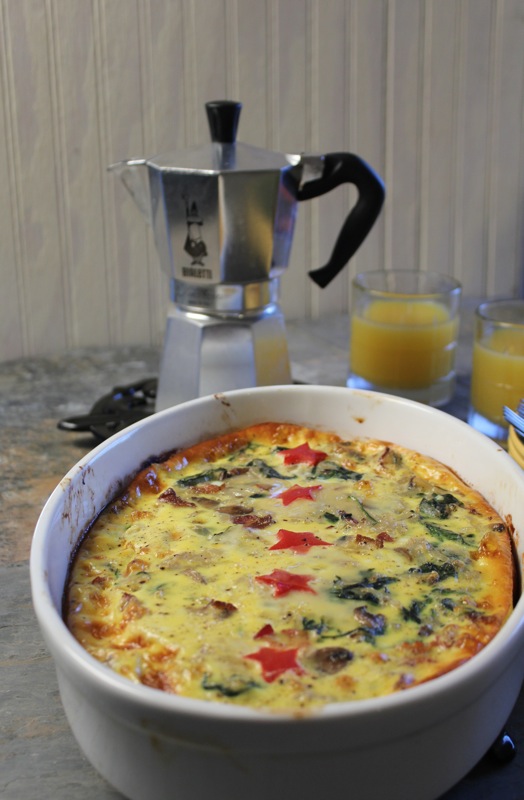 In place of the bread this recipe has baby spinach, mushrooms, center cut bacon, fresh basil, and just the right amount of hash brown potatoes.  The eggy goodness and Swiss cheese is the same, so it is a casserole that everyone would enjoy.  Everything but the eggs and milk  can be assembled the night before, so in the morning it is almost as easy to get in the oven as the traditional breakfast casserole.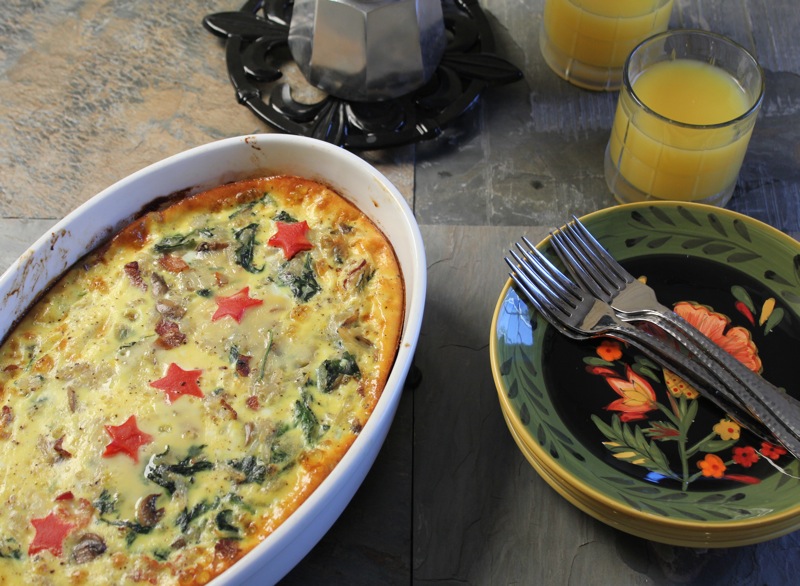 I had fun with my small star cutter.  I opened a jar of roasted red peppers and cut stars out of the peppers and placed them on the top of the casserole before I put it in the oven.  I can see getting even more creative with this for Christmas.  This recipe is open to creativity.  You can replace the bacon with sausage or add any seasoning or ingredients that appeal to you.  Holiday goodness made easy.
EGGS AND HASH BROWN CASSEROLE (Cooking Light)
8 center-cut bacon slices
1 1/2 cups chopped onion
8 ounces sliced shiitake mushroom caps
3 clove garlic, minced
2 cups shredded hash brown potatoes (such as Simply Potatoes)
1/4 cup Chicken stock
5 cups fresh baby spinach
2 tablespoons thinly sliced fresh basil
1/2 teaspoon kosher salt, divided
1/2 teaspoon freshly ground black pepper, divided
3 ounces Swiss cheese, grated
Cooking Spray
1/2 cup low-fat milk
6 large eggs, lightly beaten
Cook bacon in a large nonstick skillet over medium heat until crisp.  Remove bacon from pan;  Increase heat to medium-high.  Add onion, mushrooms, and garlic to drippings in pan; saute for 6 minutes.  Add potatoes and stock; cook 6 minutes, stirring frequently.  Add spinach, basil, 1/4 teaspoon salt, and 1/4 teaspoon pepper; cook 2 minutes or until spinach wilts.  Remove from heat; let stand 10 minutes.  Stir in crumbled bacon and cheese.  Place mushroom mixture in an 11 x 7- inch broiler-safe glass or ceramic baking dish coated with cooking spray.  Cover and refrigerate overnight.
Preheat oven to 350 degrees F.
Uncover dish.  Combine remaining 1/4 teaspoon salt, 1/4 teaspoon pepper, milk, and eggs in a medium bowl.  Pour egg mixture over mushroom mixture. Add any cut out decorations from a jar of roasted red peppers to the top.  Bake at 350 degrees F. for 28 minutes.
Preheat broiler to high; remove dish while broiler preheats.  Broil 3 minutes or until top is browned and just set.  Let stand 5 minutes.
Note:   I did not have to broil the casserole because it browned nicely; though it took a little longer in the oven to set the center.