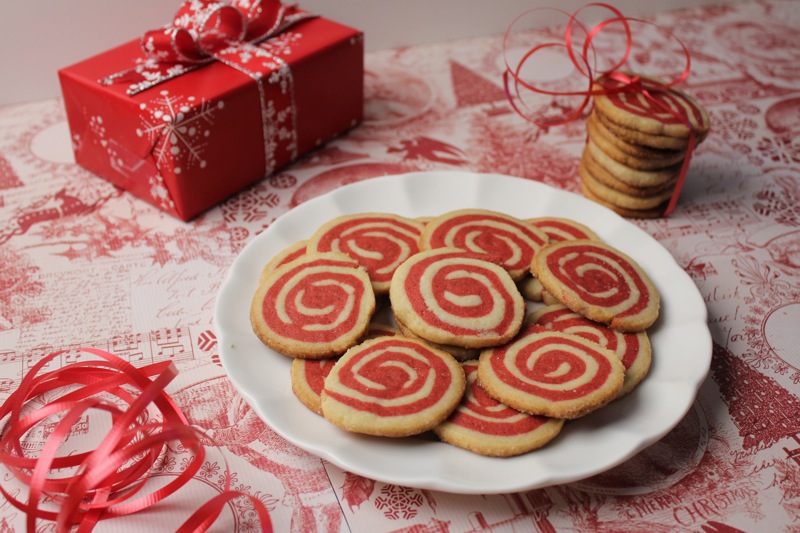 This is such a pretty cookie to add to your Christmas cookie tray.  It was one of the cookies featured in The Food Network magazine December issue.  Now if you look at the cookie in the magazine, you will see  a much prettier cookie.  The swirls are more defined and even.  But hey, I'm not complaining.  I still like the looks of my cookies.
You start with a basic sugar cookie dough, divide in half and add food coloring, chocolate and cinnamon flavoring to one half.  Roll out each dough on a piece of parchment.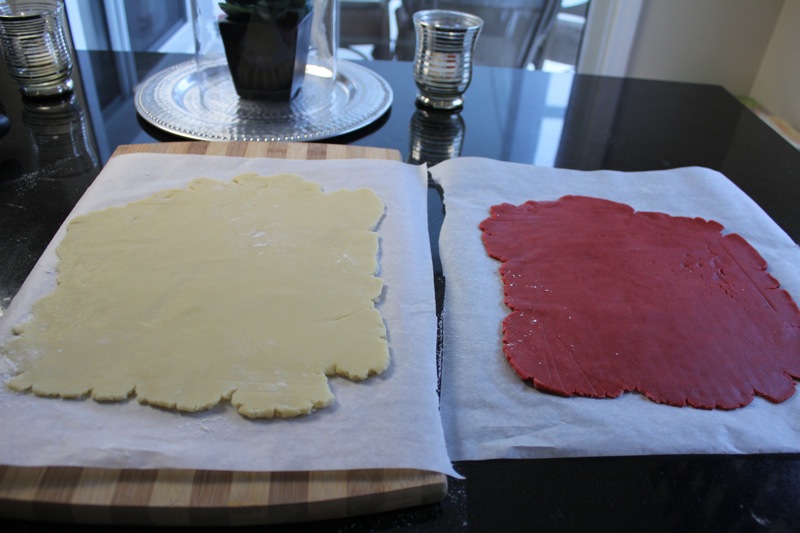 Turn the red half by lifting the parchment and place it on top of the plain half.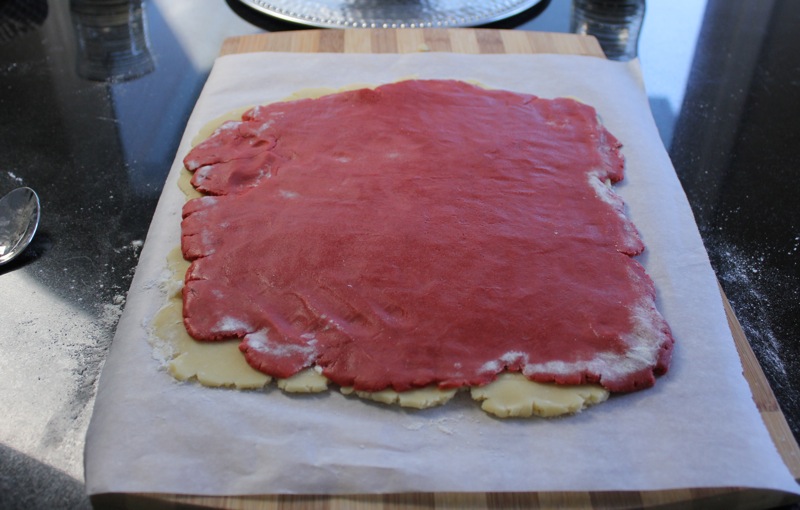 Trim the edges.  I saved this dough and made multi colored cookies from it.  Once the edges are trimmed roll the dough into a log.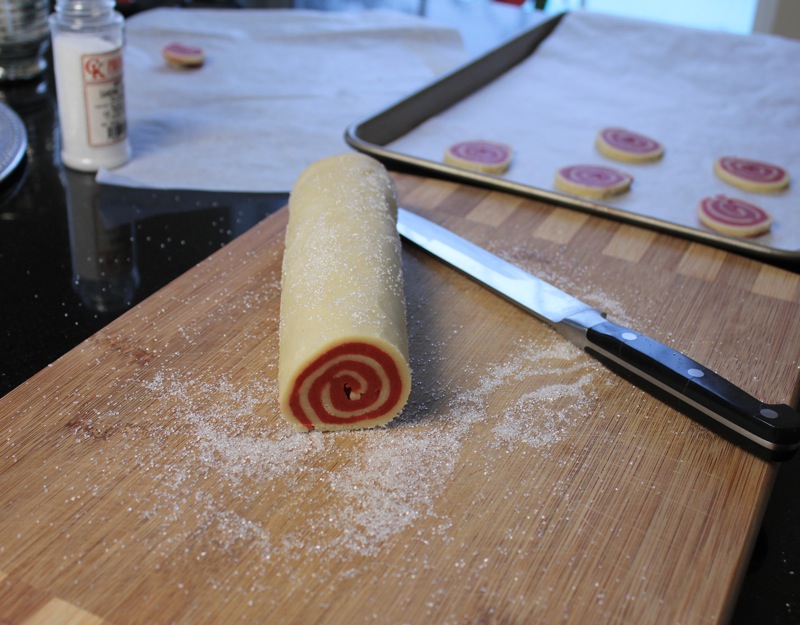 There are a number of trips to the refrigerator for this dough but it is easy once you reach this stage.  Just slice and bake.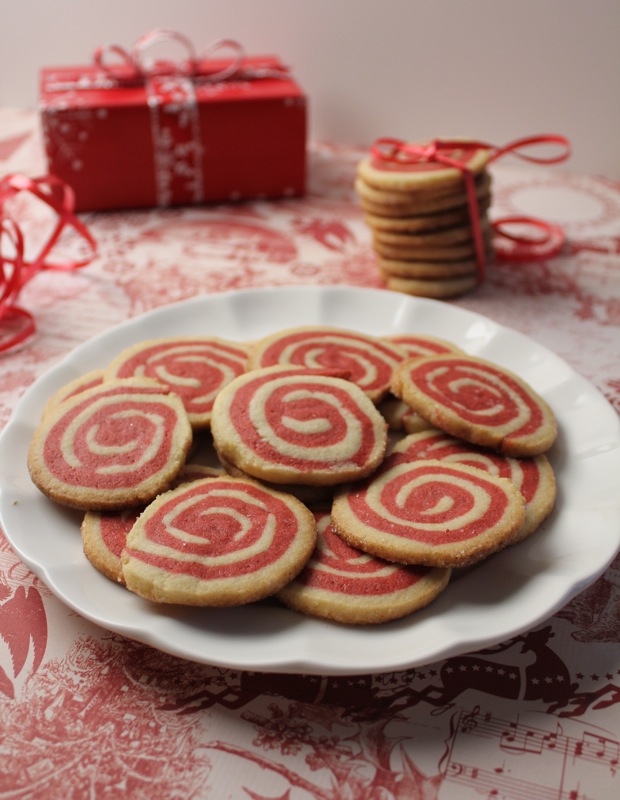 I am making several types of cookies this year because the Grandchildren will be here for the holidays.  Making cookies certainly has a way of putting you in the holiday spirit.  I am also taking the time to wrap my presents with pretty bows.  I will tell you more about that technique in my next post.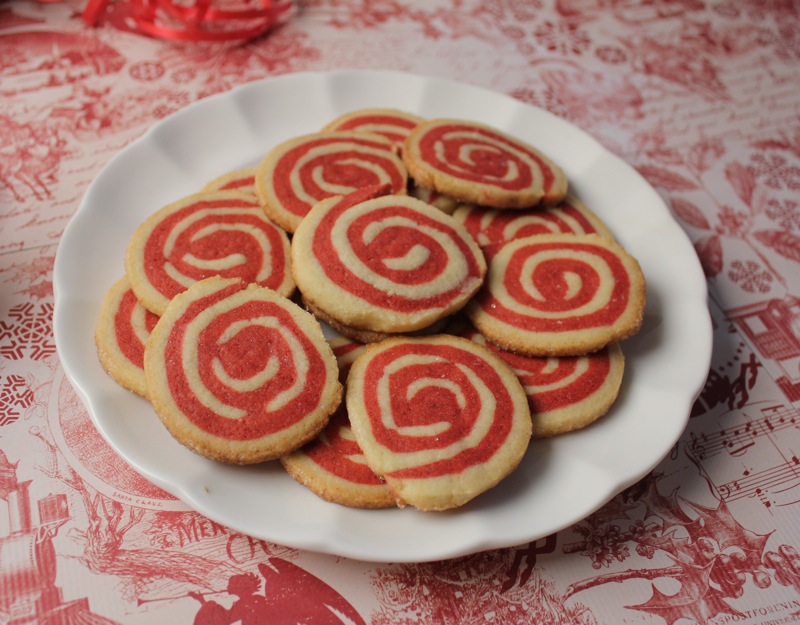 Enjoy!
CINNAMON PINWHEEL COOKIES  (The Food Network Magazine)
2 cups all-purpose flour, plus more for dusting
1/2 teaspoon baking powder
1/4 teaspoon salt
1 1/2 sticks (12 tablespoons) unsalted butter, at room temperature
2/3 cup granulated sugar
1 large egg
1/2 teaspoon vanilla extract
1/4 teaspoon cinnamon extract (optional)*
1 teaspoon unsweetened cocoa powder
3/4 teaspoon red food coloring
1 teaspoon ground cinnamon
1 tablespoon sanding sugar (clear or red), plus more for coating
Whisk the flour, baking powder and salt in a medium bow.  Beat the butter and granulated sugar in a large bowl with a mixer on medium-high speed until light and fluffy, 3 to 5 minutes.  Beat in the egg and vanilla until incorporated.  Reduce the mixer speed to low; add the flour mixture and beat until just combined.  Remove half of the dough and wrap in plastic wrap. Add the cinnamon extract, cocoa powder and food coloring to the remaining dough beat until incorporated; wrap in plastic wrap.  Refrigerate both pieces of dough until firm, about 1 hour.
Dust the dough with flour and roll out each piece on parchment paper into a 10-by-11-inch rectangle.  Flip the red dough on top of the plain dough; remove the top piece of parchment and trim the edges.  Sprinkle the ground cinnamon and sanding sugar on top  Starting from a shorer end, tightly roll up the dough, using the parchment to help; roll the log in sanding sugar.  Wrap in plastic wrap and refrigerate until firm, at least 3 hours or overnight.
Position rack in the upper and lower thirds of the oven and preheat to 350 degrees F.  Line 2 baking sheets with parchment.  Slice the log crosswise 1/4 inch thick; arrange the slices about 1 1/2 inches apart on the baking sheets.  Bake, switching the position of the pans halfway through, until slightly puffed and lightly golden on the bottom, 12 to 15 minutes.  Let cool 5 minutes on the baking sheets, then transfer to rack to cool.
* I could not find cinnamon extract, but did find cinnamon oil at Hobby Lobby in the cake decorating department.  It is stronger by 4.  I used 1/16th of a teaspoon.  To be honest, I don't think you need it.