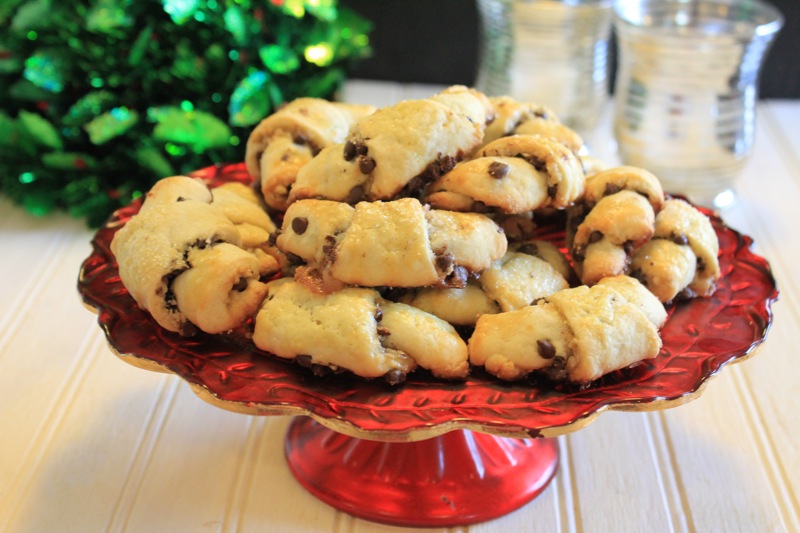 I was inspired to make these cookies this year by my friend Maxine.  Rugalach is a traditional Jewish dessert served during Hanakkuh.  But it is also a cookie that originated in Eastern Europe and was embraced by many ethnicities.  My Mother made a similar cookie with leftover pie dough.  It is interesting that so many traditions were shared by various immigrants to our country.  I remember as a child loving the rolled dough pieces with cinnamon more than the pie that was the reason for their existence.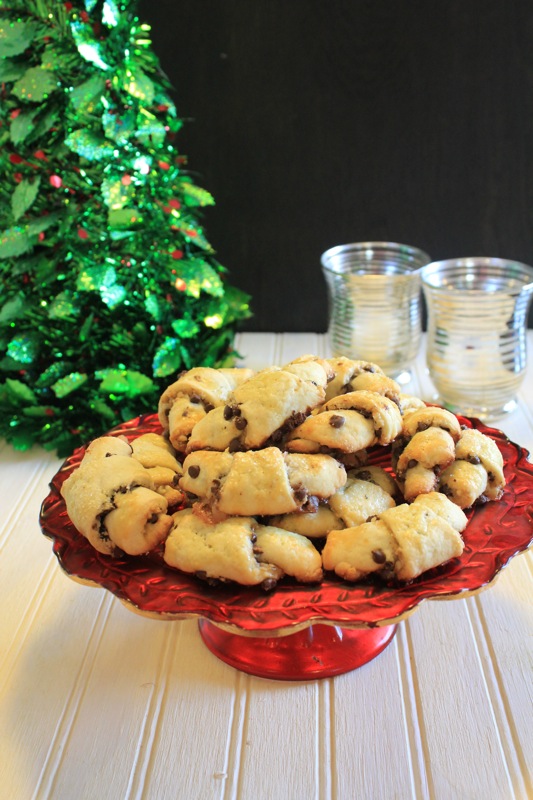 Rugelach are made with a pastry that includes cream cheese.  The filling usually includes apricot jelly, ground walnuts and sometimes chocolate.  Because I love chocolate, that was a necessary  inclusion.  I made the pastry one day while I also made the dough for my sugar cookies.  It made it easy the next morning to pull each wrapped dough out of the refrigerator as I needed it.  All was finished by noon.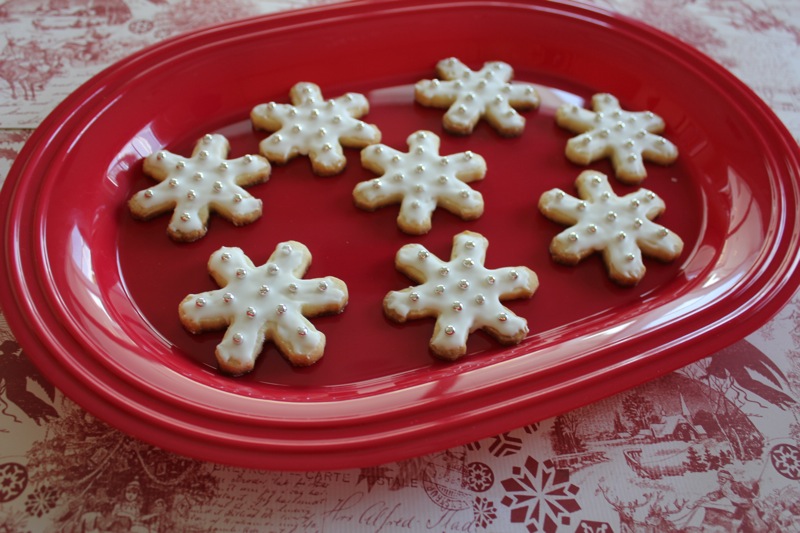 Here are some of the snowflake sugar cookies.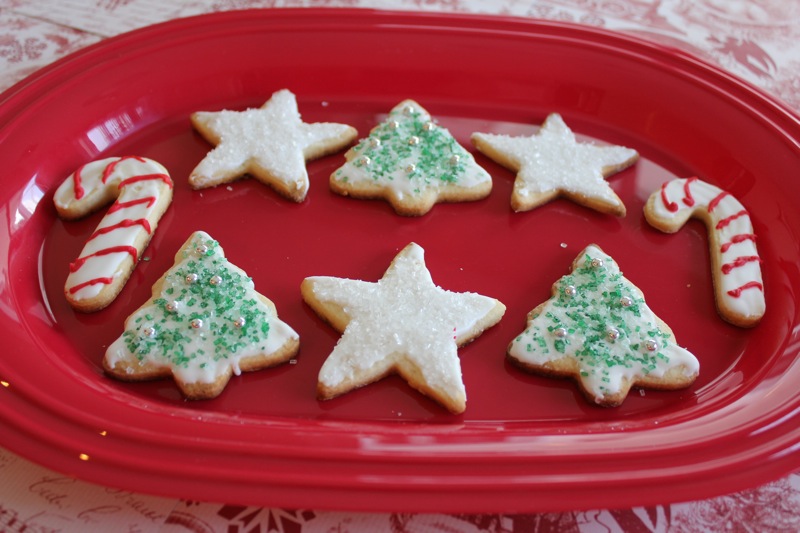 The rest of the sugar cookies, above.  It is nice to have a variety of cookies ready for the Grandkids.  My heart is full of gratitude that I can hold them close this year.  The events of the past week have broken my heart.
RUGELACH (Martha Stewart)
For the Dough
8 ounces (2 sticks) unsalted butter, room temperature
8 ounces cream cheese, room temperature
1/2 cup sugar
3 large egg yolks
1 teaspoon pur vanilla extract
Pinch of coarse salt
2 1/3 cups all-purpose flour, plus more for rolling out dough
For the Filling
4 ounces walnuts
1/2 cup sugar
Pinch of cinnamon
Pinch of salt
12 ounces apricot jelly, melted*
2 cups mini semi-sweet chocolate chips, or currants or a combination
For the Finishing
1 large egg, lightly beaten
1/4 cup fine sanding sugar
Directions
1. Make the dough: In the bowl of an electric mixer fitted with the paddle attachment, beat together butter and cream cheese at medium speed.  Add sugar, and beat until fluffy.  Beat in egg yolks, on at a time, beating to combine after each addition.  Add vanilla and salt, and beat to combine.  Reduce speed to low, and beat in flour.  Remove from bowl, and divide into 3 pieces on a lightly floured surface.  Pat into disks, and wrap in plastic wrap.  Refrigerate for at least 1 hour, and up to overnight.
2. Make the filling;  In a food processor, combine walnuts, sugar, cinnamon, and salt,  Pulse until fine.
3. Preheat the oven to 350 degrees F.  Line baking sheets with Silpats or parchment paper.  On a lightly floured surface, roll one piece of dough into a 12-inch round, less than 1/8 inch thick.  Brush evenly with jelly.  Sprinkle with one-third of the walnut mixture and one-third of the chocolate chips.  Using the rolling pin, gently roll over filling to press.
4. Cut the round into 16 equal-sized wedges.  Beginning at the large base of each wedge, roll to enclose filling, forming crescent shapes.  Pinch to seal.  Place on prepared baking sheets.  Repeat with remaining dough and filling ingredients.  Brush tops with beaten egg, and sprinkle with sanding sugar.  Bake until golden brown 20 to 25 minutes.
* I did not use all of the apricot jelly.  I just smeared a thin layer on each of the rounds.
ICED SUGAR COOKIES
Makes 24 to 36 cookies
2 1/2 cups cake flour, plus more for dusting
1 teaspoon baking powder
1/4 teaspoon salt
2 sticks unsalted butter, at room temperature
3/4 cup granulated sugar
1 large egg
1 teaspoon vanilla extract
1 1-pound box confectioners' sugar
2 tablespoons meringue powder (Available at Michael's)
Nonpareils, for decorating (optional)
1. Sift the flour, baking powder and salt into a medium bowl.
2. Beat the butter and granulated sugar in a large bowl witha mixer on medium-high speed until light and fluffy, 3 to 5 minutes.  Add the egg and vanilla and beat until incorporated.  Reduce the mixer speed to low; add the flour mixture in 2 batches and beat until just incorporated.  Divide the dough in half, wrap in plastic wrap and refrigerate until firm, at least 1 hour and up to 1 day.
3. Line 2 baking sheets with parchment paper.  Working with 1 piece of dough at a time, lightly dust the dough with flour and roll out between 2 pieces of parchment paper until about 1/8-inch thick.  Refrigerate until slightly firm, about 15 minutes.  Cut out shapes using 2-to-4 inch cookie cutters and transfer to the prepared baking sheets.  Gather the scraps and refrigerate until firm; reroll once to cut out more cookies.  Refrigerate the cutouts until firm, about 30 minutes.
4. Position racks in the upper and lower thirds of the oven; preheat to 350 degrees F.  Bake the cookies, switching the position of the pans halfway through, until just golden, 13 to 15 minutes.  Let cool 5 minutes on the baking sheets, then transfer to racks to cool completely.
5. Meanwhile, make the icing; Sift the confectioners' sugar and meringue powder into a large bowl.  Beat in 6 tablespoons water with a mixer on medium speed until soft, glossy peaks form.  Spread on the cookies and decorate with nonpareils.  Let set, about 1 hour.
Printable recipe Iced Sugar Cookies