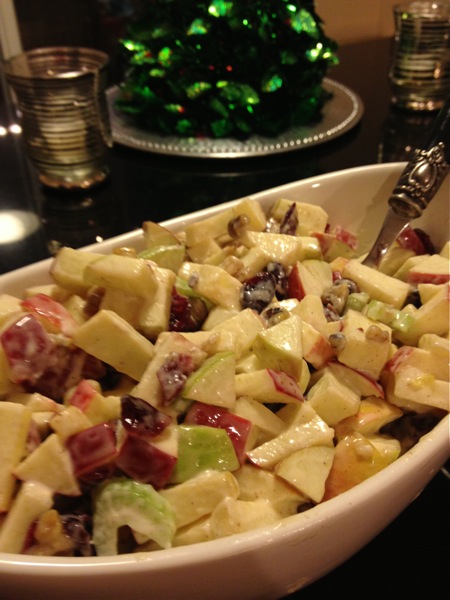 I have to say that this is one of the best apple-walnut salad recipe that I have ever tried.  It is all because of the lemon curd that is mixed into the mayonnaise.  I found the recipe in a Southern Living cookbook.  My menu for one of the nights that our family was visiting included my Fall-Apart Tender Slow Roast Pork.  I wanted something refreshing to go with the rich pork and something that kids would like.  This salad did the trick.  Both Rachel and Cameron ate every bit of the portions on their plates.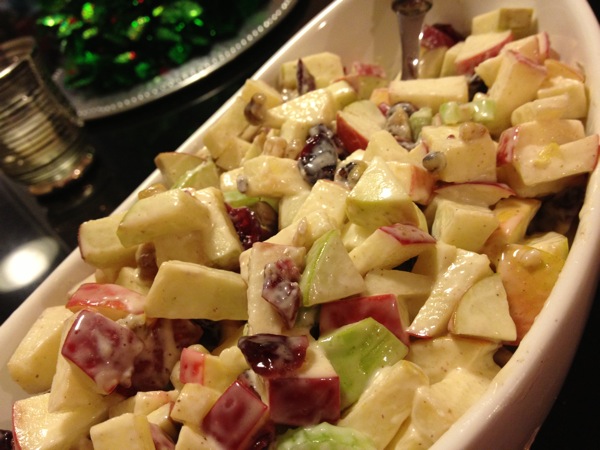 The only changes I made to the recipe were to cut down on some of the strong seasonings, like cardamom and nutmeg.  But the lemon curd was a wonderfully refreshing addition to the dressing.  The crunchy walnuts and celery, the sweet apples and the soft dried cranberries all mingled together to make a worthy whole.  I would recommend it as a side to any pork dish that you make during the holidays.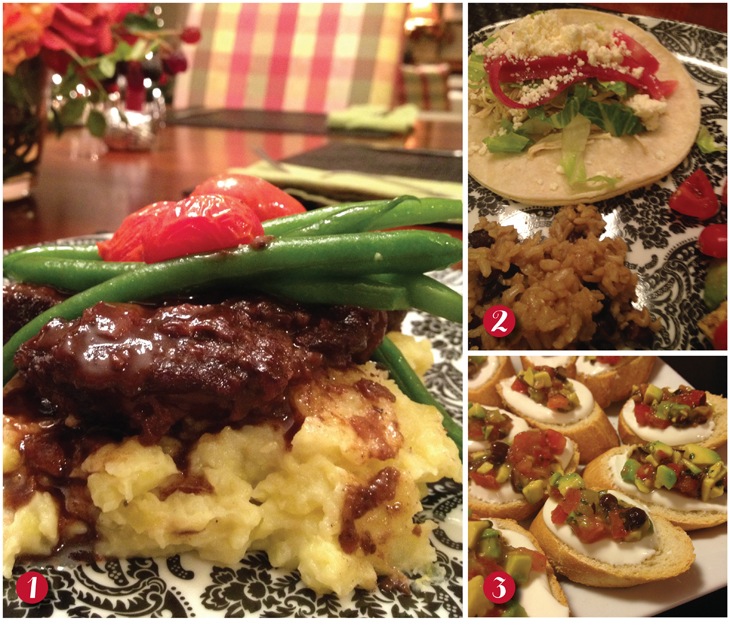 Here are some of the other holiday dishes that we enjoyed.  I will share them with you soon.  Which of them grabs your interest the most?  Merry Christmas everyone.
APPLE-WALNUT SALAD
1 cup chopped walnuts
2/3 cup mayonnaise
1/2 cup lemon curd
1/4 teaspoon ground cardamom (I used 1/8 teaspoon)
1/4 teaspoon ground nutmeg (I used 1/8 teaspoon)
1/4 teaspoon ground cinnamon
1 1/2 teaspoon lemon zest
6 apples, chopped – A combination of Gala, Granny Smith and Red Delicious is good
3/4 cup thinly sliced celery
1 cup dried mixed fruit  (I used dried cranberries)
Preheat oven to 350 degrees F.  Bake walnuts in a single layer in a shallow pan 8 to 10 minutes or until toasted and fragrant, stirring once after 5 minutes.
Stir together mayonnaise, next 4 ingredients, and 1/2 teaspoon lemon zest in a large bowl.  Add apples, celery, fruit mix, and 3/4 cup walnuts; toss well.  Cover and chill 6 hours.  Sprinkle with remaining 1/4 cup walnuts and 1 teaspoon lemon zest just before serving.