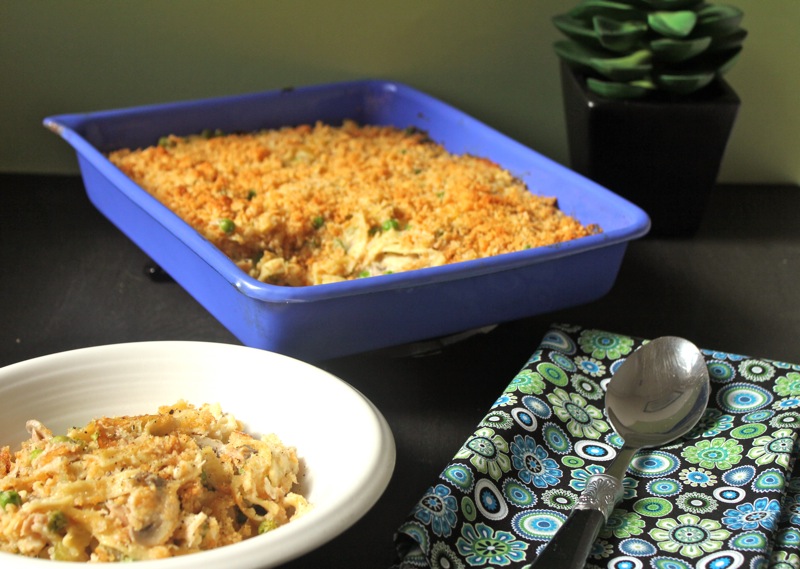 While going through my file of old recipes, I found the tuna noodle casserole that was so popular years ago.  We all had that recipe and it included cream of mushroom soup.  I rarely ever use cream of mushroom soup anymore.  So I decided to try and update the recipe with fresher ingredients.  A trip to Costco had yielded some nice cans of Italian tuna packed in olive oil.  I think tuna packed in olive oil has so much more flavor.  Instead of canned soup I made my own white sauce enhanced with sherry.  The recipe is one that I adapted from Epicurious.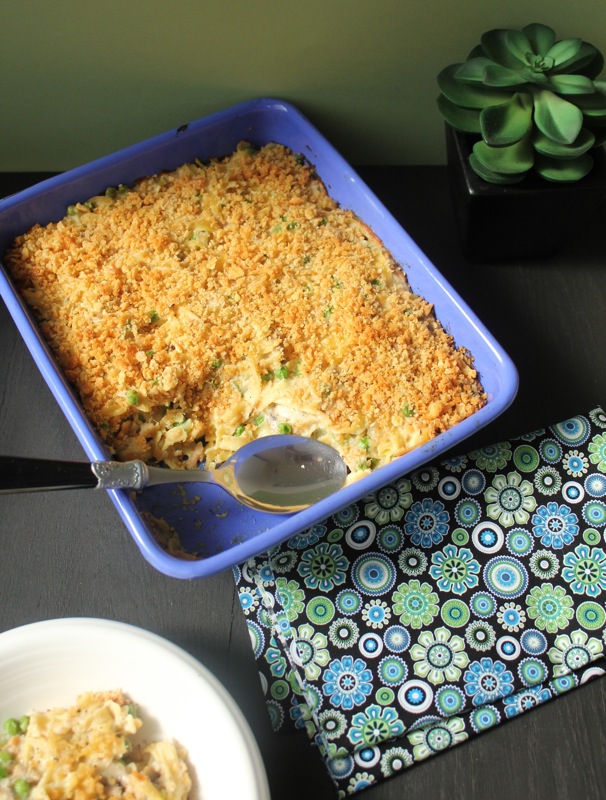 I used fewer egg noodles than what was called for in the old recipe.  Too much pasta tends to absorb the sauce, resulting in a dry casserole.  The topping could have been breadcrumbs or potato chips (Yikes!), but I am partial to Ritz crackers.  Most of the recipes also have a sprinkling of cheese on top.  I have included it in the printed recipe, but did not use it.  To my thinking fish and cheese do not go together.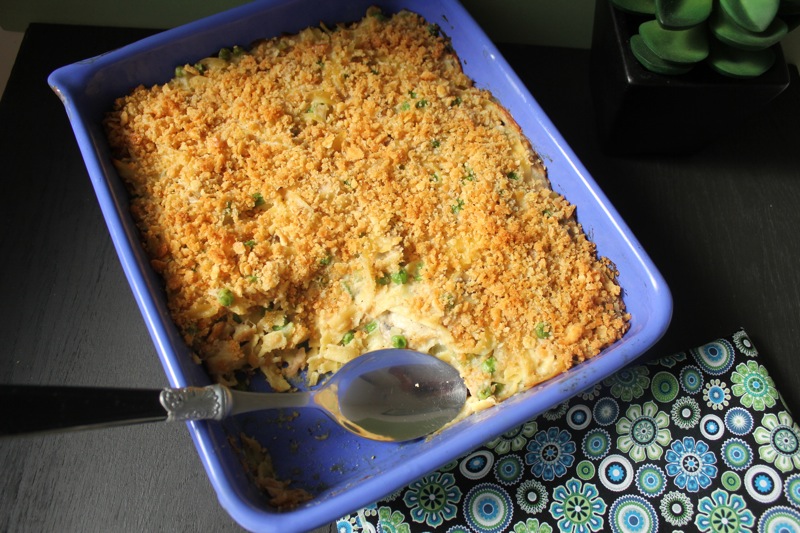 Although the casserole required cleaning up several pans,  I felt it was worth the effort to freshen up an old classic.  I am having fun with my retro recipes.  I still want to post my classic Texas Pecan Torte, but will wait until a time when we have someone with whom to share it.  We can't afford the calories right now.
TUNA NOODLE CASSEROLE
1 medium onion, finely chopped
2 stalks of celery, finely chopped
4 1/2 tablespoons unsalted butter, divided
8 oz mushrooms, trimmed and sliced 1/4 inch thick
2 teaspoons soy sauce
1/4 cup Sherry
1/4 cup all-purpose flour
2 cups low-sodium chicken broth
1 cup whole milk
1 cup frozen peas, thawed
2 teaspoons fresh lemon juice
1/4 teaspoon salt
2 (6-oz) cans tuna in olive oil, drained
8 oz dried medium egg noodles
2/3 of a sleeve of Ritz crackers, crushed
4 oz coarsely grated Cheddar (1 cup) optional
2 tablespoons vegetable oil or melted butter
Put oven rack in middle position and preheat oven to 375°F. Butter a shallow 2-quart baking dish.
Cook onion in 1 1/2 tablespoons butter with a pinch of salt in a 12-inch heavy skillet over moderately low heat, covered, stirring occasionally, until softened, about 5 minutes. Increase heat to moderately high and add mushrooms, then sauté, stirring occasionally, until mushrooms begin to give off liquid, about 2 minutes. Add soy sauce and continue to sauté mushrooms, stirring, until liquid mushrooms give off is evaporated. Add Sherry and boil, stirring occasionally, until evaporated. Remove from heat.
Melt remaining 3 tablespoons butter in a 2- to 3-quart heavy saucepan over moderately low heat and whisk in flour, then cook roux, whisking, 3 minutes. Add broth in a stream, whisking, and bring to a boil, whisking. Whisk in milk and simmer sauce, whisking occasionally, 5 minutes. Stir in mushroom mixture, lemon juice, peas and salt. Flake tuna into sauce and stir gently. Season sauce with salt and pepper.
Cook noodles in a 5- to 6-quart pot of boiling salted water until al dente. Drain noodles in a colander and return to pot. Add sauce and stir gently to combine. Transfer mixture to baking dish, spreading evenly.
Toss together cracker crumbs and cheese in a bowl. Drizzle with oil or melted butter and toss again, then sprinkle evenly over casserole. Bake until topping is crisp and sauce is bubbling, 20 to 30 minutes.