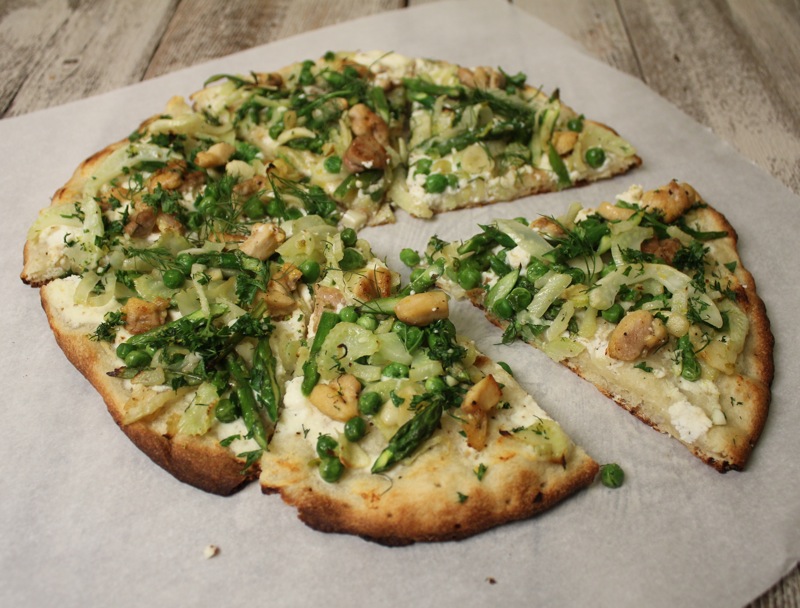 Spring is actually showing signs of arriving.  I have received pictures from friends in North Carolina of the dogwood and red bud trees beginning to bloom.  I am ready for it.  We will be heading back from Florida to North Carolina next week and it is always such a soul satisfying experience to see nature renewing itself.   Here in Florida the changes are subtle.
Spring vegetables are always favorites.  The first fresh asparagus holds many memories for me.  In Michigan, where I grew up, asparagus was ready to pick at the end of April, as I recall.  I know I have shared this story before, but for those of you who haven't heard it, I will repeat it.  The rest of you can skip ahead if you would like.  The year I was to graduate from high school, my best girlfriends and I skipped school one day.  There were nine of us.  We had a good reason.  Our friend Judie's family farm had a problem.  The asparagus crop was ready to harvest but the migrant workers had not yet arrived for the season.  We thought we would help them out by picking the asparagus.  Believe me, that is not an easy job.  It was a day of back-breaking drudgery.  To complicate matters, a group of the senior guys got wind of what we were doing and decided they wanted in on the action.  Some ulterior motives might have been involved.  With so many of us absent from our small high school, it is no wonder that the principal took notice.  Our dear Mothers could not bring themselves to lie about the reason for our absences.  At that time you had to have a signed excuse from the parent for any days missed at school.  It was only when we presented ourselves to the office with our excuses the next day that were were confronted by Mr. Small, THE PRINCIPAL.  He had found out what we were up to and had decided that if we were truthful about our whereabouts, it would be an excused absence.  If we claimed  sickness or anything else, we would not be able to participate in the graduation proceedings.  He understood the farming community around us and was ready to concede the circumstances.   Our parents understood the imperative of honesty.  It was a lesson learned by all of us.  Everyone did the right thing.  But the biggest lesson I learned was that I never wanted to pick acres of asparagus again.  To this day,every time I look at a stalk of asparagus,  it all comes back to me.  But isn't it a wonder that at one time we could actually pick our own?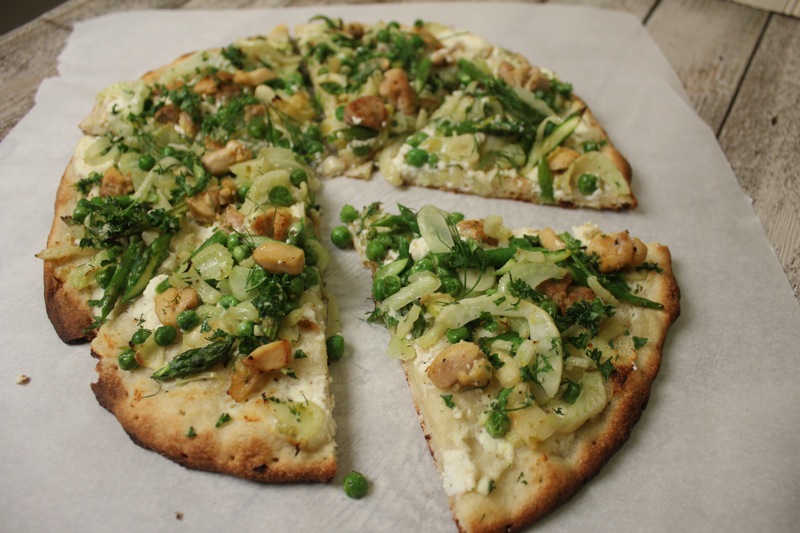 In spite of the earlier experience,  I do love to eat asparagus.  This recipe for Spring Vegetable Pizza with Gremolata appeared in Cooking Light Magazine.  I adapted it to our tastes.  David likes a little meat on his pizza, so I added some diced and cooked chicken thighs.  The other vegetables are a fresh fennel bulb with fronds and peas.  The light sauce is a combination of ricotta cheese and pecorino Romano cheese.  The gremolata of parsley, lemon rind and garlic add another level of freshness.  Instead of a homemade pizza crust I used a purchased Stone Fired Crust.  It was perfect for this.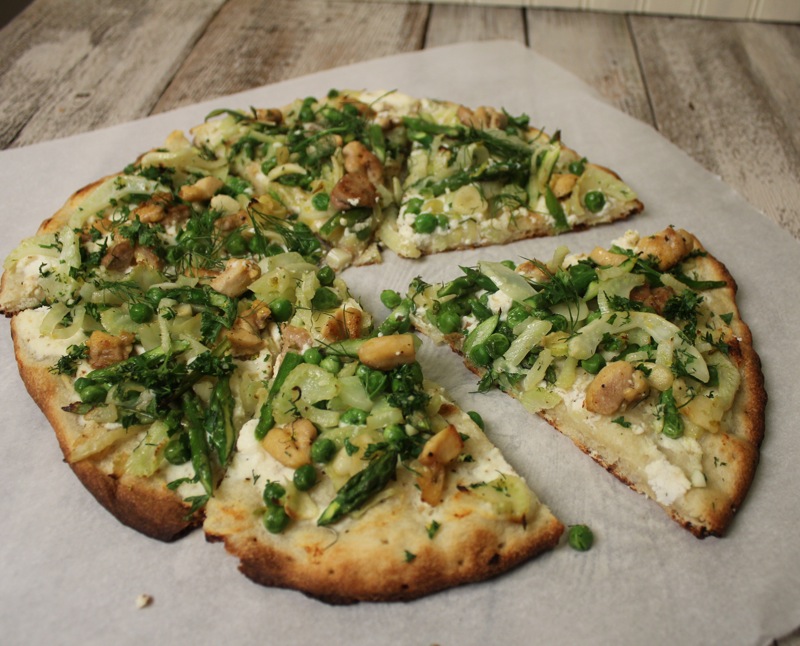 I loved this pizza.  David was not so enthused.  It probably had something to do with the lack of pizza sauce and mozzarella cheese.  But if you like a white pizza with light spring vegetable flavors, you will love this.  Think I've lost you Larry, Dave and some of the you other internet guys.  But the "Asparagus Picking Gals" would be proud.  See you all at our 50th reunion this September!  We still Rock.
 An update:  According to my high school friend, we had unexcused absences.  What our principal did was clear us for graduation.  I guess he did the right thing.  I just wish my version was correct.  Homer, you could have done better.
SPRING VEGETABLE PIZZA
1 12-inch store bought Stone Fired Pizza Crust
1 fennel bulb with stalks
1 tablespoon olive oil
1/2 cup frozen green peas
1 1/2 cup (3-inch) pieces asparagus, cut in half lengthwise
5 cloves garlic, thinly sliced
1 skinless, boneless chicken thigh, chopped and cooked in a little oil with salt, pepper and paprika until done
2/3 cup part-skim ricotta cheese
3 1/2 tablespoons 2% reduced-fat milk
1/2 teaspoon freshly ground black pepper
1 1/2 ounces pecorino Romano cheese, grated (about 1/3 cup)
1/4 teaspoon kosher salt
2 tablespoon chopped flat-leaf parsley
1 tablespoon grated lemon rind
1 large garlic clove, minced
Preheat oven to 500 degrees F.
Place pizza crust on a round pizza pan
Remove stalks from fennel bulb; reserve 1 tablespoon fronds.  Cut trimmed bulb into thin slices.  Heat a large skillet over medium-high heat.  Add oil to pan; swirl to coat.  Add sliced fennel bulb slices and cook for at least 1 minute.  Add peas, asparagus and sliced garlic to pan; saute 2 minutes.
Combine ricotta, milk, pepper and pecorino Romano cheese; spread evenly over pizza crust, leaving a 1/2-inch border.  Bake at 500 degrees F for 5 minutes.  Carefully remove pizza from oven.  Top pizza with pea mixture.  Bake at 500 degrees for 5 minutes or until crust is browned and crisp.  Remove from oven; sprinkle evenly with salt.  Combine reserved fennel fronds, parsley, rind, and minced garlic;  sprinkle over pizza.  Cut into wedges.
Printable recipe