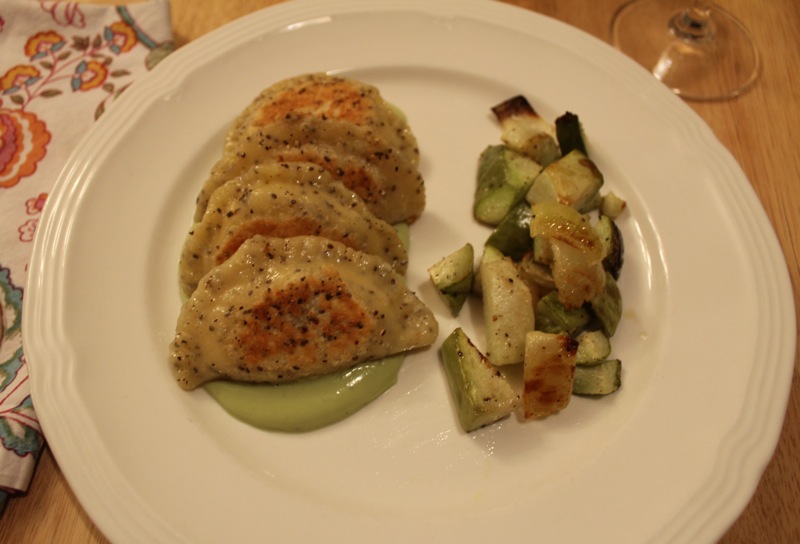 It is always such a treat to visit our family for many reasons.  One of which is the creative ideas that come out of DIL Kristen's kitchen.  Michael and Kristen feed their children well.  They are trying to keep their diets as natural as possible.  Roasted root vegetables, fresh fruit, avocados, and quinoa are a part of their daily meals.  They eat meat, poultry and fish, but many of their dinners are vegetarian.  A new ingredient that Kristen has been experimenting with lately is Chia Seeds.  I know what you are thinking. . . . . Am I going to grow grass all over my body if I eat chia seeds?  The answer is no.   Unlike the ubiquitous Chia pets from a few years back, chia seeds are now being offered as a wholesome alternative to flax seeds in our diets.  Grown in Mexico and Bolivia, they are rich in omega-3 fatty acids, antioxidents, protein and fiber.  They offer a bit of crunch to breads and doughs while boosting the nutrient value.
Kristen decided to make a Southwestern flavored dish with homemade pierogi and chia seed dough.  The filling was mashed potatoes with green chiles, sour cream, cheese, and cumin.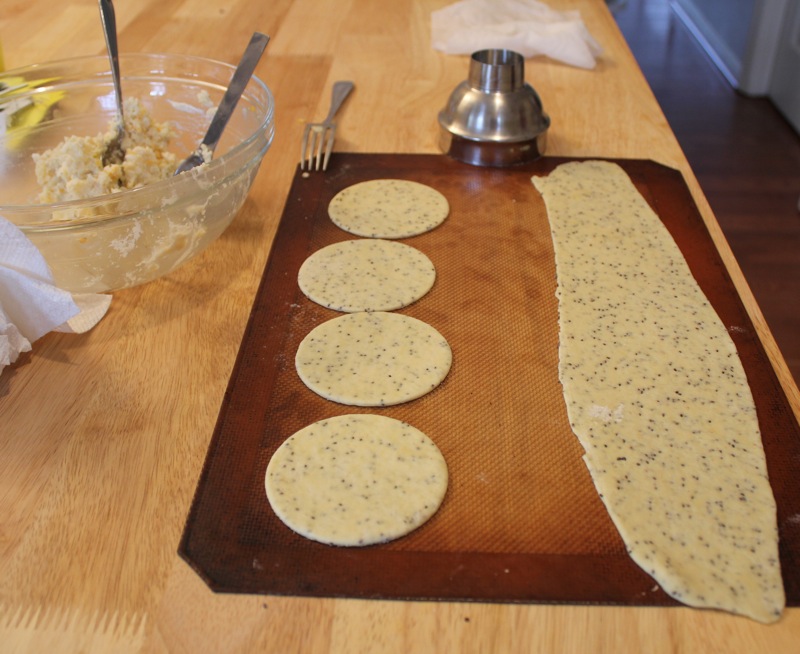 The dough was flecked with the chia seeds.  Kristen used her pasta attachment to her Kitchen Aid mixer to roll the dough.  But you could also do it by hand if you don't have a pasta machine.  Circles were cut from the dough.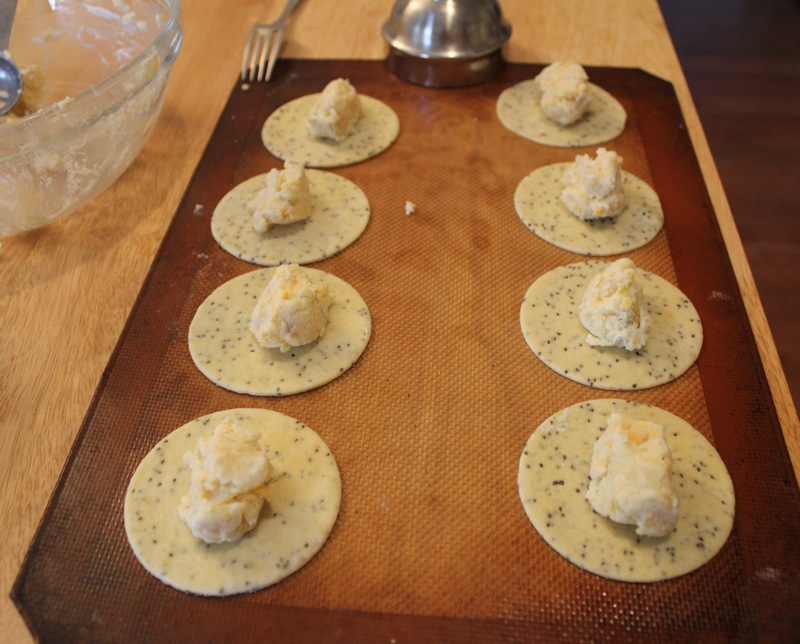 A tablespoon of the potato mixture was placed in each circle of dough.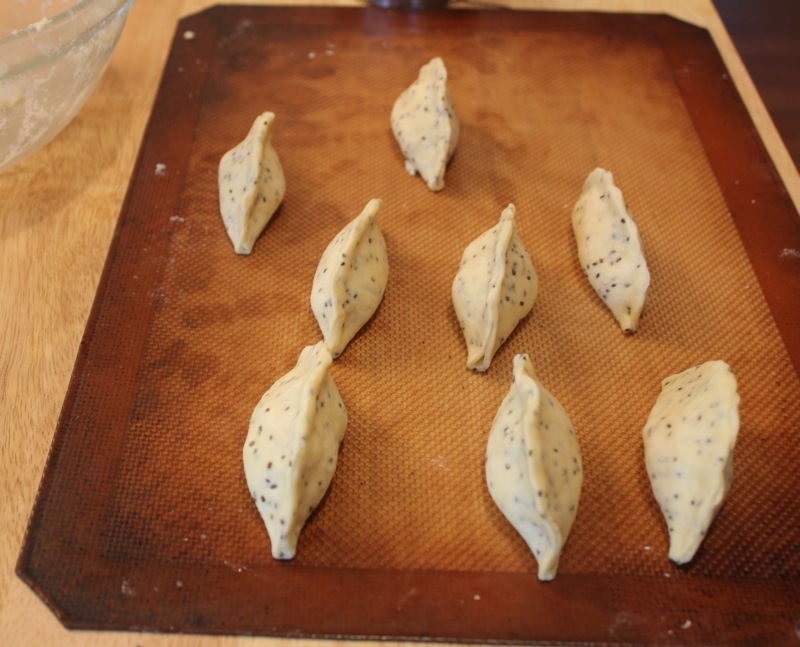 The opposite sides of the dough were brought together and the edges were pinched shut.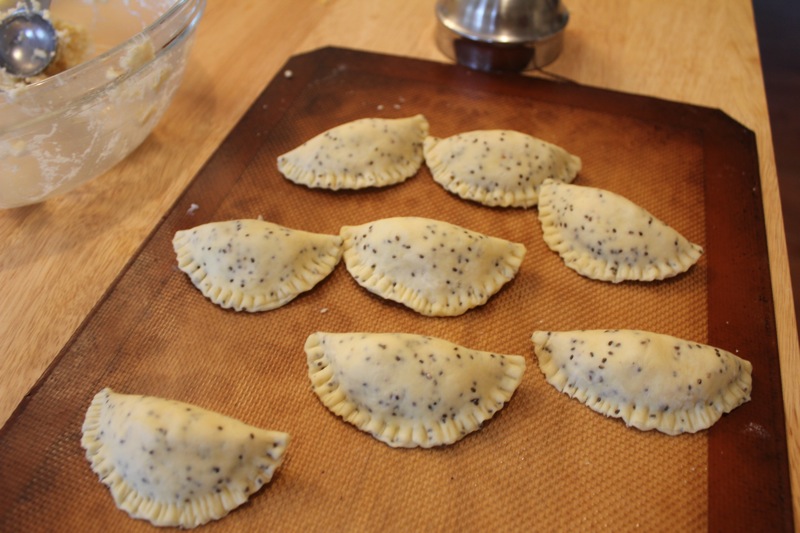 The edges were further sealed with the tines of a fork.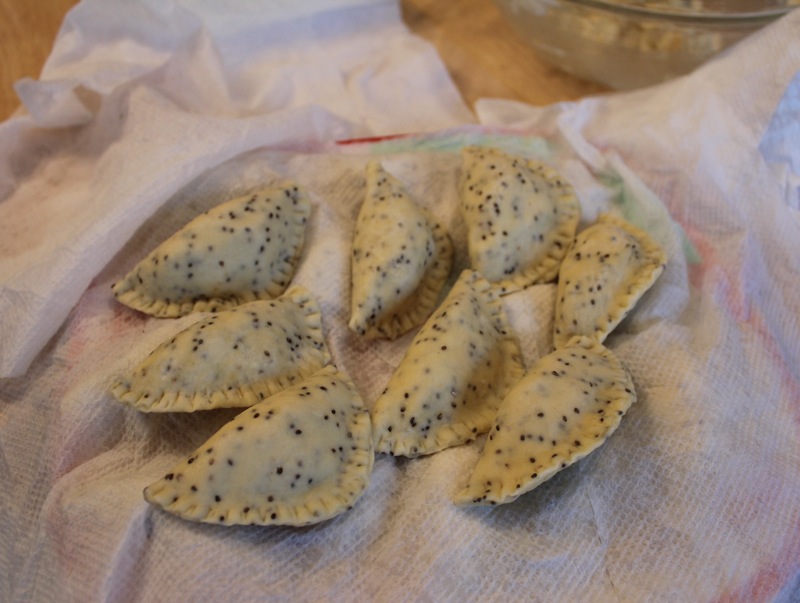 It is a good idea to keep the pierogi covered with damp paper towels as you work so that they do not dry out.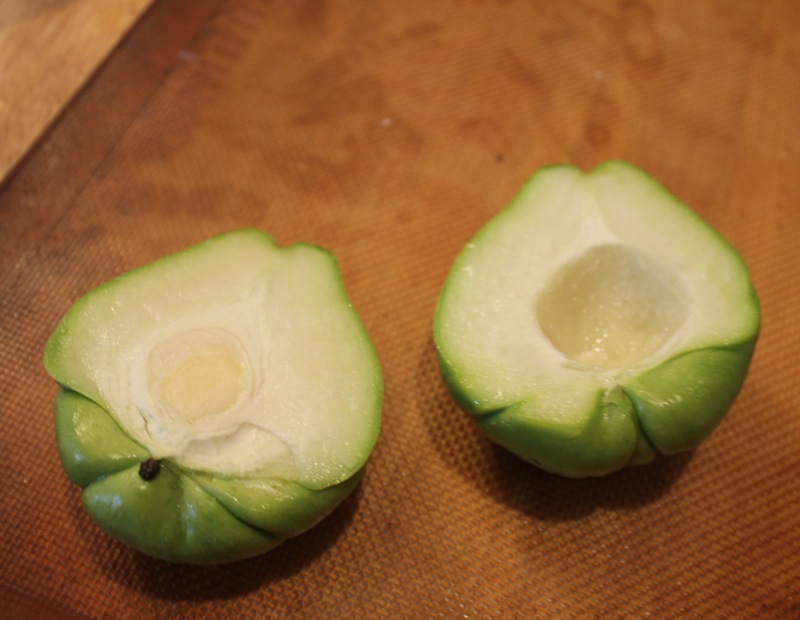 Another dish that Kristen made that continued the Southwestern theme was roasted Chayote squash.  Native to Mexico, Chayote squash is similar to summer squashes like yellow squash and zucchini.  She roasted it with onions and seasoned it with salt and pepper and a hit of coriander.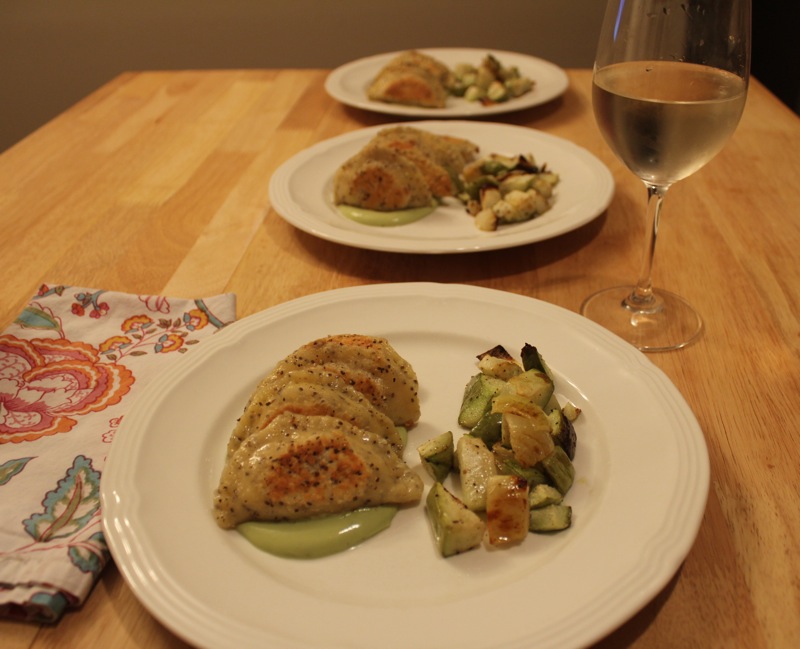 Everyone loved this meal.  The pierogi were flavorful and the avocado cream sauce was light and velvety with a bit of tang from the sour cream and lime.  This is one of those meals that is somewhat time consuming,  But the fact that all of the components are homemade, flavorful and nutritious makes it all worthwhile.  On a lazy Sunday afternoon I may even make a batch of pierogi and freeze them for several meals.
SOUTHWEST CHIA PIEROGI WITH AVOCADO CREAM SAUCE
DOUGH
2 cups Unbleached All-Purpose Flour
1 teaspoon salt
1/4 tsp. garlic powder
2 tbsp. chia seeds (optional, but great for added protein, fiber and texture!)
1 large egg
1/2 cup sour cream
1/4 cup butter, room temperature
FILLING
1.5 small to medium russet potatoes, 1.5 cups chicken broth or chicken base
1 cup shredded cheddar or pepper jack cheese (or a combination of the two)
2 heaping spoonfuls of sourcream
1/2 can (4.5 oz) of chopped green chiles
1/2 tsp. cumin
salt and fresh black pepper to taste
SAUCE
1 large Hass Avocado (pit and skin removed)
Juice from 1.5 limes
2 heaping spoonfuls of sourcream
1/2 cup skim milk
1/4 tsp. coriander
MAKE THE DOUGH…
Mix together the flour and salt. Add the egg to the flour and combine. The dough will be quite clumpy at this stage.
Work in the sour cream and soft butter until the dough comes together in a slightly rough, slightly sticky ball.
Using just your fingertips, knead and fold the dough, picking up bits around the bowl  until the dough becomes less sticky but still quite moist. It will be a firm dough.
Wrap the dough well in plastic wrap and refrigerate for 1-2 hours, or up to 48 hours. I found that the longer the dough chills, the easier it is to work with.  My brother tells me that chilling dough helps the gluten to relax?  Whatever that means.
MAKE THE FILLING…
Peel and cut potato into large pieces (6 to 8 pieces per potato).  Boil in 1.5 cups of chicken broth until tender.
Drain and rinse potatoes in cold water. Blot with a clean dish towel or layered paper towels to remove excess moisture.
Gently mash the potato until there are only small chunks (or no chunks if you prefer) remaining. Stir in cheese, sour cream, green chiles, and cumin. Taste and adjust the seasonings with salt and pepper.
FILL THE PIEROGI…
I cut the dough in to 8 sections, shaped and rolled gently into a small rectangle.  Then, I worked one section at a time through my pasta roller attachment.  4 passes at setting 1 (the thickest setting), 4 passes through setting 2.  If you are hand rolling, I still think it's easier to cut the dough in to 8 sections and the roll each section out into a long rectangle or oval.  It should be roughly about 1/8" thick.
You can either roll out all the dough, then cut and fill – or you can roll a couple of batches, cut and fill those, then repeat with remaining dough until complete.  It probably depends mostly on the size and work surfaces available in your kitchen.  Ours is small!
TIP: Any dough you are not actively working with should be loosely wrapped in plastic wrap or covered with a damp paper towel or cloth at all times.
Use a 3-4" round cutter to cut circles of dough (I used the top of our cocktail shaker). Repurpose scraps by creating another section of dough or snip into small pieces for soup noodles.
Place 1 tablespoon of filling on each round of dough. Gently pull two opposite sides of the dough up together and press together working from the center out to ther corners to form a pocket. Pinch the edges of the pierogi to seal, then seal again with the tines of a fork.
Cook in a large stockpot of boiling unsalted water (since I added salt to my dough, it was not necessary to salt the water). Only cook about 10 pierogi at a time, so that they have room to float without sticking. When the pierogi float after about 5-6 minutes, they're ready.  Fish out of the water with a slotted spoon and set aside on a plate until all the pierogi are boiled.
FINISH THE DISH…
on medium low and add enough olive oil to generously coat the pan.
one at a time, add the pierogi to the skillet and gently swirl (by hand) in the olive oil to prevent sticking.  Fill the pan with perogi, but don't over-crowd.  If your pan is too hot, the pierogi are more likely to stick so watch the heat!
Sprinkle lightly with salt and pepper on the sides that have not yet been introduced to the oil.
Flip with tongs once the down side is lightly browned and crispy.  Crisp up the other side and remove from pan (cook in batches and keep completed pierogi warm in a 200 degree oven while the others cook) .
Using an immersion blender, blender or food processor, puree all sauce ingredients until a smooth, thick pourable consisentcy is achieved.
Spread 2-3 spoonfulls of sauce on a plate and place 4-5 pierogie (sitting up) on top.
Serve your favorite seasonal roasted vegetable alongside.