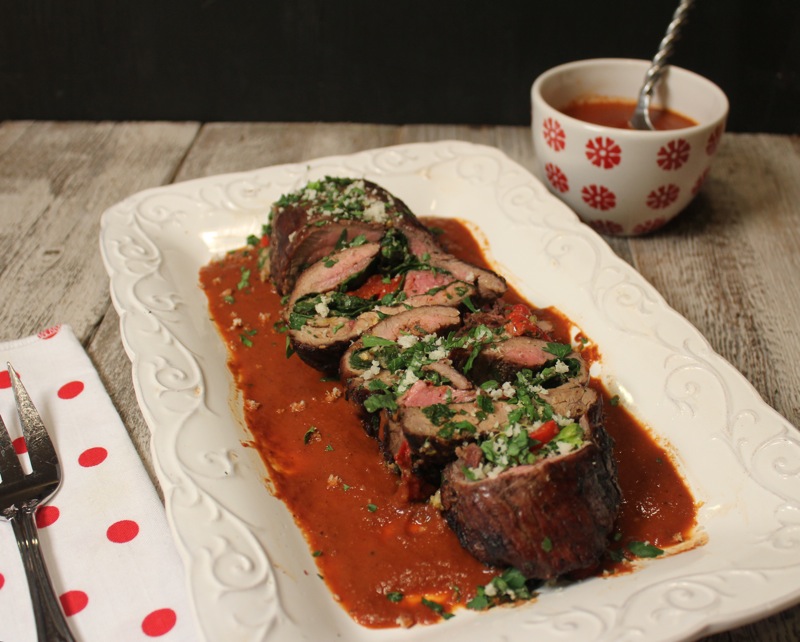 Although it is early for grilling, we have a cold weather method that we implement from time to time.  We have a grill that fits into our fireplace.  When the winds are howling and the rain and sleet are coming down we like to light a fire and cook our meal on the hearth.  We did that last Monday.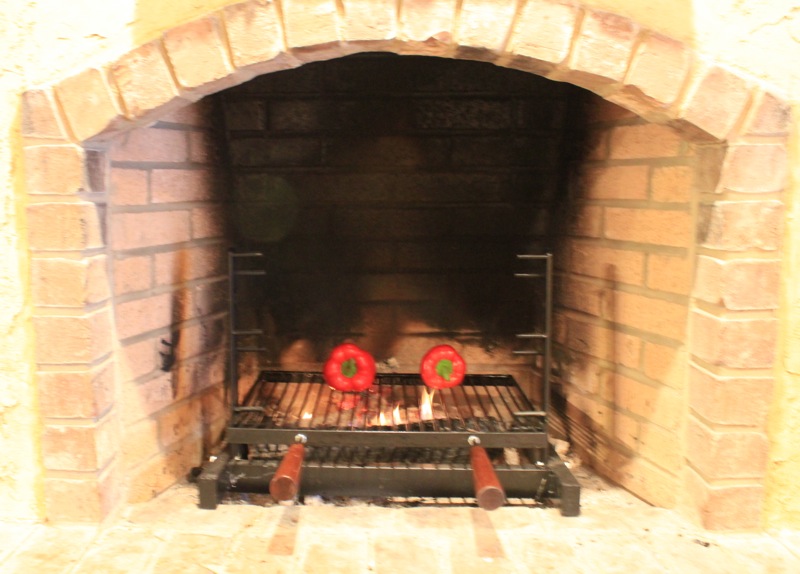 Part of this recipe for the rolled and tied flank steak involved roasted red peppers, onions and garlic.  I charred the peppers on the grill and cooked the garlic and onions in the coals.  You know how good it makes you feel when you find a recipe that sends your mind awhirl with possibilities.  That is true of the sauce I made to go with the flank steak.  It is Wood-Roasted Red Pepper Wine Sauce.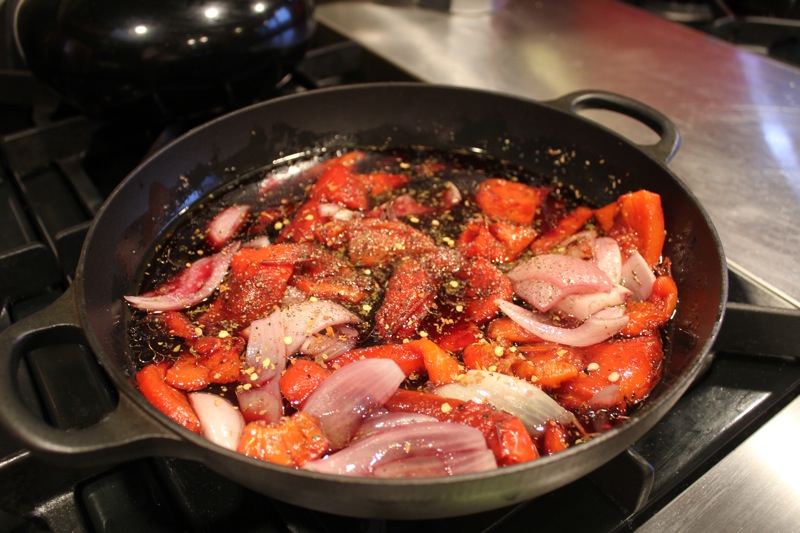 After the peppers, onions and garlic are cooked, they are put in a pan with red wine, olive oil, herbs, honey and a pinch of red pepper flakes.  This is cooked to reduce it slightly.  Then it is pureed in a blender and sieved.  It makes a beautiful and delicious sauce that can be used in numerous dishes.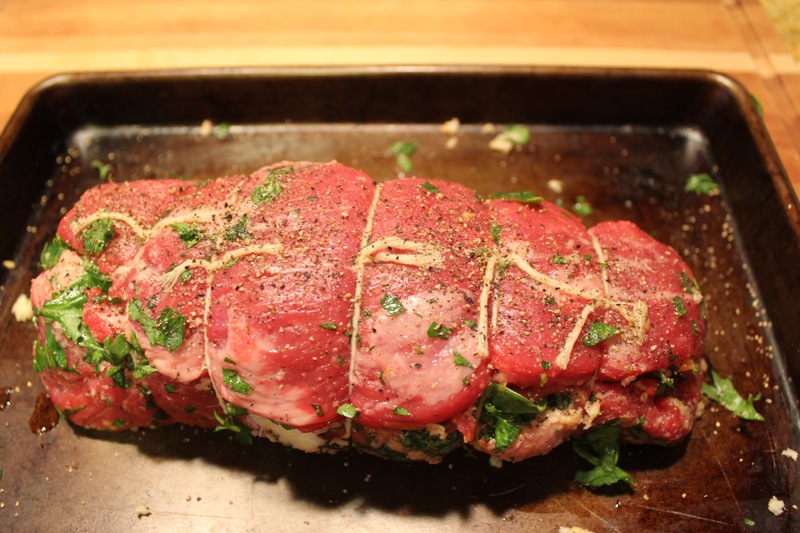 The flank steak is butterflied and pounded to a 1/4-inch thickness.  It is spread with a stuffing made from parsley, basil, garlic, lemon zest,panko crumbs, and red pepper flakes.  Over that is placed roasted red peppers, baby spinach and slices of Fontina cheese.  I did not have the Fontina cheese and just used some grated Parmesan and Gruyere.   The roast is then rolled and tied.  I didn't get a picture of it cooking on the grill.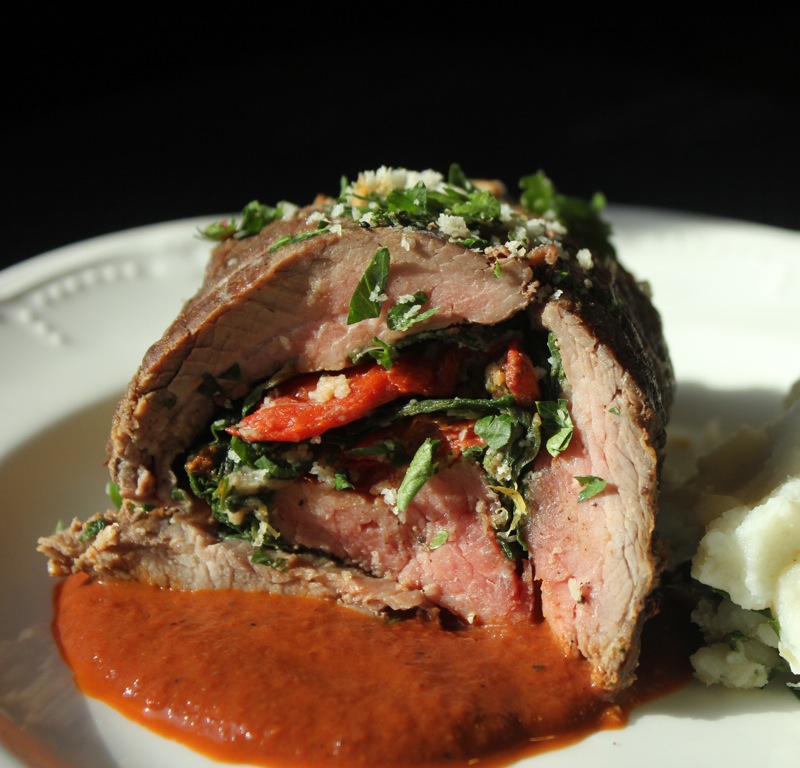 We used an instant read thermometer to cook the steak to 120 to 130 degrees, which was a nice medium to medium rare.  The sauce was perfect with it.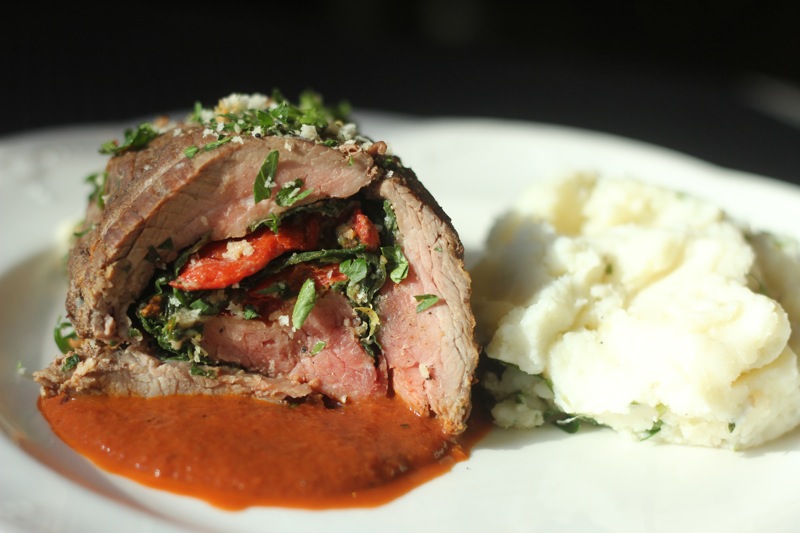 We served it with horseradish mashed potatoes.  There is nothing like a cold day and a hearth cooked meal to make you warm all over.  But I do have to report that the cold weather has left us and warm Spring breezes are coaxing the buds into bloom.  I am glad of it.
GRILLED FLANK STEAK WITH RED PEPPERS AND GREMOLATA STUFFING (From Wood-Fired Cooking by Mary Karlin)
1 (1 1/2-to 2-pound flank steak
Kosher salt and freshly ground black pepper
Gremolata Stuffing:
1 cup coarsely chopped fresh flat-leaf parsley
1/4 cup julienned fresh basil
6 cloves garlic, roasted and minced (You can wrap a head of garlic in foil and roast in oven or on the coals)
Grated zest of 1 lemon
1/3 cup bread crumbs or panko crumbs
1/2 teaspoon red pepper flakes
1/2 teaspoon kosher salt
2 tablespoons olive oil, for moistening
2 red bell peppers, roasted and peeled (Or you can use jarred roasted red peppers)
2 cups packed spinach leaves
8 ounces Italian fontina or Monterey Jack cheese, thinly sliced
Olive oil, for brushing
Wood-Roasted Red Pepper Wine Sauce (recipe follows)
Prepare a hot fire (475 to 500 degrees F) in a wood-fired oven or grill.
Butterfly the steak by slicing through it horizontally (with the grain), cutting almost through, leaving halves attached by 1/2-inch.  Open and flatten the cut meat.  Here is link to a great video to show you how to butterfly a flank steak.  Pound the steak to create a fairly even thickness.  Season with salt and pepper.
To make the gremolata stuffing, combine all the ingredients in a bowl.  Set aside, reserving 3 tablespoons for garnish.
Cut the roasted red peppers into 4 large slabs.  Lay the spinach leaves over the opened steak.  Line with cheese lices, then the red pepper slabs.  Sprinkle with the gremolata stuffing.  Roll up the steak tightly lengthwise.  Tie the rolled steak with kitchen string about every 3 inches.  Brush with olive oil and season lightly with salt and pepper.
Place the meat on a grate in the oven or on the grill and turn to brown on all sides, about 10 minutes.  Move off direct heat and continue cooking for 20 to 25 minutes, or until an instan-read thermometer inserted in the center registers 120 to 130 degrees F.  Transfer to a carving board, tent loosely with aluminum foil, and let rest for 10 minutes, or until an instant-read thermometer inserted in the center resisters 130 to 135 degrees F.  Cut into 1/2-inch thick rounds, sprinkle with the reserved gremolata, and serve with the wine sauce.
WOOD-ROASTED RED PEPPER WINE SAUCE
This simple sauce has many applications: as a sauce for meat, as a pasta sauce, or as a soup base.  Wood-roasting the peppers and onions adds great flavor.  Use a red wine that has a lot of presence such as Zinfandel or Sangiovese.  You can add other spices, such as a curry blend or chipotles in adobo, as you choose.
2 large red bell peppers
1 yellow onion, halved
3 cloves roasted garlic
1/4 cup olive oil
1 cup dry red wine
1/2 teaspoon dried herbs of choice
2 teaspoons honey
Kosher salt and freshly ground pepper
Pinch of red pepper flakes (optional)
Place the bell peppers in the embers of a wood-fired oven or over the direct heat of a grill.  Roast until well blistered and charred all over.  Place in a bowl, covered with plastic wrap, and let stand for 10 minutes.  Remove the skin, seeds, and stem.  Reserve any juice.  Cut into chunks,  Roast the onion, cut side down on the grill or skin side down in the embers, until slightly caramelized.  Remove the skin and coarsely chop.
Combine the peppers, reserved juice, onion, garlic, olive oil, wine, and herbs in a baking dish and place on the floor of the wood-fired oven or over indirect heat on the grill.  Cook, uncovered, until liquid is slightly reduced, 10 to 15 minutes.  Remove from the heat and let cool.  Place in a blender or food processor and puree.  Strain through a fine-mesh sieve, pushing down on the solids with the back of a large spoon.  Season with the honey and salt and pepper to taste.  Add the pepper flakes, if you like.  Thin with a touch warm water or vegetable stock if needed.  Use warm, or store in portions in self-sealing plastic bags in the refrigerator for 1 week or in your freezer for up to 2 months.