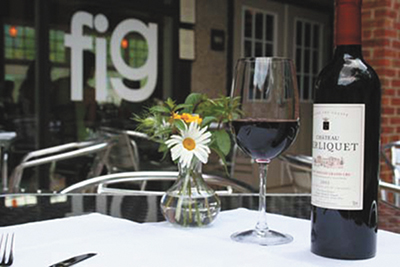 It is so good to be back in the mountains of North Carolina.  There is so much to love about Lake Lure and Asheville, one of my nearest cities.  Asheville is a haven for foodies.  There is an active farm to table presence in the area.  Many small farms supply the area restaurants, farmer's markets, butcher shops and bakeries with the freshest ingredients that are chemically  free and humanely handled.  I always feel good about the food that I eat here.
A rite of Spring for my friend Penny, who has the food blog From Harvest to Table, and me is to get together for lunch and antique shopping.  One of our favorite restaurants is Fig Bistro.  Located in the historic Biltmore Village, Fig is a little bit French and a whole lot seasonal and fresh.  They are committed to supporting local, organic and the sustainable agriculture of the Western North Carolina farmers.  Every meal that I have had here has been exceptional.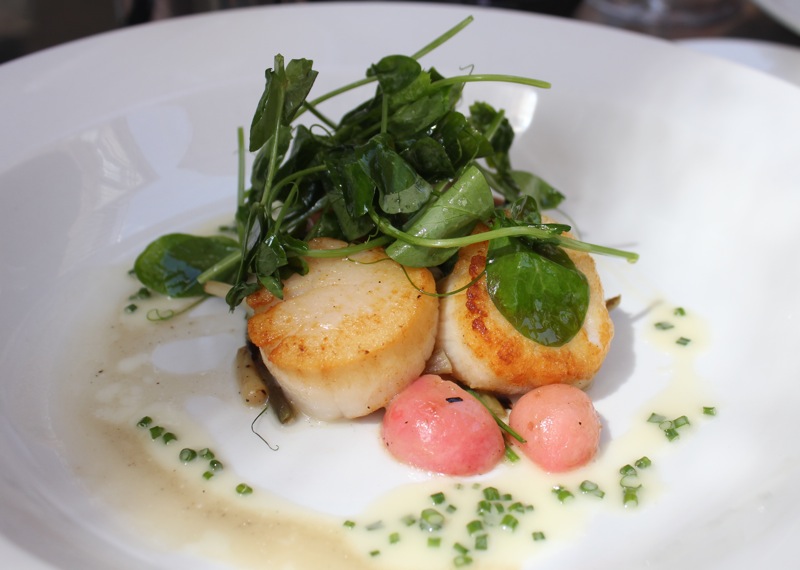 Now this is Spring on a plate.  The other Penny (Affectionately known as T.O.P.) ordered this special of the day.  It was seared scallops with baby ramps, radishes and baby pea shoots, served with a beurre blanc sauce and chopped chives.  Look at how beautiful those cooked radishes are.  To me, the plate is a work of art.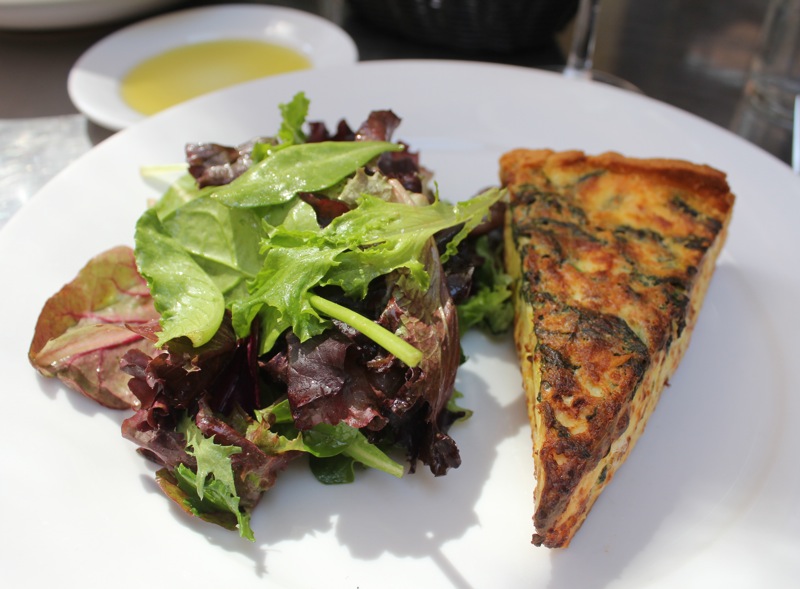 I ( Sometimes also known as T.O.P) ordered the Spinach and Bacon Quiche with side salad.  I wish I could offer you a piece of this quiche.  It was the creamiest, most melt in your mouth delicious quiche that I have ever had.  I will be working on duplicating this at home.  By the way, I did try to duplicate Fig Bistro's Salmon dish in a post here.  But there are some dishes that can only be done in restaurants like this.  I am more than happy to sit back on a sunny spring day on the patio of Fig with my friend Penny, enjoying a glass of wine and eating their creative dishes.  It is an added bonus to have a thoughtful French waiter and Heather Masterson watching over us.  You must visit Fig if you are ever in Asheville.