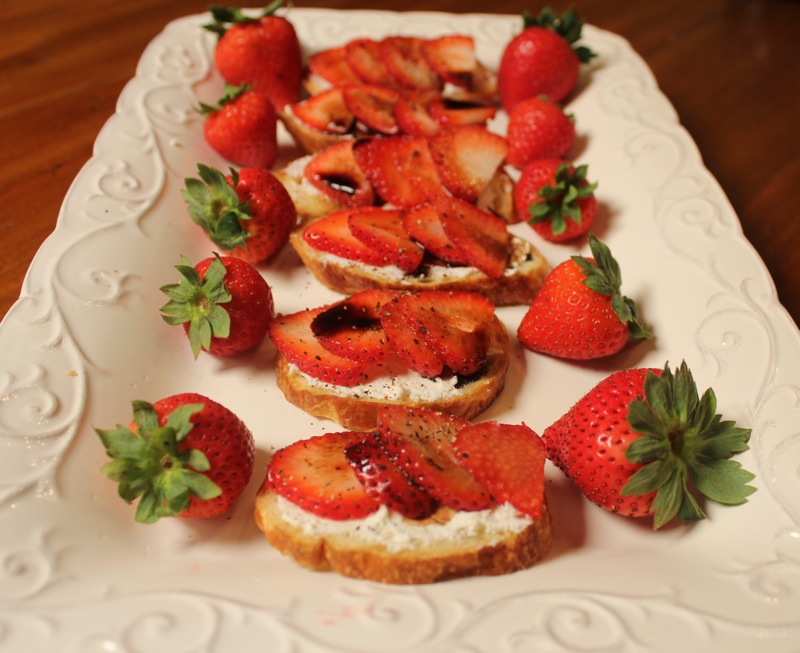 A tartine is the French equivalent of the Italian bruschetta.  According to Dorie Greenspan the French verb tartiner means to spread.  So a tartine is a slice of bread that has been spread with some topping or toppings.  We had company for dinner last night.  Penny of The Comforts of Home and From Harvest to Table and her husband were here.  When we had dinner at their house Penny served two kinds of bruschetta so I decided that toasted bread would also be my appetizer.  This inspiration from Dorie Greenspan's book Around my French Table was one of them.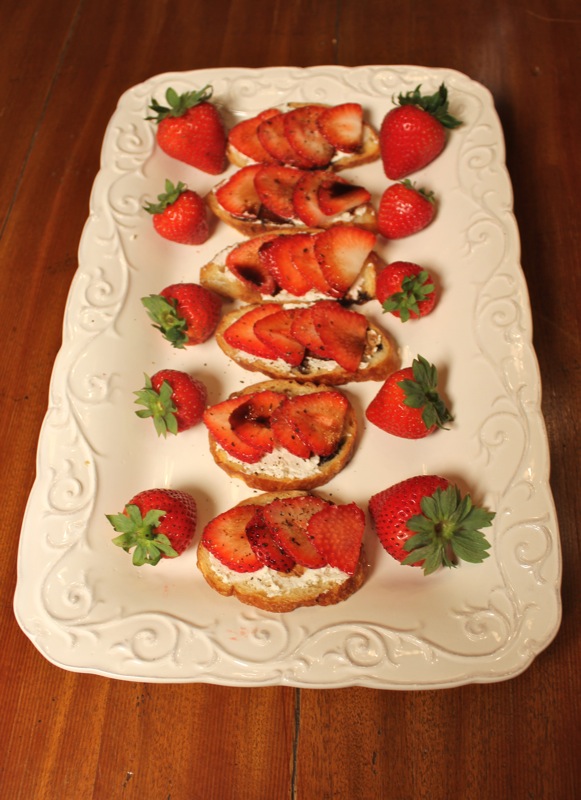 It seemed to be an unusual combination, but the flavor was refreshing.  I toasted sourdough baguette slices, spread them with softened goat cheese, topped them with strawberry slices, sprinkled them with pepper and finally drizzled them with a balsamic vinegar and apricot jam reduction.  So if you are looking for an appetizer that is something a little different but packs a big impact, this would be a good choice.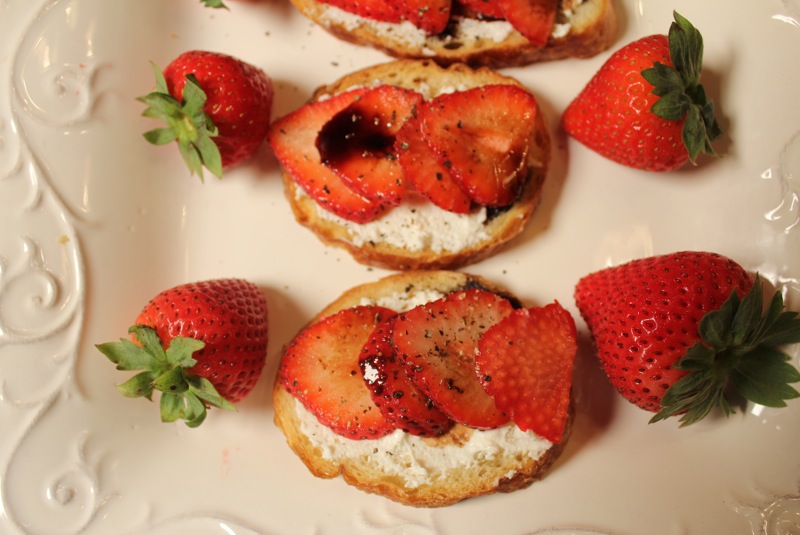 They were also easy.  Unfortunately I did not get a picture of them last night so I made a few more this morning and garnished them with fresh whole strawberries;  just in case you were wondering about the presentation Penny.  LOL. Last night they were served on a tray with some other baguette appetizers.
Next up, an easy dessert that requires no cooking but looks elegant.
STRAWBERRY AND GOAT CHEESE TARTINES  (Adapted from Dorie Greenspan's Around my French Table)
12 slices of a sourdough baguette, about 1/4 inch thick
Olive oil
4 ounces of goat cheese at room temperature
About 12 strawberries, hulled and thinly sliced
Coarsely ground black pepper
Balsamic vinegar and apricot jam reduction – Recipe follows
Spread the baguette slices lightly with olive oil.  Toast them briefly in a toaster oven.  Cool slightly.  Spread with the softened cream cheese.  Fan the strawberry slices on top of each.  Sprinkle with pepper and drizzle with the balsamic reduction.
BALSAMIC-APRICOT GLAZE (Recipe courtesy of Bobby Flay)
2 cups balsamic vinegar
2 tablespoons apricot jam
Put the vinegar in a small saucepan and cook over medium-high heat until reduced to 1/2 cup.  Whisk in the apricot jam and let cool slightly.
This is also good on grilled chicken or fish.