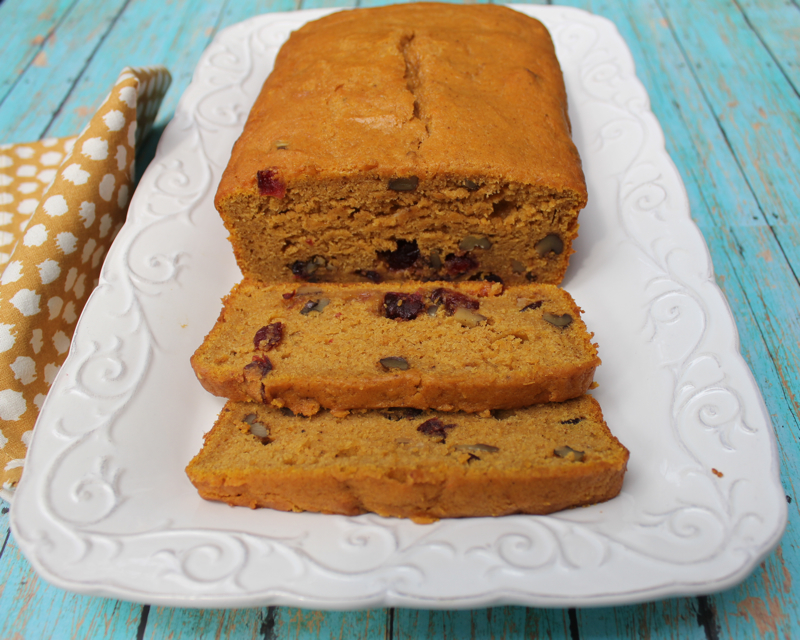 The changing of the seasons seem to be speeding up in my life.  I want to hold each precious moment in the palm of my hand and grasp it greedily so as not to let it fly away.  I want to be here for my Granddaughter's wedding someday.  I want to witness what my precocious Grandson becomes.  All of these thoughts intensify with the arrival of Fall.  There is an urgency to Fall.  Squirrels gather their acorns.  Farmers harvest their crops and gather hay.  Many of us can and freeze the bounty from our gardens.  Fall is the season for soups, pumpkins, stews and freshly baked bread.  Fall food is solace for the soul and gives us a reason to look forward to Spring and bright days ahead.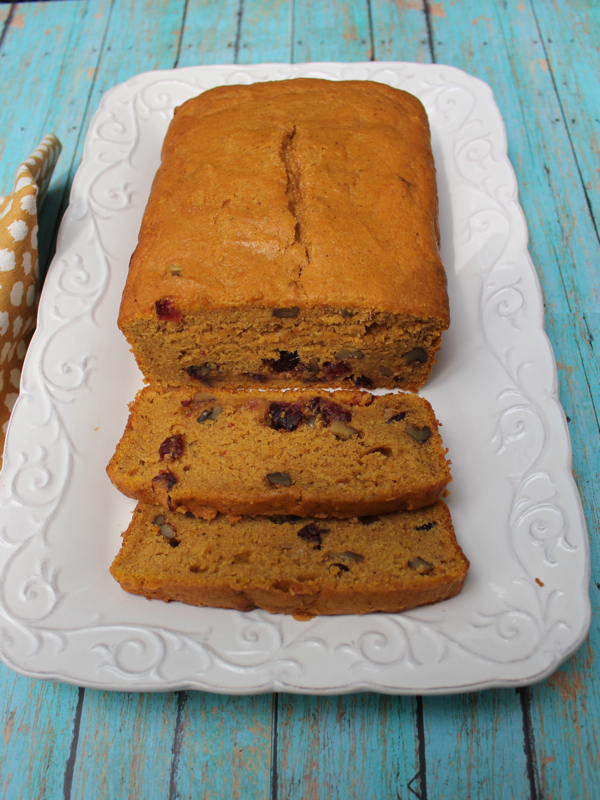 Few things smell as good as pumpkin and cinnamon baking in the oven.  One of my favorite pies is pumpkin.  But this pumpkin flavored quick bread has also become a favorite.  The recipe appeared in a 2003 issue of Bon Appetit magazine.  The article and recipe came from Ken Haedrich.  I have written about Ken before in this post.  By the way, I am still waiting for a guest post from you Ken.  He has a very informative website called The Pie Academy.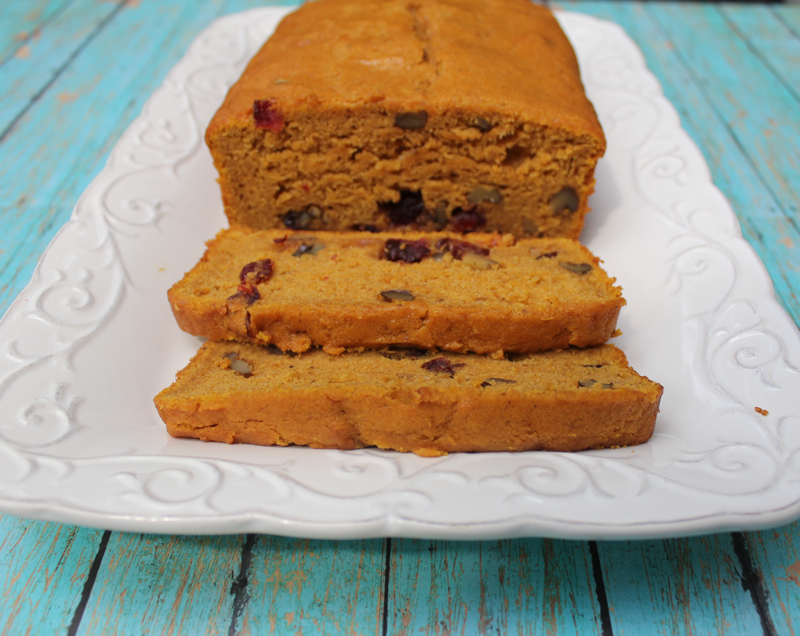 This is a dense and moist quick bread that is studded with cranberries and walnuts.  Eating a slice and sipping a cup of coffee while gazing at the changing colors across the lake is a celebration of all that is good about Fall.  The urgency and cold winds of Winter can wait.
CRANBERRY-WALNUT PUMPKIN BREAD
2 cups all purpose flour
2 teaspoons pumpkin pie spice
1 teaspoon baking powder
3/4 teaspoon salt
1/2 teaspoon baking soda
6 tablespoons (3/4 stick) unsalted butter, room temperature
1 cup sugar
2 large eggs
1 cup canned pure pumpkin
1 teaspoon vanilla extract
2/3 cup buttermilk
1/2 cup dried sweetened cranberries
1/2 cup coarsely chopped walnuts
Preheat oven to 350 degrees F.  Butter a standard loaf pan.  Line bottom and 2 long sides with waxed paper.  Whisk flour, pumpkin pie spice, baking powder, salt, and baking soda in medium bowl to blend.  Using electric mixer, beat butter in large bowl until fluffy.  Gradually add 1 cup sugar, beating until blended.  Beat in eggs one at a time.  Beat in pumpkin, then vanilla.  Beat in dry ingredients alternately with buttermilk in 2 additions each.  Fold in cranberries and nuts.  Transfer batter to pan.
Bake bread until tester inserted into center comes out clean, about 1 hour 10 minutes.  Cool bread in pan on rack 15 minutes.  Cut around bread at short ends to loosen from pan.  Turn bread out onto rack; peel off waxed paper.  Cool bread completely.