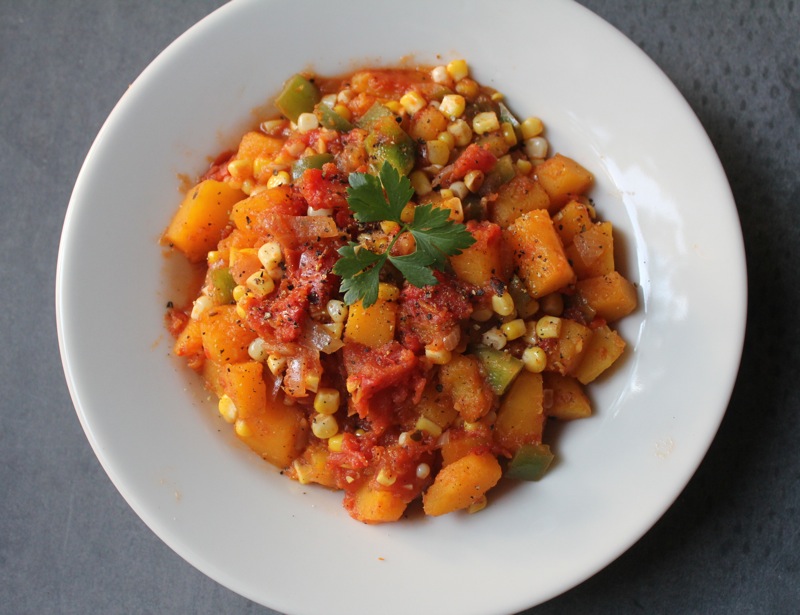 The next time you have Taco night or Fajita night you might want to try this wonderful stove top saute of butternut squash, corn, peppers and fired roasted tomatoes as a side dish.  I came up with this recipe because I entered a contest over on the Food 52 website.  The contest is for your best side dish cooked on the stove top. They are giving away an Electrolux Stove to the winner.  I don't  need a stove, but our kids do.  They are planning a kitchen remodel.  Kristen and I brainstormed ideas for good side dishes.  The inspiration for this one came from a dish that Kristen cooked while we were visiting last week.  She is still getting sweet corn in her CSA box and she made sauteed corn with bacon and avocado.  I decided to try combining cubed butternut squash and corn.  The additions of onion, green pepper, tomatoes and spices just seemed to fall into place.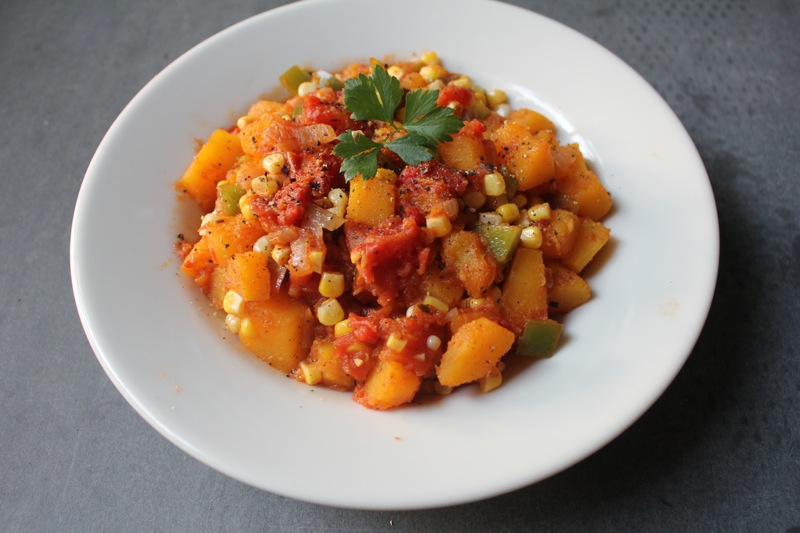 I am pleased with the results.  You could even add more heat to it with jalapeno peppers or pepper flakes.  There are so many possibilities for interesting side dishes cooked on the stove top; risottos, pastas, beans.  It will be interesting to see which of the 240 entries comes out the winner.  I am curious to hear if any of you have a favorite stove top side.  Let me know if you do.
MEXICAN BUTTERNUT SQUASH AND CORN SAUTE
2 tablespoons Vegetable Oil
1 Butternut squash, peeled, seeded, and cut into 3/4-inch cubes
1 Medium onion, chopped
1 Garlic clove, minced
1 14 1/2 ounce can fire roasted diced tomatoes
1 Green pepper, seeded and cut into 1 inch dice
2 to 3 Ears of fresh corn, cut from the cob
1/2 teaspoon each oregano and cumin
Salt and pepper to taste
Heat oil in a large skillet over medium heat. Add Squash, onion, and garlic; cover and cook, stirring once or twice, for 5 minutes.
Add tomatoes and bell pepper. Cover; reduce heat and simmer 15 minutes. Add corn, salt, oregano, and cumin. Cover and simmer 5 minutes or until squash is tender. Increase heat to high, uncover, and cook until most of the liquid has evaporated, 3 to 4 minutes.