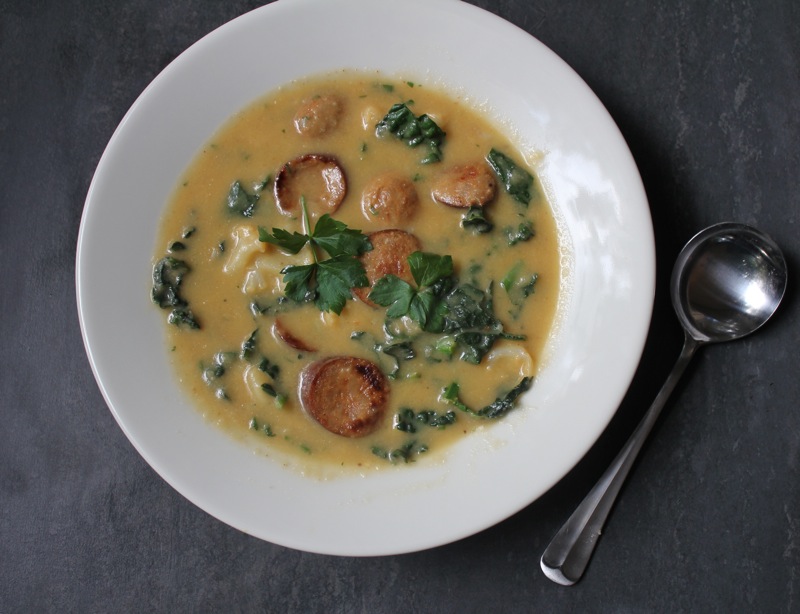 Sitting at our table on the porch last night, eating this soup was a transcendental experience.  Sometimes there is a combination of ingredients that raise the bar for flavor.  This is one of those dishes.  Anytime you roast vegetables you release great flavor.  In this case the vegetable was cauliflower. The humble head of cauliflower can be turned into a delicious soup.  The original recipe is a winner on the Food 52 website.  The creator of the soup is Bogre, a guy from Connecticut with Hungarian roots; thus the use of smoked paprika in the dish.  The cauliflower is first roasted with the smoked paprika and cumin and then pureed with chicken stock.  This hearty base is then enhanced with sausages and either mustard greens or kale.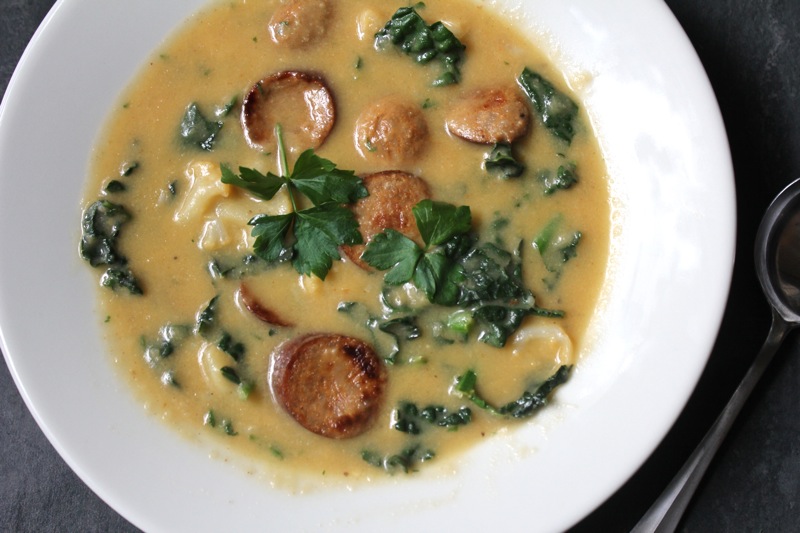 I made some substitutions to the original recipe.  A Trader Joe's has opened in our area, for which I am eternally grateful.  I used their pre-washed Tuscan kale and their brand of turkey kielbasa.  Also I did not have any smoked paprika so substituted regular paprika.  However you tinker with this soup, you will still end up with a winner.  I plan to use cauliflower again as a base for creamy soups.  It has less calories than potatoes, but still imparts a rich, rib sticking goodness.
CAULIFLOWER, KALE AND SAUSAGE SOUP
Serves 6 to 8
2pounds cauliflower florets (from 1 medium head)
1/2 to 1 teaspoon ground cumin, or to taste
1/2 tablespoon smoked paprika (I used regular paprika)
Salt and pepper
2 tablespoons olive oil (plus extra for roasting)
1 Spanish onion, chopped
4 large garlic cloves, minced
1/2 teaspoon red pepper flakes
8 cups chicken stock
1/2 pound smoked turkey kielbasa, sliced (Wellshire Farms brand is particularly good) – I used Trader Joe's Smoked Turkey Kielbasa
1 bunch mustard greens, shredded – I used Tuscan Kale
1/4 cup parsley, finely chopped
1/4 cup cilantro, finely chopped
1/2 lemon, juiced
Preheat oven to 450 F. Toss cauliflower florets with cumin, smoked paprika, and liberal amounts of salt, pepper, and olive oil. Spread in a single layer in a roasting pan or baking dish and roast in the oven for 30 minutes.
Remove florets and set aside. Deglaze the roasting pan with 1 cup of the chicken stock, stirring to scrape up browned bits. Mix in with the remaining stock.
Sauté the onion in 2 tablespoons of olive oil (In a large stock pot) over medium-medium high heat until tender and translucent and beginning to brown. Add garlic and pepper flakes and sauté until fragrant, about 30 seconds. Add cauliflower and stock and bring to a boil, then reduce heat and simmer about an hour. Remove from heat and purée.  I used an immersion blender.
Return the puréed soup to low heat. Add sausage and cook about 10 minutes. (You can brown the sausage beforehand if you like.) Add the mustard greens and parsley and simmer another 5 to 10 minutes until the greens soften a bit. Remove from heat. Stir in the cilantro and the lemon juice and season to taste with salt and pepper. Serve with a sprinkle of smoked paprika and a drizzle of olive oil.