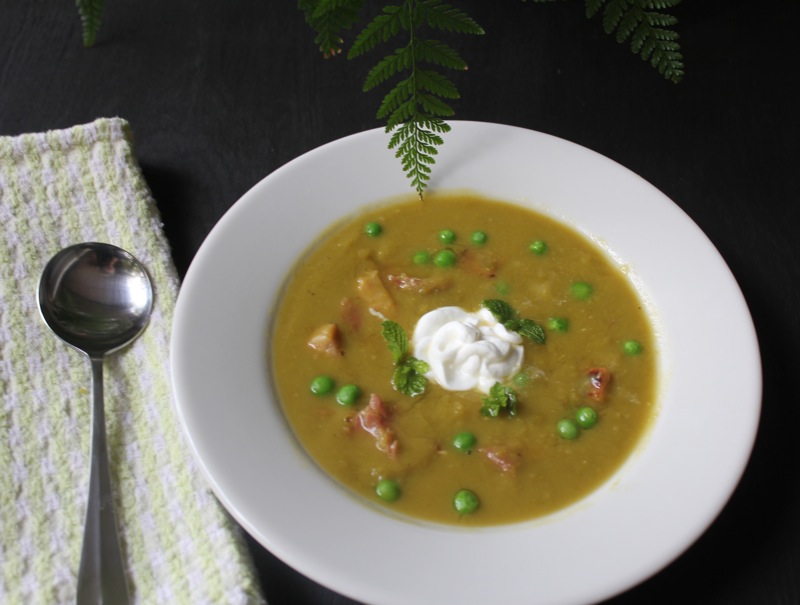 Thomas Keller's French Laundry restaurant in Napa Valley is among the top 50 best restaurants in the world.  He has won many awards and has established several other restaurants in his illustrious career.  Among them are Bouchon in Yountville, California, Per se in New York City and his more humble establishment, ad hoc, also in Yountville, where a different fixed price comfort dinner is served every night.  I own both his French Laundry Cookbook and his ad hoc at home cookbook.  My favorite is the ad hoc cookbook for obvious reasons.  The recipes are more approachable and simpler in conception.  But they still have the Thomas Keller style.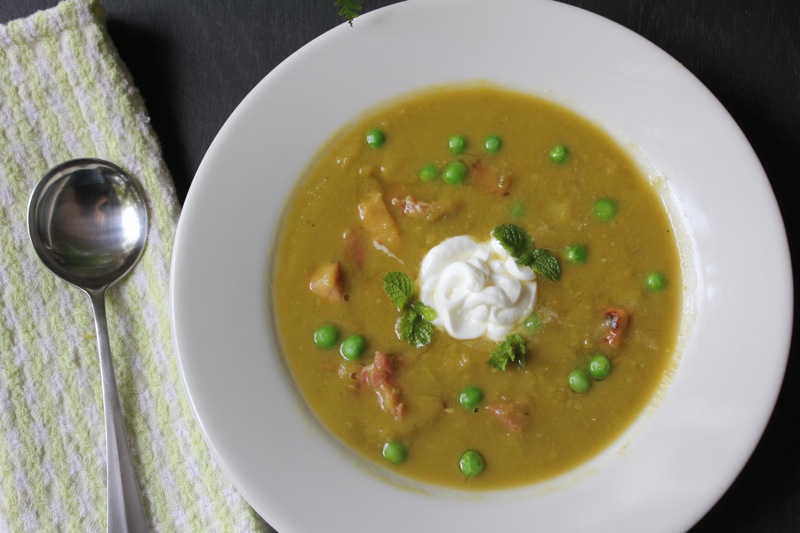 There is a depth of flavor to all of his recipes because he takes the time to make it happen.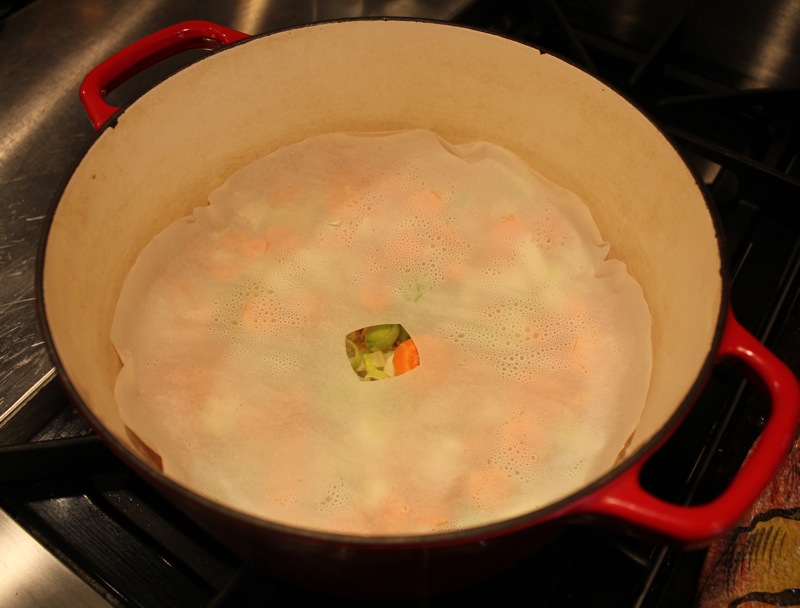 In the case of the split pea soup, he starts by steaming carrots, onions and leeks with a parchment paper lid.  The vegetables are cooked long enough to release lots of flavor.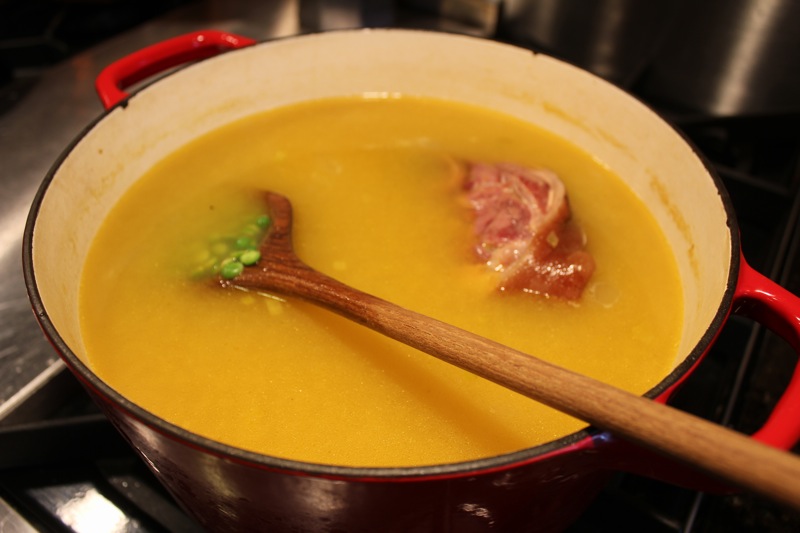 Chicken broth and a ham hock are added to the vegetables and are simmered gently.  The soup is strained and then the split peas are added.  By this time the broth is full of flavor.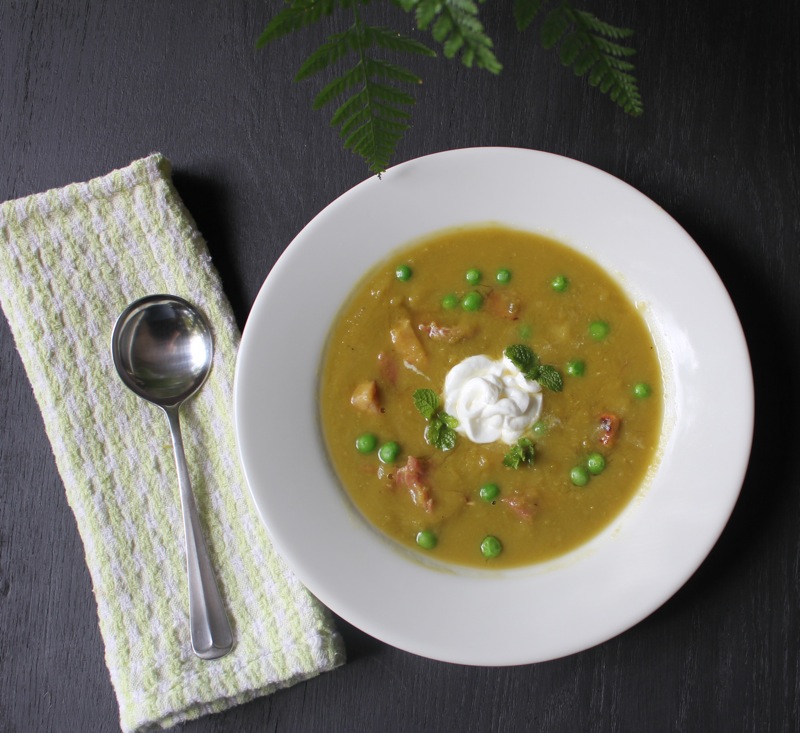 The finishing touches are fresh peas, creme fraiche and mint.  The soup is so nuanced; a smooth rich pureed base, chunks of ham, bright peas, rich cream and fresh mint.  This is a well thought out rendition of split pea soup and I am definitely a Thomas Keller fan.
SPLIT PEA SOUP THOMAS KELLER STYLE
3 tbsp canola oil
2 c thinly sliced carrots
2 c coarsely chopped leeks
2 c coarsely chopped onions
Kosher salt
1 smoked ham hock (about 1 pound)
3 quarts chicken stock
1 pound split peas (about 2 cups) , small stones removed, rinsed
1-2 tbsp red wine vinegar
Freshly ground black pepper
2 c peas, either fresh or frozen
1/2 c crème fraîche
Mint leaves
Heat oil in large stockpot/dutch oven over medium heat.  Add the carrots, leeks, onions and a generous pinch of salt.  Reduce the heat to low, cover with a parchment lid and cook very slowly, stirring occasionally, for 34-40 minutes, until vegetables are tender.  Remove and discard the parchment lid.
  Add ham hock and chicken stock, bring to a simmer for 45 minutes.  Prepare an ice bath.  Strain the stock into a bowl, discard the vegetables and reserve the ham hock.  Place the bowl of stock over the ice bath to cool. (The split peas will cook more evenly when started in a cold liquid.)
Return the cold stock and ham hock to the pot, add the split peas and bring to a simmer.  Simmer for 1 hour, or until the split peas are completely soft (do not worry if the peas begin to break apart, as they will be pureed).
Remove the soup from the heat and remove and reserve the ham hock.  Season the soup with 1 tbsp vinegar and salt to taste.  (Be careful with the salt at this point because the ham hock adds a lot of salt.)  Blend the split peas and liquid until smooth.  Taste for seasoning, adding pepper and additional vinegar if needed.
  Pull away and discard the skin and fat from the ham hock.  Trim the meat and cut into 1/2″ dice. (I added more ham at this point because the ham hock was not very meaty).
To serve, heat peas, (he recommends fresh but I only had frozen) and add half to the soup.  Put the remaining peas, creme fraîche, ham meat and mint leaves in separate serving bowls and serve the soup with the garnishes. Serves 6.