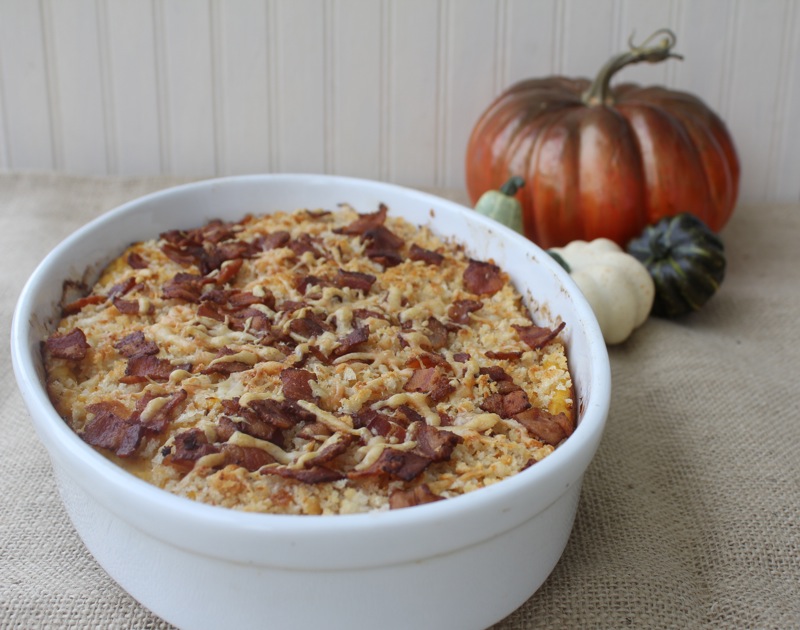 This is one of those dishes that would be great with any holiday dinner.  It has both the vibes of mashed potatoes and sweet potato casserole.  But the addition of Gruyere cheese, bacon and sourdough bread crumbs just gild the lily.  I am always looking for casseroles that can be prepared ahead of time and this fits my requirements perfectly.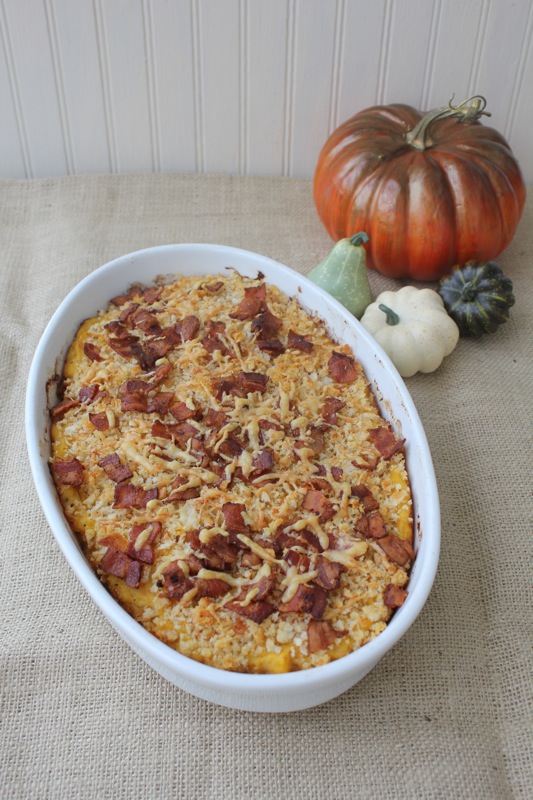 This is a very loose adaptation of a recipe from Sarah Leah Chase for Pumpkin and Potato Gratin.  It would be very good made with a baking pumpkin I am sure.  We are not hosting Thanksgiving this year as the family will be scattered.  Instead we have been invited to have Thanksgiving with friends here in Florida.  I will be making the apple and pumpkin pies.  I am experimenting with a new pie crust recipe.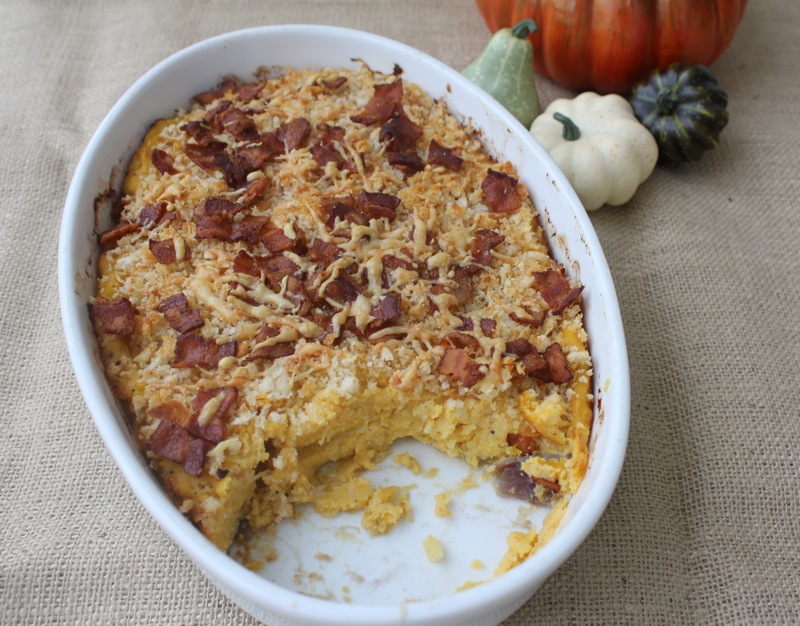 Whether you are having Thanksgiving at home or are invited to enjoy it with friends and family, this casserole would make a great addition to the table.
BUTTERNUT SQUASH AND POTATO GRATIN
Serves 8
4 cups peeled, seeded and cubed butternut squash
2 tablespoons olive oil
Salt and Pepper to taste
4 Large Idaho potatoes, peeled and cubed
6 Slices Bacon, cubed
3 tablespoons unsalted butter, at room temperature
3 Large eggs
1 1/4cup Gruyere cheese, shredded
1/2 teaspoon Fresh nutmeg, grated
1 cup Fresh bread crumbs
Preheat the oven to 400 degrees F. Place the cubed butternut squash on a large sheet pan. Drizzle it with olive oil and salt and pepper. Toss to coat. Place it in the oven and cook, turning once until it is tender and just beginning to brown; around 20 to 25 minutes.
Place the cubed potatoes in a saucepan and cover with water. Salt. Bring to a boil and cook for about 20 to 25 minutes until fork tender.
While the squash is roasting and potatoes are boiling, fry the bacon pieces until crisp. Drain on paper towels. Reserve 2 tablespoons of dripping for 2 quart shallow casserole dish. Brush the drippings on bottom and sides of dish. Set aside.
When squash and potatoes are tender, drain the potatoes well and scoop the squash and potatoes into a large bowl. Add 2 tablespoons of the butter and mash well with a potato masher until all are combined. Add 1 cup of the Gruyere cheese, salt and pepper to taste and the grated nutmeg. Add the beaten eggs after it has cooled a bit. Mix well and transfer mixture to prepared casserole.
Mix the reserved 1 tablespoon of softened butter with the bread crumbs. Sprinkle over casserole. Scatter the bacon bits over the top and then finish with the extra 1/4 cup Gruyere cheese.
Place casserole in the 400 degree F. oven and bake the gratin until the top has a light golden crust, about 30 minutes. (If doing ahead, the casserole can be held in the refrigerator before baking. Just bring to room temperature for about 30 minutes before baking.)