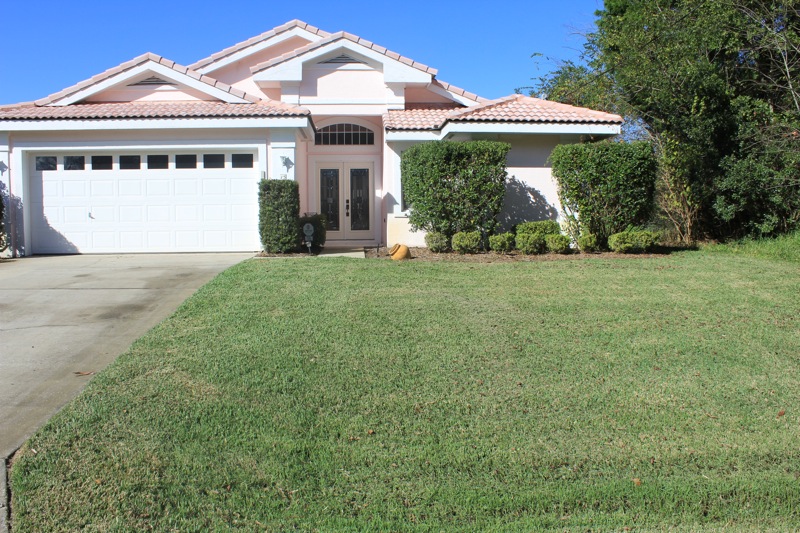 I know I have shown you a million pictures of our Lake Lure Cottage in North Carolina, but I don't think I have welcomed you to our Florida abode.  We call it Big Pink, because it is obviously, well . . . . Pink.  But it is also named after one of our favorite record albums by The Band.  Big Pink was the name of a house where the The Band recorded the album Music From Big Pink  It is located just out side of Woodstock New York.  David actually made a pilgrimage to the Big Pink house on one of his motorcycle rides.  You can read about it here.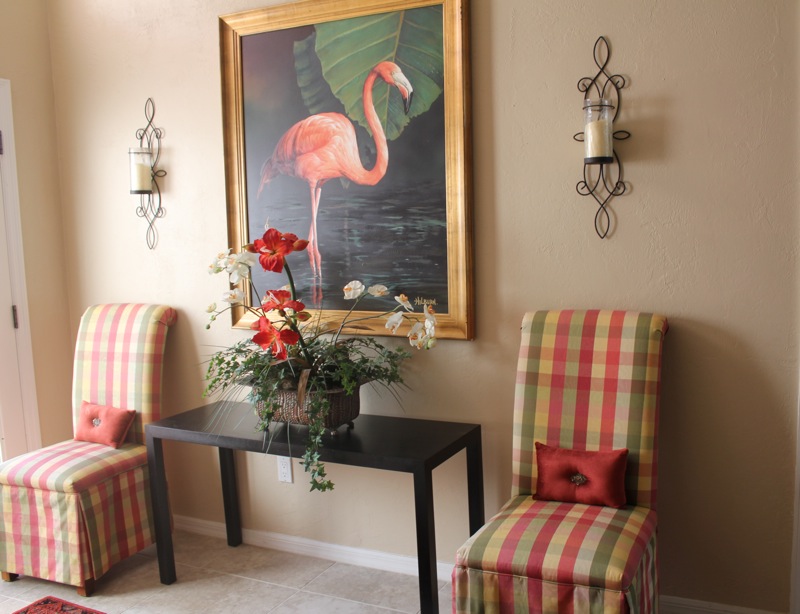 This is the view that greets you when you enter the house.  I worked at a very large furniture store in High Point North Carolina for many years.  When my coworkers heard that we were retiring to Florida for part of the year, they started kidding me about the flamingo painting (click here to learn more)  that was hanging in our store's art gallery.  Each time I would pass it, I would smile.  When I showed it to David, he actually fell in love with it.  So it made its way into our stash of furnishings for Florida.  On an interior designing  note, because that was what I did for many years, I think the hall table would look good with some travel stamped antique suitcases stacked up under it.  I would also like to replace the candle sconces with something more substantial.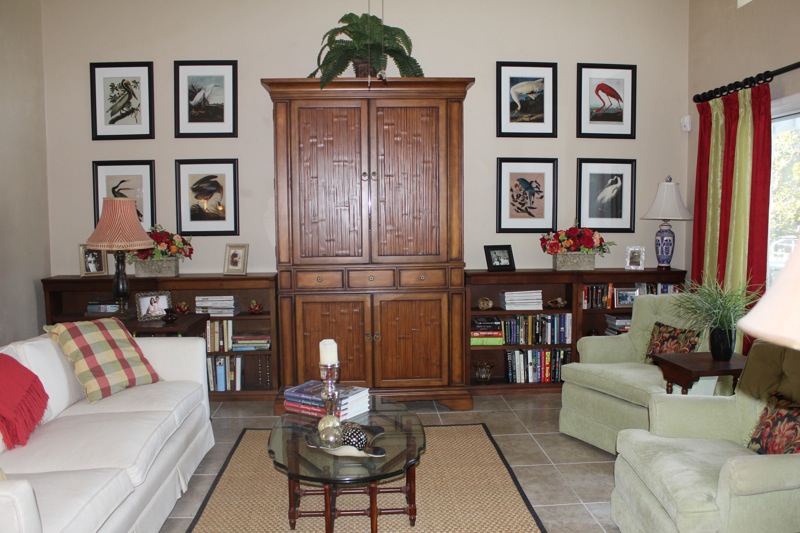 Our living room is casual with a West Indies vibe.  The Audubon prints on the walls flanking the Tommy Bahama entertainment center were one of my inexpensive decorating achievements.  I had copies of the prints from an Audubon book blown up on quality paper at Staples.  I found the matting paper on line and the frames from the Daytona Flea Market.  The total cost was $18.00 for each of them.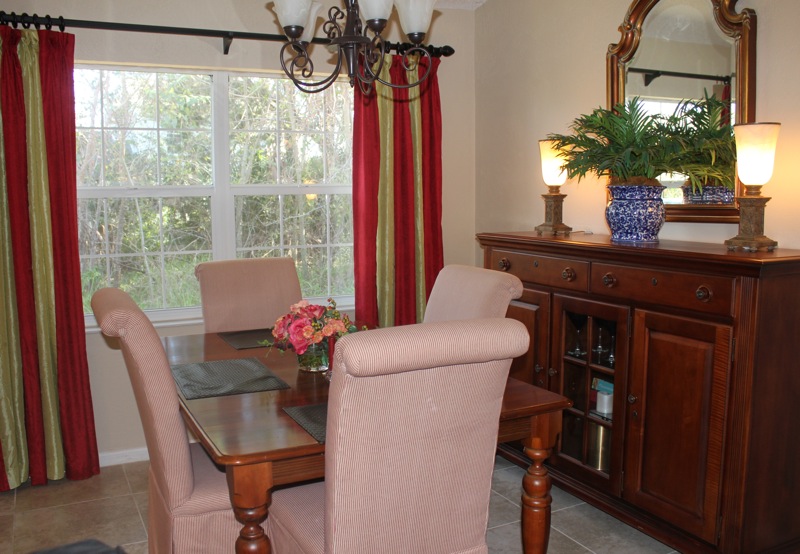 The dining room is a wing off of the living room.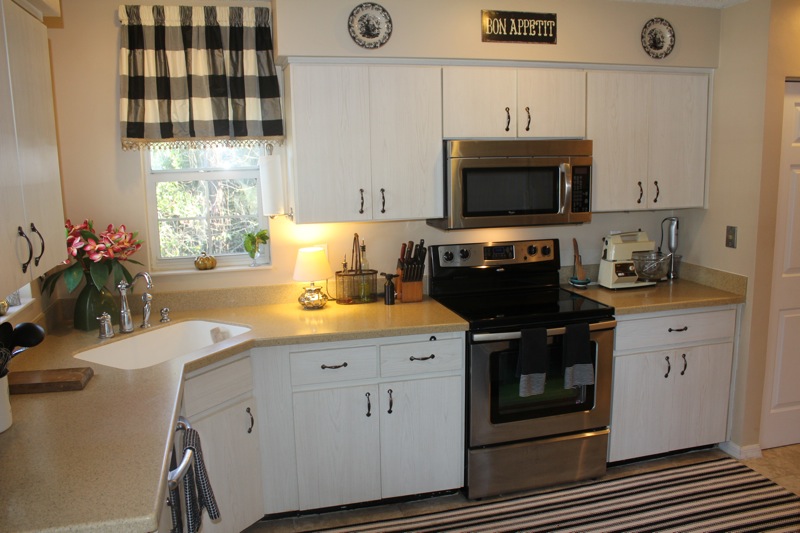 The kitchen is a work in progress.  Two years ago we updated the countertops to Corian.  Last year we replaced all of the white appliances with stainless steel.  This year we plan on having all of the cabinet doors replaced.  I like working in my efficient small kitchen.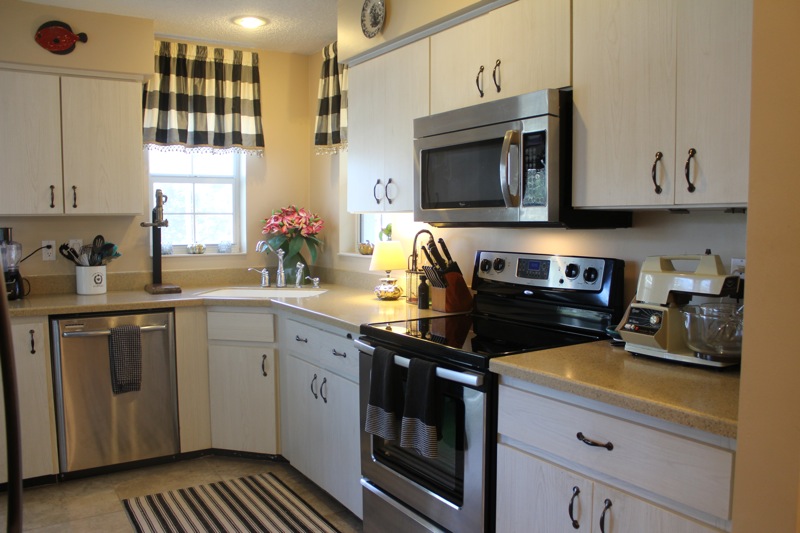 Here is another view of my kitchen.  I made the black and white checked curtains.  The runner on the floor is from Dash and Albert.  I love it because it is washable.  Outfitting a second kitchen can be costly.  To save money, I found the Oster mixer at a yard sale for $10.00.  It actually runs just as well as my Kitchen Aid mixer at Lake Lure.  Go figure.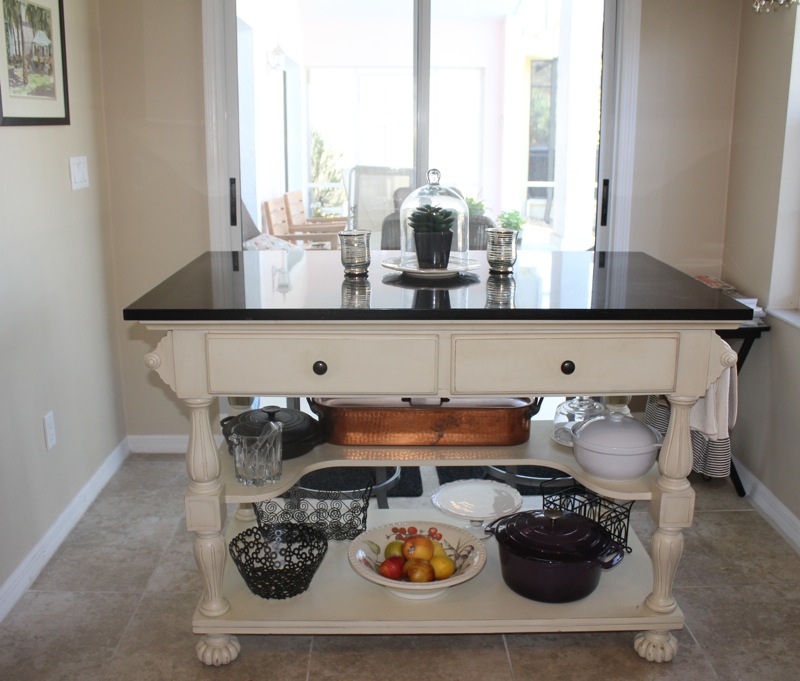 There is room in the kitchen for a dining area.  Instead of that, I bought a kitchen island at my furniture store.  It gives me more work space and an open storage area.  I roll out pie crusts and make Christmas cookies here.  I am on the lookout for an industrial looking chandelier to hang over the island.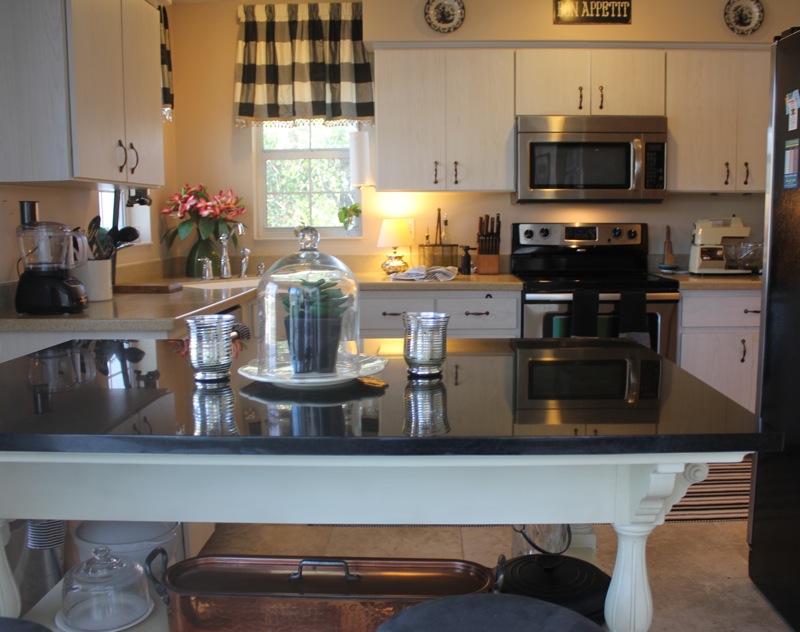 This is a view taken from the sliding doors out to the lanai.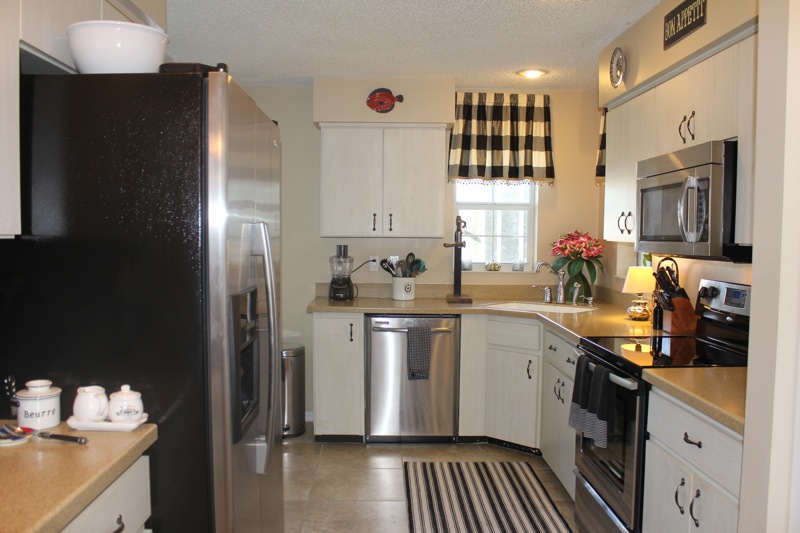 This is the view from the dining room.  I know the kitchen will look so much better with new cabinet doors.  Some of them will be glass panes; maybe the cabinet over the dishwasher.  I would appreciate suggestions.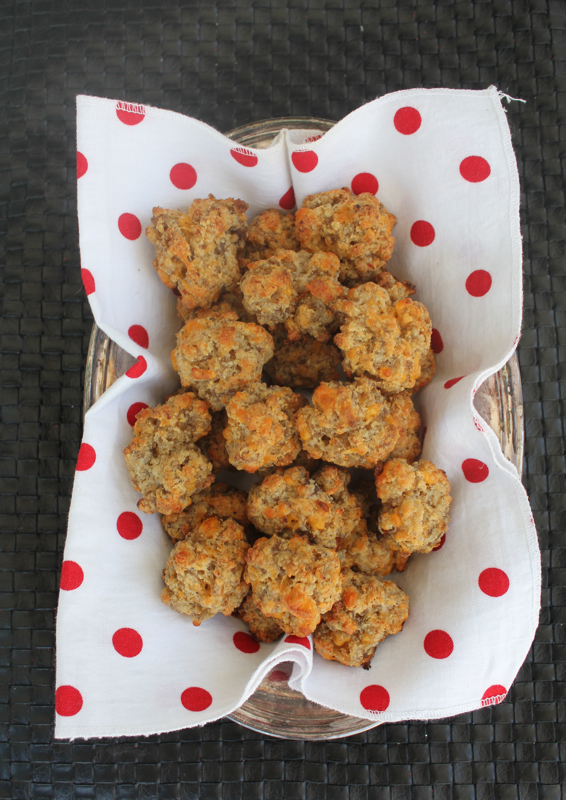 Thanks for stopping by.  Help yourself to an updated sausage cheese ball.  Remember when these were all the rage?  I found this new recipe on Pinterest.  It adds cream cheese to the standard mix and we really enjoyed them.
UPDATED SAUSAGE CHEESE BALLS
1 pound hot bulk sausage
1 8 ounce package cream cheese, softened
4 to 6 ounces shredded cheddar cheese
1 1/4 cups Bisquick
Preheat oven to 375 degrees F.
Mix sausage, cream cheese and shredded cheese with a fork to blend together.  Mix in Bisquick.  You may have to use your hands.  Roll the mixture into 1″ balls and place on a parchment lined baking sheet.  You will need to make them in 3 batches.  Bake for 20 to 25 minutes.  Can be served hot out of the oven or at room temperature.
Printable recipe