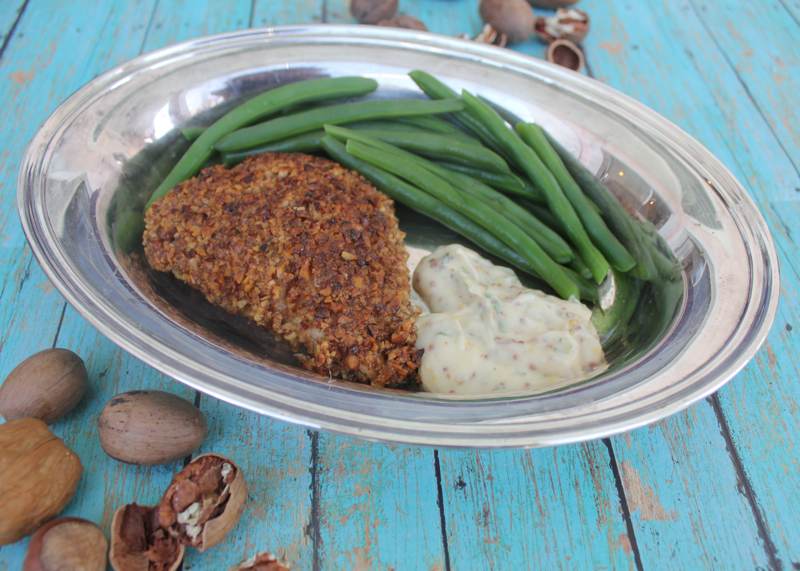 How many ways can you cook a chicken breast?  It is only limited by your imagination.  But this is one of my favorite ways to do it.  There is something very special about putting a pecan crust on a chicken breast.  It is so Southern, and since I have lived in the South for most of my life, it is now in my genes and a part of my cooking style.
There is so much going on right now.  I am sure you are experiencing the same thing.  The panic of  " Oh no, I am not ready for Christmas", the decorating, the gift buying and the pressure to pull out all of the stops with baking and entertaining.  My mantra this year is to relax.  I am doing meals that are easy.  No complicated gourmet dishes are involved.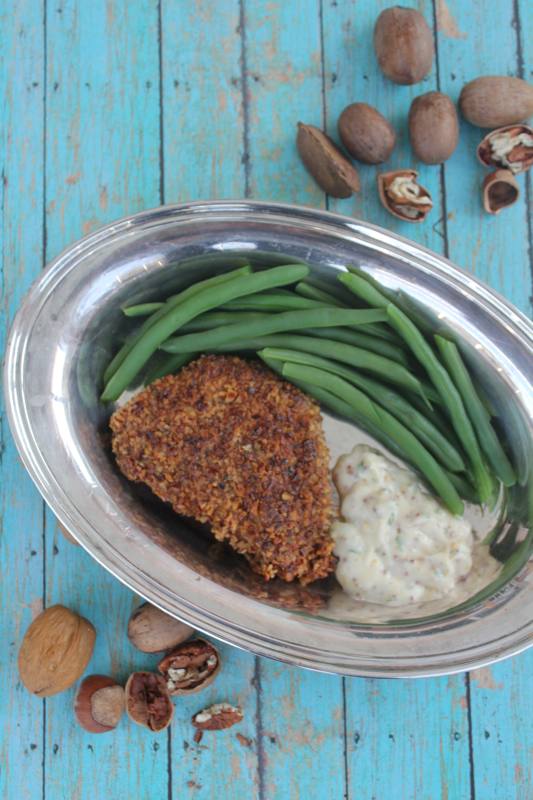 The pecan mixture can be made ahead of time and kept in a baggie in the freezer.  I buy my chicken breasts from Springer Mountain.  They are hand trimmed to 4 ounces each and individually wrapped.  It makes it easy to pull out the number that you need.  The thawing time is quick.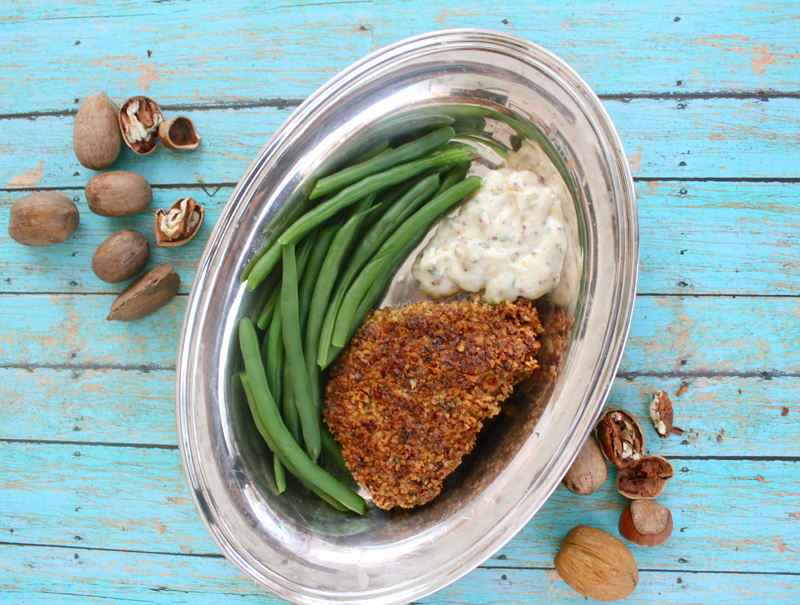 This is an easy week night meal after you have spent the day shopping.  Pair it with sauteed green beans and baked acorn squash.  I used some of the left over pecan mixture in the cavities of the squash along with a little brown sugar and a pat of butter.
PECAN CRUSTED CHICKEN WITH MUSTARD SAUCE ( Adapted from Food and Wine Magazine)
Serves 4
1 cup pecans
2 tablespoons cornstarch
1 teaspoon dried thyme
1 teaspoon paprika
1 1/2 teaspoon salt
Cayenne
1 egg
2 tablespoon water
4 boneless, skinless chicken breasts (about 1 1/3 pounds in all)
3 tablespoons cooking oil
1 cup mayonnaise
2 tablespoons grainy or Dijon mustard
1/2 teaspoon white-wine vinegar
1/2 teaspoon sugar
2 tablespoons chopped fresh parsley
In a food processor, pulse the pecans with the cornstarch, thyme, paprika, 1 1`/4 teaspoons of the alt, and 1/8 teaspoon cayenne until the nuts are chopped fine.  Transfer the mixture to a medium bowl.
Whisk together the egg and the water in a small bowl.  Dip each chicken breast into the egg mixture and then into the nut mixture.
In a large nonstick frying pan, heat the oil over moderate heat.  Add the chicken to he pan and cook or 5 minutes.  Turn and continue cooking until the chicken is golden brown and cooked through, 5 to 6 minutes longer.  Be gentle when you turn the chicken because the pecan crust is delicate.  I transferred the chicken to a small baking sheet and put them in the oven at 350 F for about 10 minutes to be sure they were cooked through.
Meanwhile, in a small bowl, combine the mayonnaise, mustard, vinegar, sugar, parsley, a pinch of cayenne, and the remaining 1/4 teaspoon salt.  Serve the chicken with the mustard dipping sauce.