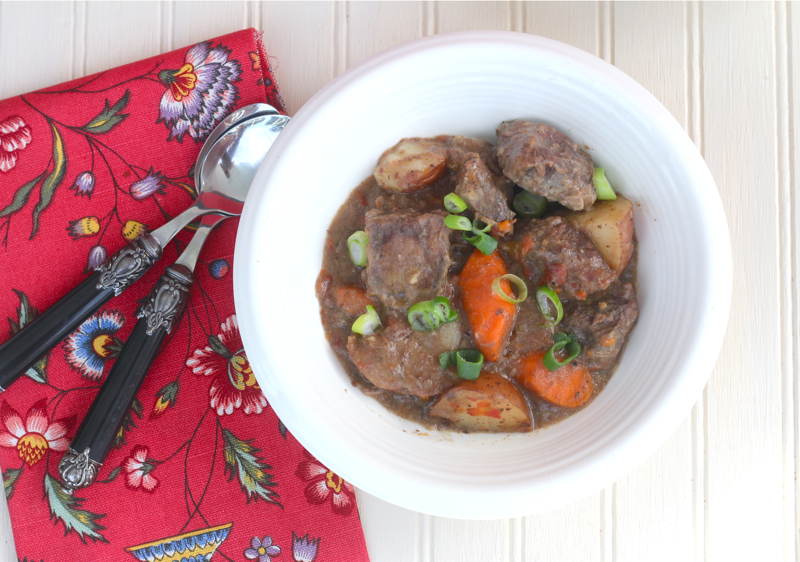 Ginger, garlic, allspice and Mexican tomatoes with green chiles all combine to make this flavorful easy slow-cooker  Caribbean stew.  The winter weather seems to have griped much of our country.  Soups and stews are always welcomed in out household, even though we have not experienced the cold that many of you are facing.  This is my homage to the colder climes.  I remember how effectively a warm fire and a bowl of stew could chase away the bitter cold.  I can still picture us in our northern abode, huddled in front of our hearth clutching warm bowls of stew, spooning their warmth into our mouths, while sipping glasses of  Burgundy wine.  It was a comforting feeling knowing we were snug and warm while the winds blew and the snow swirled outside of our windows.  We are far from that weather now, but I have to admit that I enjoyed it and miss it.  So forgive me for romanticizing winter.  I also know the down side.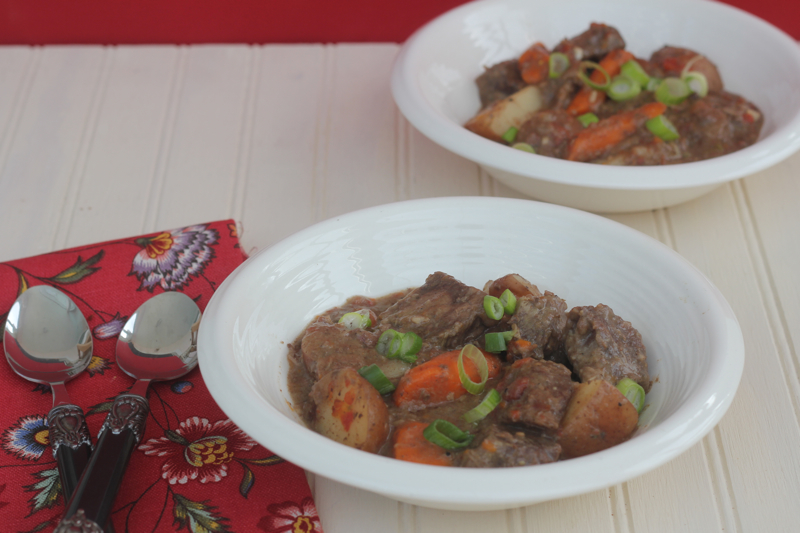 Because I have been so busy, I wanted to enlist my slow-cooker to be my kitchen ally for the day.  This recipe was in last years' Food Network Magazine.  Once the prep work is done, there is nothing more to do for dinner, unless you want to heat some rolls or make a salad.   Stay warm.
SLOW-COOKER CARIBBEAN BEEF STEW
3 sprigs thyme
1/3 cup all-purpose flour
1/4 teaspoon ground allspice
Kosher salt and freshly ground white pepper
2 pounds beef stew meat, cut into 1 1/4-inch cubes
1 pound Yukon gold potatoes, quartered
4 medium carrots, cut crosswise into thirds
1 1-inch piece ginger, peeled and finely chopped
1 clove of garlic, finely chopped
2 teaspoons Worcestershire sauce
1 10-ounce can Rotel (Mexican-style diced tomatoes with green chiles)
4 scallions
Hot sauce, for serving
Strip the leaves from 1 sprig thyme and chop; combine with the flour, allspice, 1/2 teaspoon salt and 1/4 teaspoon white pepper in a large bowl.  Add the beef and toss to coat.  Put the potatoes, carrots, the remaining 2 thyme sprigs, the ginger and garlic in a 5 to 6 quart slow cooker.  Add the beef, reserving any excess seasoned flour in the bowl.  Whisk 1/2 cup water and the Worcestershire sauce into the reserved seasoned flour, then add to the slow cooker.  Pour the tomatoes on top.  Cover and cook on low 7 hours or on high 4 hours.
Add the scallions to the stew and season with salt.  Divide among bowls and serve with hot sauce.