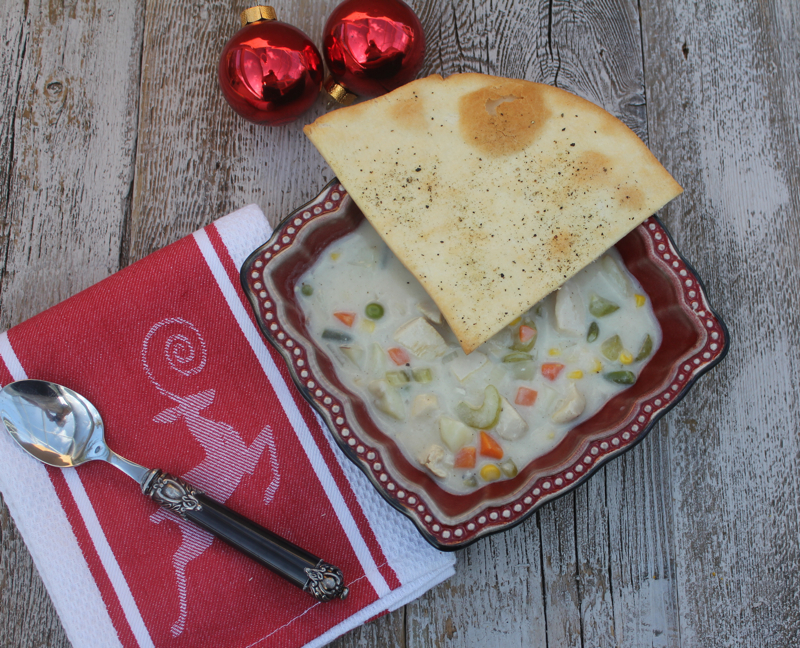 When the weather outside is frightful, nothing tastes better than a hearty soup or pot pie.  To make it even more attractive, this hearty recipe is easy and can be on the table in no time.  Chicken pot pie has always been a favorite dish for me.  My husband, on the other hand, has a slight aversion to it.  When he was a child his Mother often served the convenient Banquet frozen chicken pot pies.  Although she was a good cook, she worked full time as a nurse and it was the 50's.  Women were encouraged to give up home cooked meals for the convenience of such things as TV dinners and pot pies.  David hated those pot pies, so by association, even a homemade one is suspect.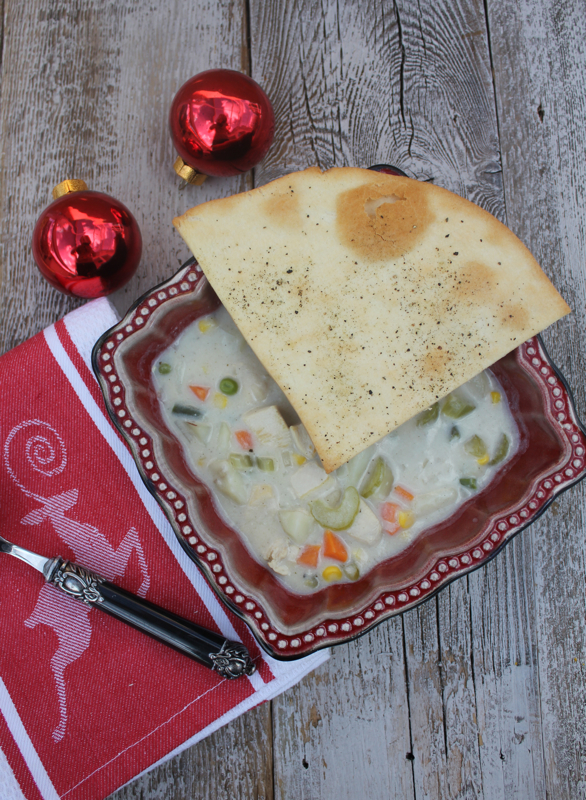 This recipe is called a pot pie soup because the sauce or gravy is a bit thinner than what is usually associated with pot pies.  But it is plenty thick enough.  It is chuck full of chicken breast pieces, celery, onions, potatoes and mixed vegetables.  The soup mixture goes together quickly.  But the star of this show is the crust topping.  It uses a disk of store bought refrigerated pie dough that is baked separately from the filling.  I love the presentation.  All you need to do is crumble the crust over the filling.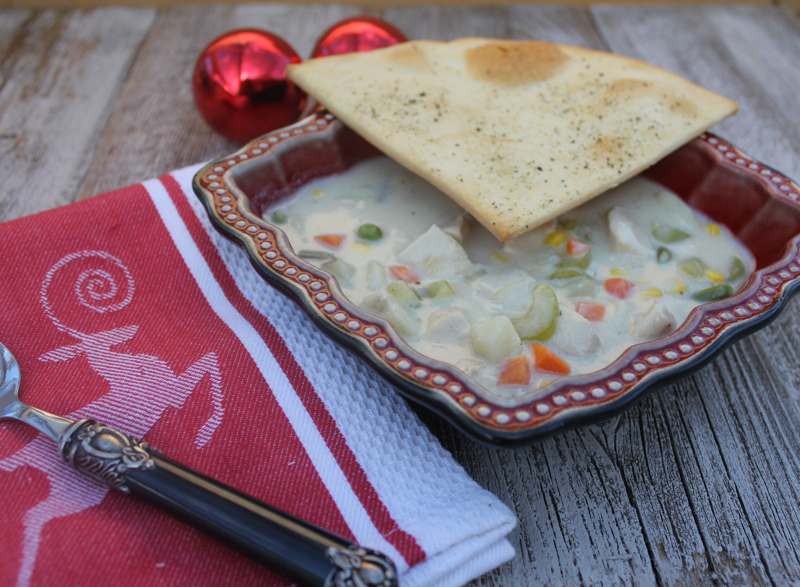 The recipe was featured in last year's Christmas addition of  Food Network Magazine.  Although it uses some convenience items, it is nothing like the frozen version that David grew up with.  He told me that it was the best chicken pot pie he had ever eaten.  That is the best endorsement that it could ever receive. Give it a try.  It will keep you warm and happy.
CHICKEN POT PIE SOUP
1 disk refrigerated pie dough
Freshly ground pepper
1/2 teaspoon plus a pinch of poultry seasoning
2 tablespoons unsalted butter
1 pound skinless, boneless chicken breasts, cut into 1/2-inch pieces
Kosher salt
2 to 3 stalks of celery, chopped
1 medium onion, chopped
1/4 cup all-purpose flour
2 cups water
3 cups low-sodium chicken broth
1 cup half-and-half
3 medium Yukon gold potatoes, chopped
1 10-ounce package frozen mixed peas and carrots or mixed vegetables
Preheat the oven to 425 degrees F.  Unroll the pie dough onto a baking sheet and sprinkle with pepper and  a pinch of poultry seasoning; cut into quarters. Bake until puffed and golden, about 10 minutes.
Meanwhile, melt the butter in a large pot over medium-high heat.  Add the chicken and 1/2 teaspoon salt and cook, undisturbed, 2 minutes, then cook, stirring, 1 or 2 more minutes.  Transfer to a bowl.
Add the celery, onion, flour, 1/2 teaspoon salt and the remaining 1/2 teaspoon poultry seasoning to the pot and cook, stirring, 1 minute.  Stir in 2 cups water, the broth, half-and-half and potatoes; cover and bring to a simmer.  Reduce the heat to medium and simmer, partially covered, 10 minutes.  Add the peas and carrots and simmer until the vegetables are tender, about 6 minutes.  Return the chicken to the pot and simmer until cooked through.  Divide among bowls and top with the crusts.  Serves 4.