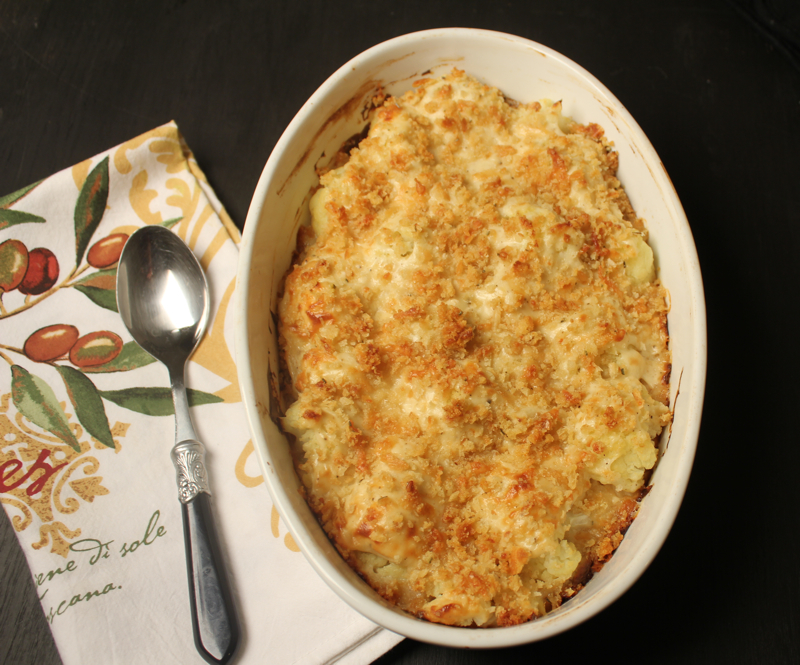 You can never have too many make-ahead casseroles in your arsenal during the holiday season.  Cauliflower recipes seem to be everywhere on the internet and on the cooking shows.  I made a cauliflower, kale and sausage soup recently and it was a real hit.  The thing about cauliflower is that it is such a mild vegetable that it picks up the flavors of anything that you add to it.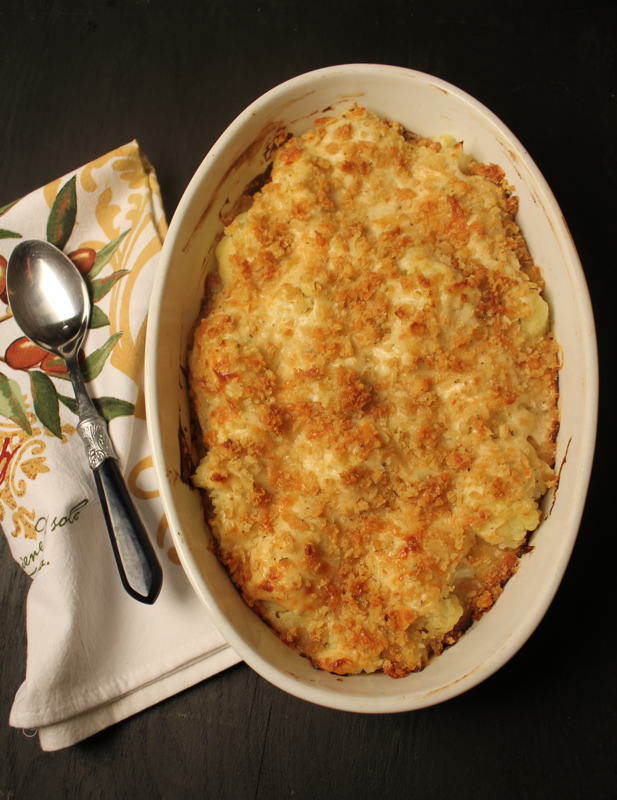 In this case, the additions were a bechamel sauce, Gruyere and Parmesan cheese and a crisp sourdough bread crumb topping.  It doesn't hurt that the recipe came from the Barefoot Contessa.  We were having steaks for dinner the other night and I felt like making something other than potatoes to go with them.  This cauliflower gratin was the perfect choice.  I actually assembled it ahead of time and popped it into the oven when David lit the grill.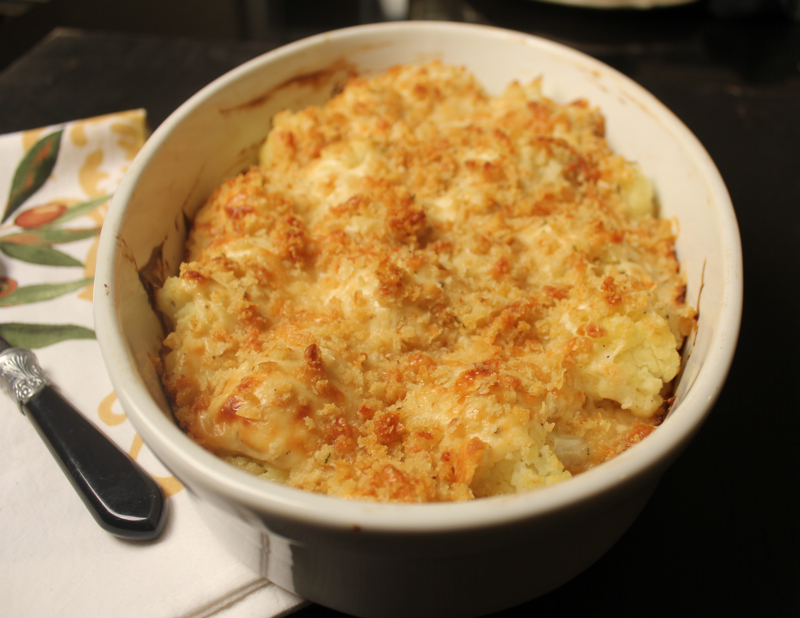 It was creamy, crunchy and delicious.  I am keeping this recipe to share with company.
CAULIFLOWER GRATIN
1 ( 3-pound) head cauliflower, cut into large florets
Kosher salt
4 tablespoons unsalted butter, divided
3 tablespoons all-purpose flour
2 cups hot milk
1/2 teaspoon freshly ground black pepper
1/4 teaspoon grated nutmeg
3/4 cup freshly grated Gruyere, divided
1/2 cup freshly grated Parmesan
1/2 cup fresh sourdough bread crumbs
Preheat the oven to 375 degrees F.
Cook the cauliflower florets in a large pot of boiling salted water for 5 to 6 minutes, until tender but still firm.  Drain.
Meanwhile, melt 2 tablespoons of the butter in a medium saucepan over low heat.  Add the flour, stirring constantly with a wooden spoon for 2 minutes.  Pour the hot milk into the butter-flour mixture and stir until it comes to a boil.  Boil, whisking constantly, for 1 minute, or until thickened.  Off the heat, add 1 teaspoon of salt, the pepper, nutmeg, 1/2 cup of the Gruyere, and the Parmesan.
Pour 1/3 of the sauce on the bottom of an 8 by 11 by 2-inch dish.  Place the drained cauliflower on top and then spread the rest of the sauce evenly on top. Combine the bread crumbs with the remaining 1/4 cup of Gruyere.  Melt the remaining 2 tablespoon of the butter.  Drizzle over the bread crumb mixture.  Stir to combine and then sprinkle the mixture over the gratin.  Bake for 25 to 30 minutes, until the top is browned.