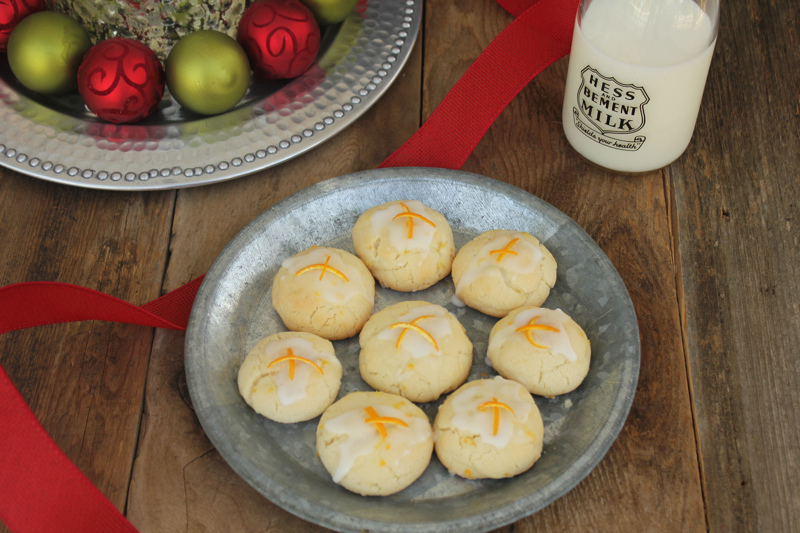 Santa Baby may find these cookies to his liking.  They are not too sweet and have a strong citrusy tang that will keep him going on his rounds.  We will be spending Christmas with the grandkids and their parents this year.  It means a trip back to North Carolina, but it is so worth it.  Christmas through a child's eyes can't be beat.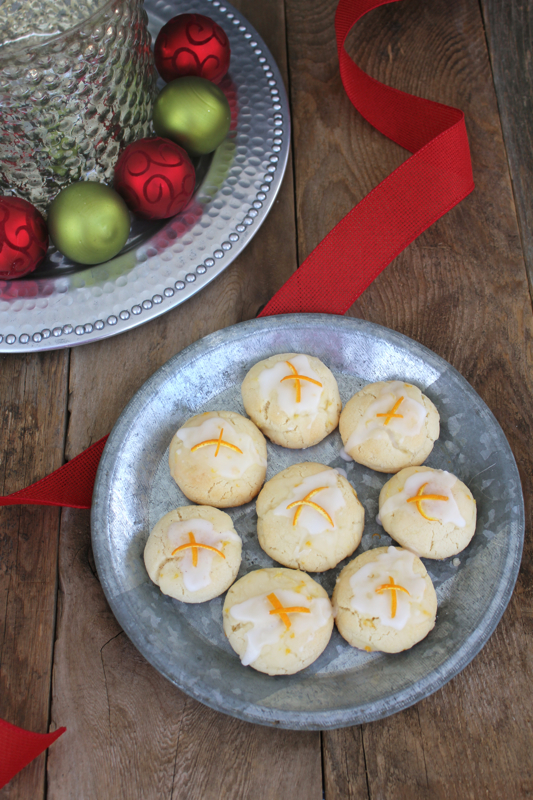 Baking cookies has not been high on my holiday priority list this year.  Since I am trying to simplify and relax this year, baking sweets seemed to be an obvious task to relegate to the "I'll get around to it when I can" list.  Well, I found time this week on a sunny afternoon.  Gifts were ordered on line, the tree was up, wreaths on the door and cards were mailed.  Butter, flour and sugar were calling my name.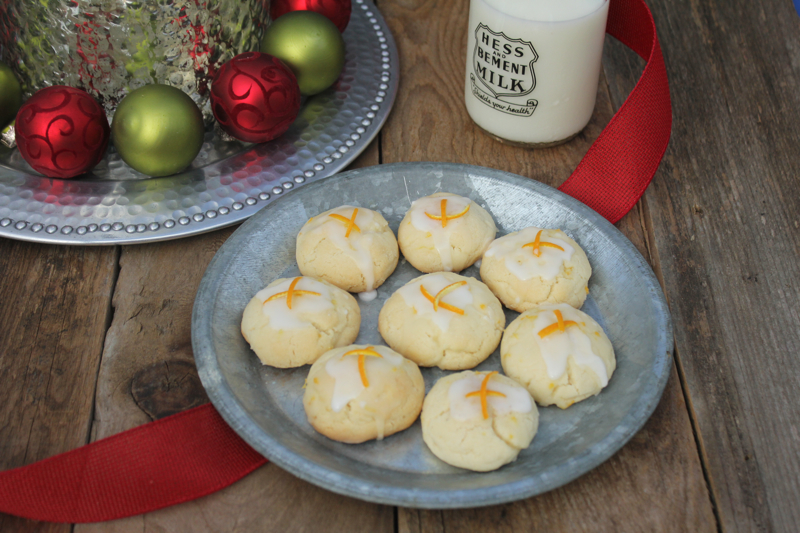 These are very easy cookies to assemble.  I didn't have time or the inclination to do anything more complicated.  They are also very good, even though someone in the family would have preferred chocolate.  That will be coming up next.
GLAZED CITRUS ROUNDS ( The Food Network Magazine)
Makes about 30 cookies
2 cups all-purpose flour
1/4 teaspoon baking soda
1/4 teaspoon salt
1 1/2 sticks unsalted butter, at room temperature
1 1/4 cups granulated sugar
1 1/2 tablespoons finely grated citrus zest (orange, lemon, lime or grapefruit)
2 large egg yolks
3/4 teaspoon lemon extract
1/4 teaspoon orage extract
1 cup confectioners' sugar, sifted
2 to 3 tablespoons fresh citrus juice (use the same kind as the zest)
Whisk the flour, baking soda and salt in a medium bowl.  Beat the butter in a large bowl with a mixer on medium-high speed until smooth.  Add the granulated sugar and 1 tablespoon citrus zest and beat until light and fluffy, about 2 minutes.  Beat i the egg and orange extracts.  Reduce the mixer speed to low; add the flour mixture and beat until a soft dough forms.
Line 2 baking sheets with parchment paper.  Scoop rounded tablespoonfuls of dough about 2 inches apart onto the prepared baking sheets.  Freeze at least 30 minutes or overnight.
Preheat the oven to 375 degrees F.  Bake the cookies straight from the freezer, 1 baking sheet at a time, until the edges are set and the bottoms are lightly browned, 15 to 17 minutes.  Let cool 3 minutes on the baking sheet, then transfer to a rack to cool completely.
Meanwhile, make the glaze: Whisk the confectioners' sugar, 2 tablespoons citrus juice and the remaining 1/2 tablespoon zest in a medium bowl until thick and smooth.  (Add 1 more tablespoon citrus juice if the glaze is too thick.)  Spread on the cookies; transfer to a rack and let set, about 1 hour.