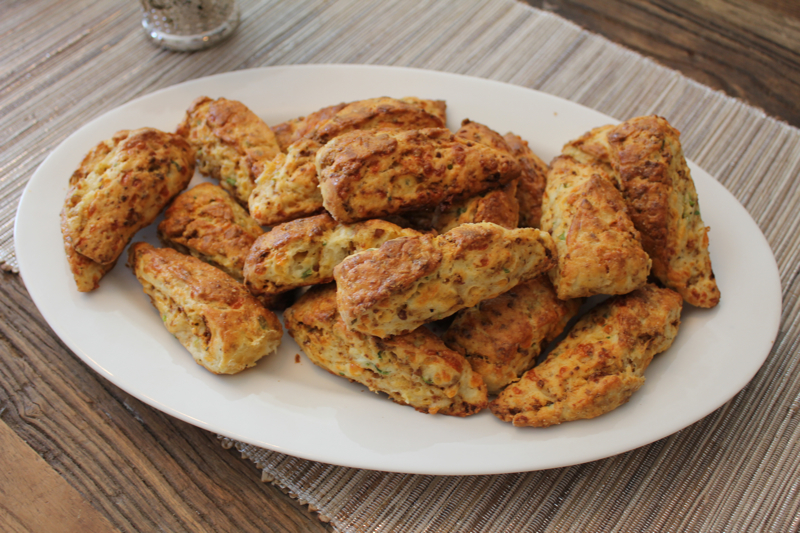 I hope everyone had a wonderful Christmas.  We have been enjoying our time with the family in North Carolina.  Kristen made a delicious Christmas Day brunch that included these savory Chorizo, Cheddar and Chive Scones.  I have always loved sweet scones, but this savory version is very similar to sausage biscuits and is very festive.  Kristen adapted a recipe from King Arthur Flour for Bacon-Cheddar-Chive Scones.  I will give you her recipe here but you can go to their link for the original recipe.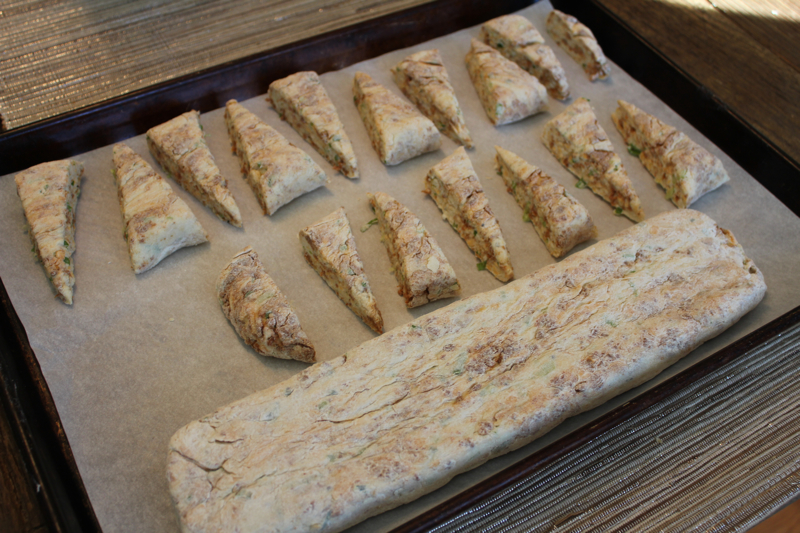 I love the way Kristen cut her scones.  Because we were serving children as well as adults, she formed the dough into a rectangular log and then cut wedge shapes from it on an angle.  This made many smaller scones which were perfect for everyone's appetite.  It also has the advantage of more of the crispy edge surface which I love.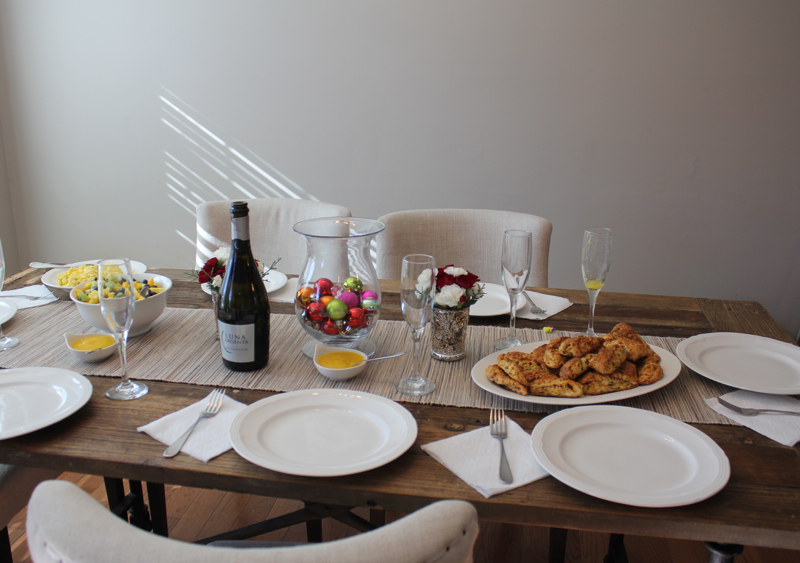 Our Christmas breakfast included the scones, scrambled eggs and a tropical salad of pineapple, mango and blueberries with mango bellinis for the adults and mango sparkling water for the children.  These scones will be making a repeat appearance on my New Years'  brunch table.
CHORIZO, CHEDDAR AND CHIVE SCONES
2 cups (8 1/2 ounces) King Arthur  Unbleached All-Purpose Flour or Perfect Pastry Blend
1 teaspoon salt
1 tablespoon baking powder
2 teaspoons sugar
4 tablespoons (1/2 stick, 2 ounces) cold  butter
1 cup (4 ounces) very coarsely grated or  diced cheddar cheese
1/3 cup (about 1/2 ounce) snipped fresh chives, or finely diced scallion tops (the  green part, 3/4 ounce)
1/2 pound chorizo sausage links, casing removed, crumbled, sauteed and drained on paper towels
3/4 cup + 2 tablespoons (7 ounces) heavy cream or whipping cream, or enough to make the dough cohesive
Preheat the oven to 425°F. Lightly grease a baking sheet, or line it with parchment.
1) Whisk together the flour, salt, baking powder, and sugar.
2) Work the butter into the flour until the mixture is unevenly crumbly, with some of the butter remaining in larger pieces.
3) Mix in the cheese, chives, and sausage until evenly distributed.
4) Add ¾ cup of the cream, stirring to combine. Try squeezing the dough together; if it's crumbly and won't hang together, or if there are crumbs remaining in the bottom of the bowl, add cream until the dough comes together. Transfer the shaggy dough to a well-floured work surface.
5) Pat the dough into 2 smooth  disks about ¾" thick. Transfer the disks to the prepared baking sheet.
6) Use a knife or bench knife to cut the disks into small wedges, spreading the wedges apart a bit on the pan.
7) Brush the scones with a bit of cream; this will help their crust brown.
8) Bake the scones for 20 to 24 minutes, until they're golden brown. Remove them from the oven, and cool right on the pan. Serve warm, or at room temperature.