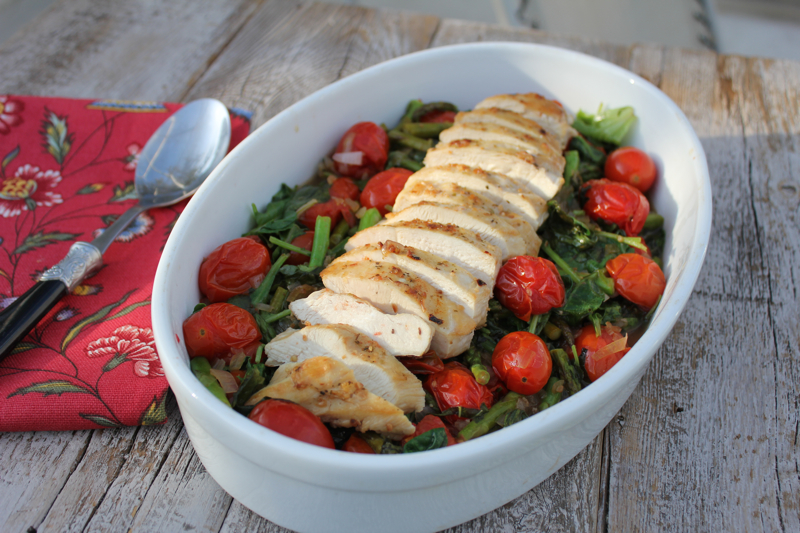 To continue the Greens of Winter theme, I made this flavorful and simple chicken dish that utilizes convenient store-bought products.  It was a featured recipe in Publix's Aprons Simple Meal Program.  Every week they feature recipes from products on their aisles.  All of the ingredients are gathered at the cooking station so that, if, after sampling the dish and it is to your liking, you can gather all of the ingredients to make it; all in one place.  Genius!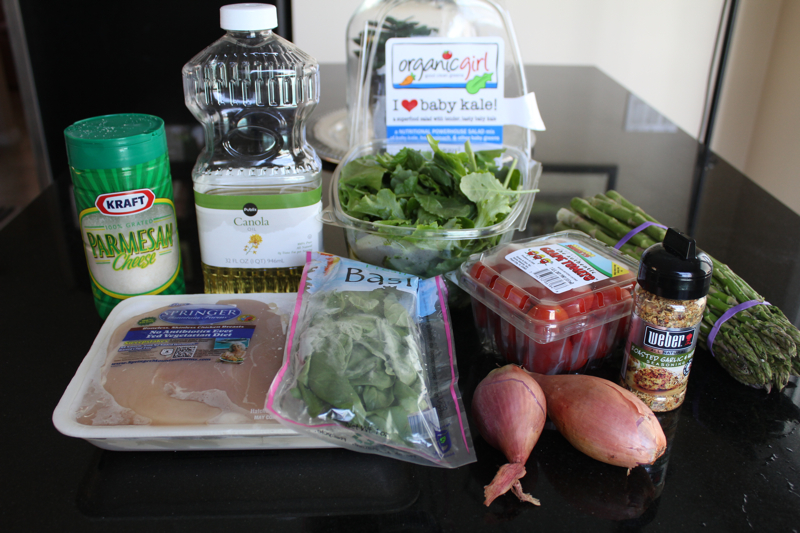 Here are the major players in the dish.  I forgot to include the red wine vinegar and the sugar, but you get the general idea.  The Aprons Program is a wonderful idea for harried cooks and working families who have very little time to shop, but still want to serve their families home-cooked meals.  This was almost just as simple as ordering a pizza or stopping for take-out chinese food.  Nutritionally there is no contest. It is low in fat and full of healthy ingredients.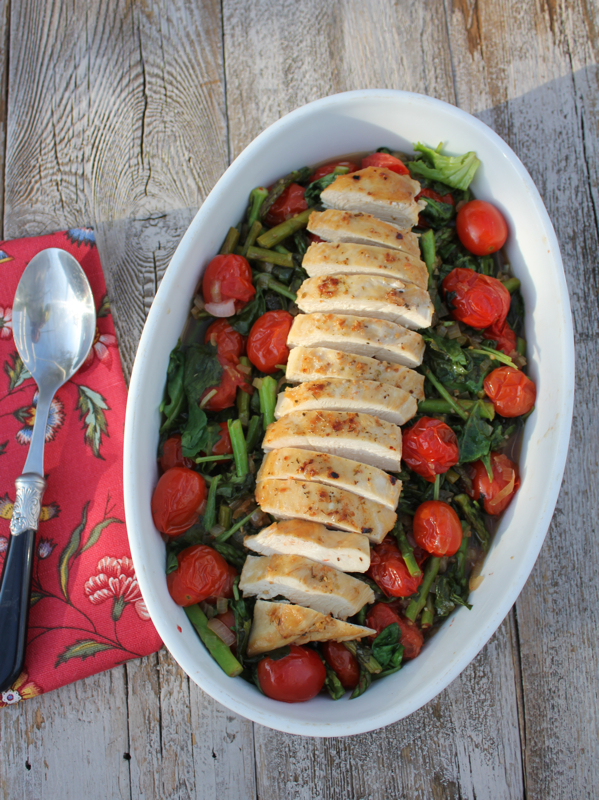 The only addition I made to this meal was a pot of mashed potatoes.  A brown and wild rice mix would also be good.  I think we are off to a great start in the New Year.
CHICKEN OVER WARM KALE AND ASPARAGUS SALAD (Publix Aprons Simple Meals)
1 ( 3 oz ) package shallots, coarsely chopped
1/2 cup fresh basil leaves, coarsely chopped
1/2 lb fresh asparagus spears
1 3/4 lb boneless skinless chicken breasts
1 1/4 teaspoon garlic/herb seasoning, divided
2 tablespoon canola oil
1 pint grape tomatoes
3 tablespoon sugar
1/4 cup red wine vinegar
1 ( 5 oz ) container kale salad blend
1/4 cup grated Parmesan cheese
PREP: Chop shallots and basil.  Cut asparagus into 1-inch long pieces, removing tough root end.
STEPS:
1. Preheat large saute pan on medium-high 2-3 minutes.  Season chicken with 1 teaspoon garlic/herb seasoning (wash hands).  Place oil in pan, then add chicken; cook 4-5 minutes on each side or until browned.
2. Reduce heat to low.  Stir in tomatoes and shallots; cook and stir 2-3 minutes or until tomatoes are softened.
3. Combine vinegar and sugar, then stir into tomato mixture; cook 8-10 minutes, turning chicken occasionally, or until liquid has reduced by about one-half and chicken is 165 degrees F.  Remove chicken from pan; let stand 5 minutes to rest.
4. Stir kale, basil, asparagus, and remaining 1/4 teaspoon seasoning into tomato mixture; cook 1 minute or until salad is wilted.  Transfer salad to serving plates; slice chicken and arrange on top of salad.  Sprinkle with cheese; serve.  Serves 4.