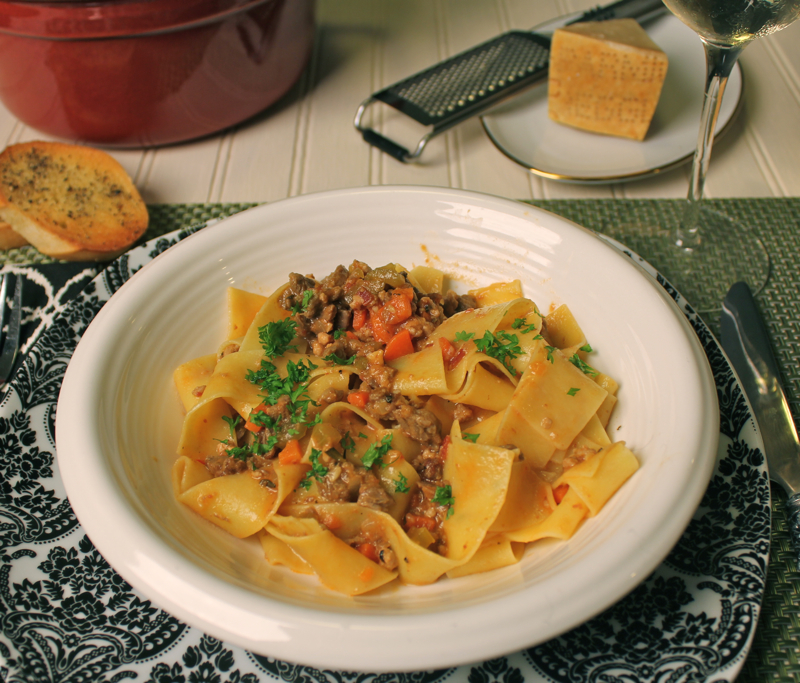 One of the most trusted and influential food authorities of our era is Alice Waters.  Her innovative Chez Panisse restaurant set the bar high for high quality seasonal food provided by local sources.  One of her latest books, The Art of Simple Food, is a classic for our time.  So many new cookbooks have overblown recipes and complicated fey ingredients.  The beauty of this book is that it offers basic techniques that can be expanded upon.  It is perfect for the novice cook or for old hands like me, who want definitive recipes for classic dishes.  I have been searching for a great Bolognese sauce.  I found it in Alice's book.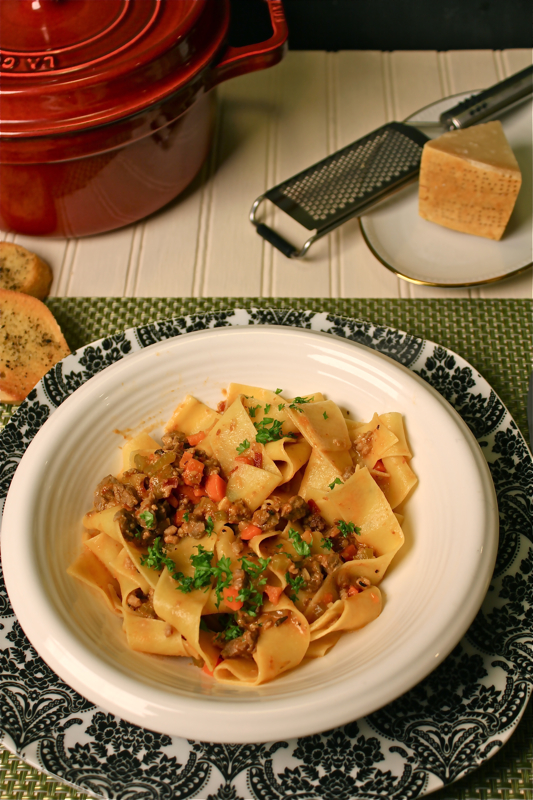 Bolognese Sauce is a rich vegetable and beef studded mixture that relies more on beef broth, wine and milk than on tomato sauce.  Waters' classic rendition uses skirt steak, pancetta and ground pork for the meat mixture.  She suggests that the sauce is time consuming to make and recommends doubling the ingredients so that you have some sauce in reserve for a future meal.  I did not find it too time consuming.  I just pictured myself as an Italian Signora making her Sunday gravy.  Nothing to it really.  Of course if I had made my own Pappardelle pasta by hand, I might have felt overwhelmed.  But we have a wonderful Italian Market in town that has authentic egg pappardelle pasta.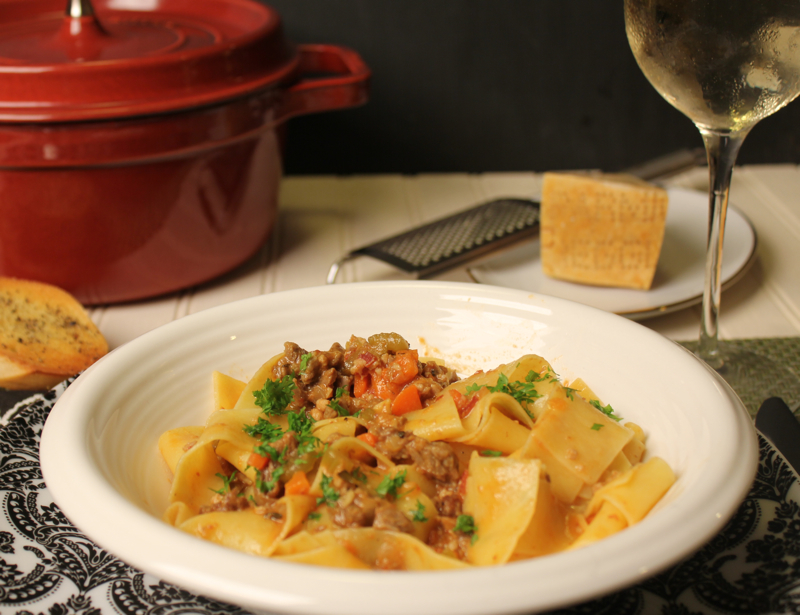 This was a satisfying simple meal.  Alice Waters' credentials are impeccable.  I may try her version of Minestrone next.  See my Favorite Reads on the sidebar if you are interested in getting The Art of Simple Food.  I will be ordering copies as wedding gifts for future weddings to which we are invited.  This generation of cooks deserve the best advice and Alice Waters delivers.  What cookbook would you recommend for a novice cook?
We will be traveling to Washington DC this week.  Among other things, I plan to visit Julia Child's kitchen again at the Museum of American History.  It has been moved and updated.  We have rented a small apartment in Dupont Circle and plan to also visit lots of good restaurants in the area.  I will try to keep you updated on our trip.  I hope we do not get stuck in a blizzard on The Mall.
ALICE WATERS' BOLOGNESE SAUCE
Heat in a large heavy-bottomed pot:
1 tablespoon olive oil
Add:
2 ounces pancetta, diced fine
Cook over medium heat until lightly browned, about 5 minutes.  Add:
1 small onion, diced fine
1 celery stalk, diced fine
1 carrot, diced fine
2 garlic cloves, finely chopped
5 sage leaves
2 thyme sprigs
1 bay leaf
Cook over medium heat, stirring occasionally, until tender, about 12 minutes
While the vegetables are cooking, heat in a large heavy-bottomed pan, preferably cast iron:
1 tablespoon olive oil
Add and brown over medium-high heat, in two batches:
1 pound skirt steak, cut into 1/8-inch cubes
4 ounces pork,ground
Cook until the meat is a nice chestnut color.  Once all the meat is browned, pour in:
1 cup dry white wine
Reduce the wine by half, scraping the brown bits off the bottom of the pan.  Add the browned meat and the deglazing juices to the tender vegetables with:
2 tablespoons tomato paste
Salt
Measure and stir together:
2 cups beef or chicken broth
1 1/2 cups milk
Pour enough of this liquid into the pot to bring it to the level of the meat and vegetables.  Simmer gently until the meat is very tender, about 1 1/2 hours.  As the liquid reduces, keep topping it up with the rest of the broth and milk, and skimming the fat that rises to the surface.
When the meat is tender, remove the sauce from the heat and season to taste with more salt, if needed, and:
Fresh-ground black pepper
Variations:
Include 1/4 cup dried porcini, soaked, drained, and chopped fine, with the diced vegetables.
Other cuts of beef can be used instead of skirt steak.  Chuck or hanging tenderloin will make a delicious sauce, although hanging tenderloin will require at least an hour more of cooking time to become tender.  During the additional cooking time it may be necessary to add more broth or milk to keep the sauce from becoming too dry.