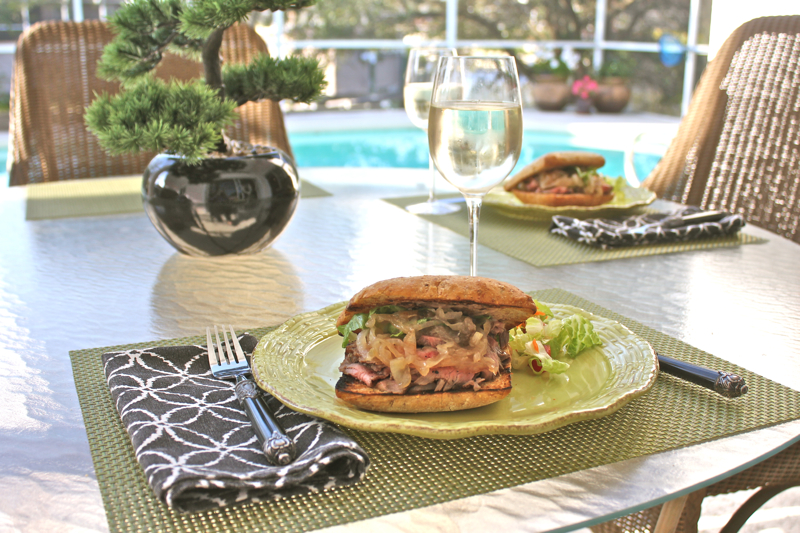 One of the first posts that I shared with you when we arrived in Florida for the Winter was a meal that we had on our lanai.  You can see it here.  It just seemed appropriate that the last meal that I share with you from Florida would also be outside on the lanai.  We are leaving for Lake Lure on Sunday.  This delicious sandwich is one that I posted three years ago, but it is special so I wanted to repeat it in case any of you missed it.  It is one that I made for a contest on Food 52.  I didn't win the contest, but it is still a winner in my opinion.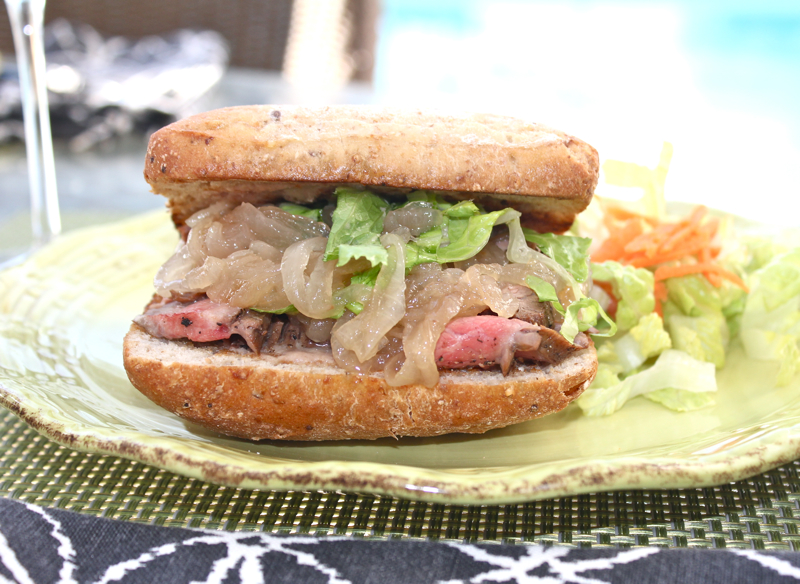 There are several components to the sandwich.  All of them can be done ahead of time.  The flank steak can and should be grilled ahead of time.  You can use your own favorite marinade or the one I have included here.  If you want to skip this step, you could always get some good deli roast beef.  The pear horseradish mustard is easy to make and the extra will keep in the refrigerator for at least a month.  It gives an interesting kick (but not hot) to the sandwich.  The onion marmalade has a nice sweet and sour flavor, more sweet than sour, that compliments the mustard.  This sandwich is best served on toasted ciabatta bread. The whole sandwich brings together the elements delightfully.  I love it.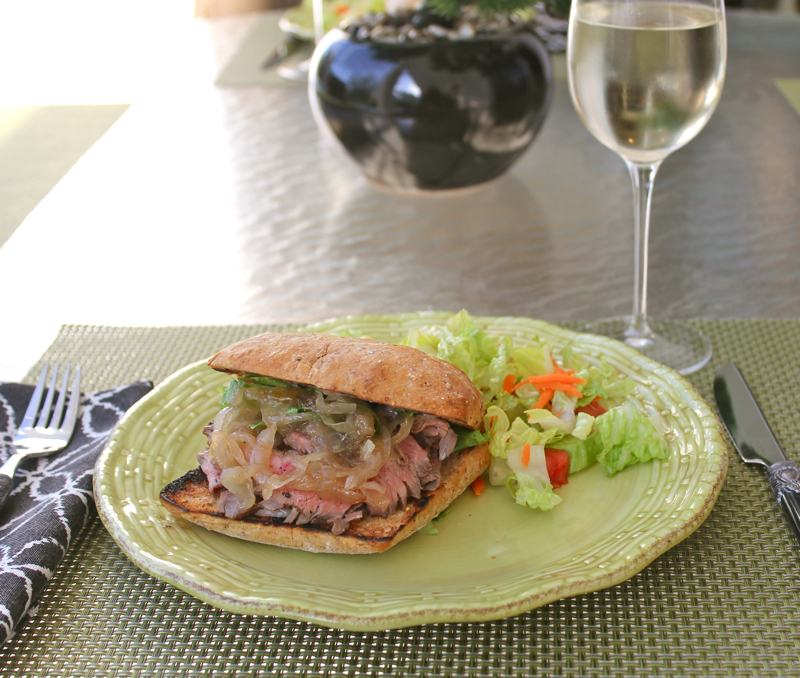 The weather was warm and sunny on the evening that we enjoyed this meal.  It got cold again the next day and we have had cloudy skies and rain.  I have no idea what we will find in North Carolina, but like all of you, I am ready for Spring.  We are packing and looking forward to being back.  I miss my Lake Lure Kitchen.  See you back there soon.  I am linking this to Tasty Tuesday at The Comforts of Home.
GRILLED FLANK STEAK SANDWICH WITH SWEET CARAMELIZED ONIONS AND PEAR HORSERADISH MUSTARD
Serves 4
For the Flank Steak and Sweet Onion Marmalade:
Marinade Ingredients (Simply recipes)
1/3 cup olive oil
2 cloves garlic, minced
2 Tbsp red wine vinegar
1/3 cup soy sauce
1/4 cup honey
1/2 teaspoon freshly ground black pepper
Other ingredients
2 pounds flank steak
Kosher salt
Freshly ground pepper
2 Large Vidalia onions, halved and sliced
3 tablespoons Canola oil
3 tablespoons Sugar
3 tablespoons Red Wine Vinegar
1/4 cup Water (May or may not be needed)
1.Marinate the flank steak in the marinade ingredients in the refrigerator for at least 2 hours or overnight.
2.While steak is marinating, heat the 3 tablespoons of oil in a large skillet. Add the sliced onions and cook over moderate heat until the onions become soft. Add the sugar and cook stirring for a few minutes. Add the vinegar and turn the heat to low and cook until almost all of the liquid has evaporated. If the onions are not as soft as you would like, add the water and simmer, stirring, until mixture is slightly thickened and onions are very tender, about 10 minutes.
3.Prepare grill. Remove steak from marinade and grill it over hot coals turning once until it reaches your desired doneness. Medium rare to medium works best. Remove steak and let rest before slicing it into thin strips.
For the Pear Horseradish Mustard and Final Assembly:
4 Ripe Pears, peeled and chopped
1/2 cinnamon stick
1 bay leaf
6 peppercorns
1/4 cup Red Wine Vinegar
1/2 cup Red Wine
1 10 ounce bottle of Grey Poupon Dijon Mustard
2 tablespoons Creamy Horseradish
4 Ciabatta rolls, split and cut side browned in an oiled pan
Chopped lettuce for garnish
1.Wrap the cinnamon stick, bay leaf and peppercorns in a small piece of cheesecloth and tie with kitchen string. Add the chopped pears and cheesecloth bag to a large saucepan with the red wine vinegar and wine. Bring the mixture to a boil and reduce heat to simmer. Cook uncovered for about 20 minutes or until the liquid has reduced. Cool slightly and remove cheesecloth bag. Puree the mixture in a food processor. Add the pear puree to a large bowl along with the Dijon mustard and the horseradish. Stir to combine. The pear horseradish mustard keeps, covered and chilled for 1 month.
2.Assemble the sandwiches. Spread the split and toasted ciabatta rolls with 1 tablespoon pear horseradish mustard per side (or to taste). Add the sliced steak and the onion marmalade. Garnish with lettuce. Enjoy!