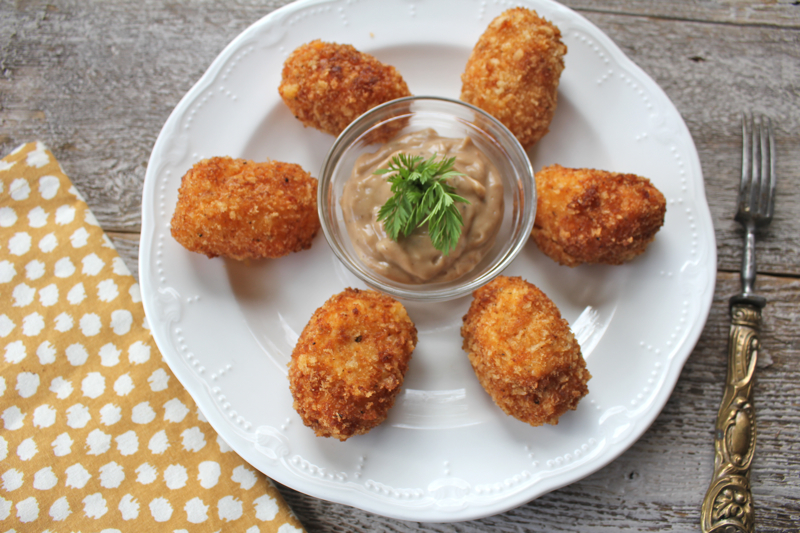 My husband is always getting me into trouble.  He was watching the Food Network show, The Best Thing I Ever Ate, the other day and said, "Come here, you have to see this".  He rewound the program and we watched as a food truck guy explained how he made homemade tater tots.  I scribbled a few things on a piece of paper and stashed it away in my food folder.  The recipe  was not shared on The Food Network website.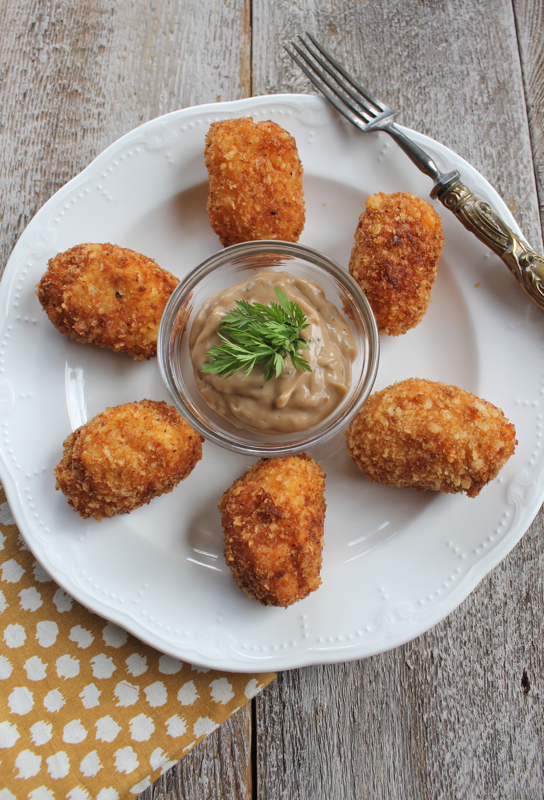 I finally had a chance to try making the Potato tots a few nights ago and they were outstanding; crispy on the outside and rich and creamy on the inside.  The malt vinegar aioli was an easy recipe from Bobby Flay.  We usually try to stay away from deep fried food and I never buy tater tots in the grocery store, but I have to say that I would definitely make these again.  They are a special treat.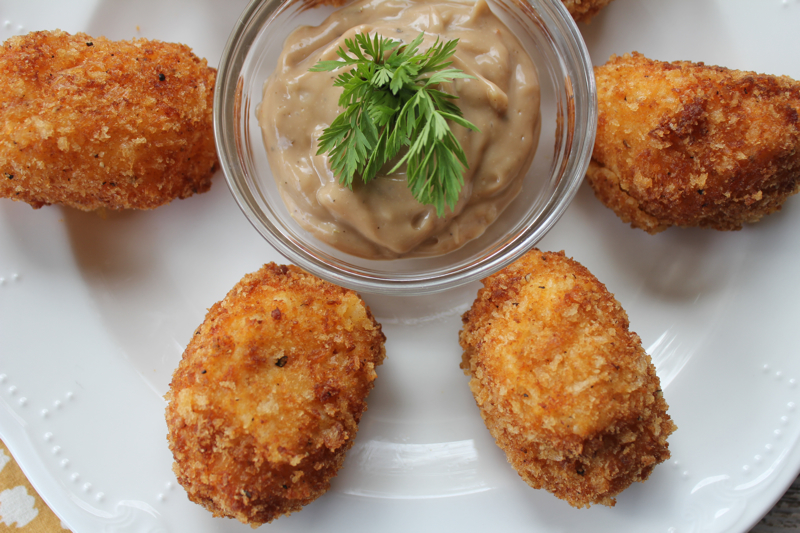 Go ahead and give them a try.  Betcha can't eat just one.  I am linking this to Tasty Tuesday at The Comforts of Home.
POTATO TOTS WITH MALT VINEGAR AIOLI
4 medium baking potatoes, scrubbed
1/2 to 3/4 cup Pepper Jack Cheese,grated
1/2 to 3/4 cup Sharp Cheddar Cheese, grated
1 teaspoon garlic powder
1 teaspoon paprika
Flour for dusting
2 eggs beaten
1 cup or more of Panko crumbs, seasoned with more garlic and paprika
Enough canola oil for deep frying
Place potatoes in a pot of cold water.  Bring to a boil and cook until they are just tender.  Drain and cool slightly.  Peel off the skins and then grate them into a large bowl.  Add the cheeses, garlic powder, paprika and salt and pepper to taste.
Roll the potatoes into small cyllnders and place on baking sheet.  Put flour, eggs and panko crumbs in 3 separate bowls.  Dust the potato mixtures in flour, then the egg and then cover with the panko crumbs.  Return each cylinder to the baking sheet.  Place the potato tots in the refrigerator for about 30 minutes to set the crumb mixture.
Heat enough oil in a large pot to just cover the potato tots and when it is shimmery cook the tots in batches until golden brown on each side.  This should not take long.  Drain on Paper towels and serve with the Malt Vinegar Aioli.
MALT VINEGAR AIOLI ( I halved this recipe)
1 cup prepared mayonnaise
1/4 cup malt vinegar
2 garlic cloves, mashed into a paste
1 tablespoon Dijon mustard
1 tablespoon finely chopped fresh tarragon leaves, or 1/2 teaspoon dried
Salt and freshly ground coarse black pepper
Mix all together in a small bowl and serve.