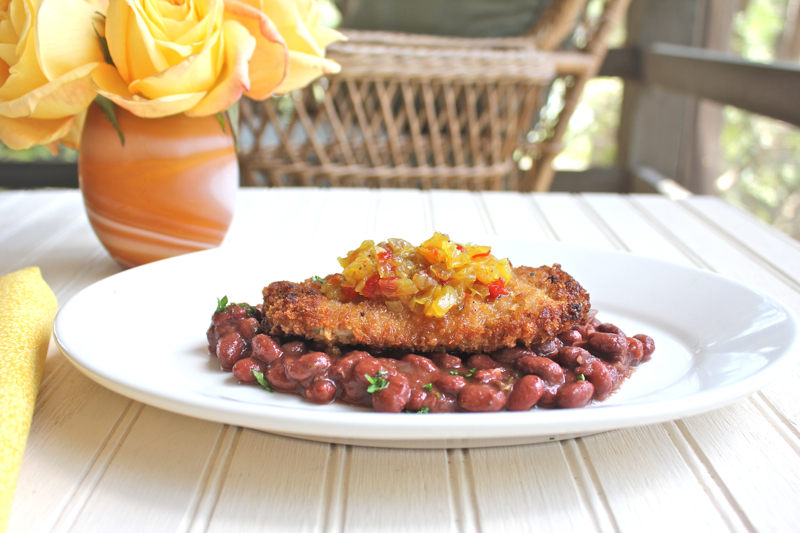 Last week my friend Penny and I had our annual first Spring shopping trip to Asheville.  We always like to stop for lunch at Fig, our favorite French bistro.  It was a lovely day and we ate on the patio.  Penny ordered the Pork Schnitzel with Cranberry Beans and Chow Chow.  Here is how it looked.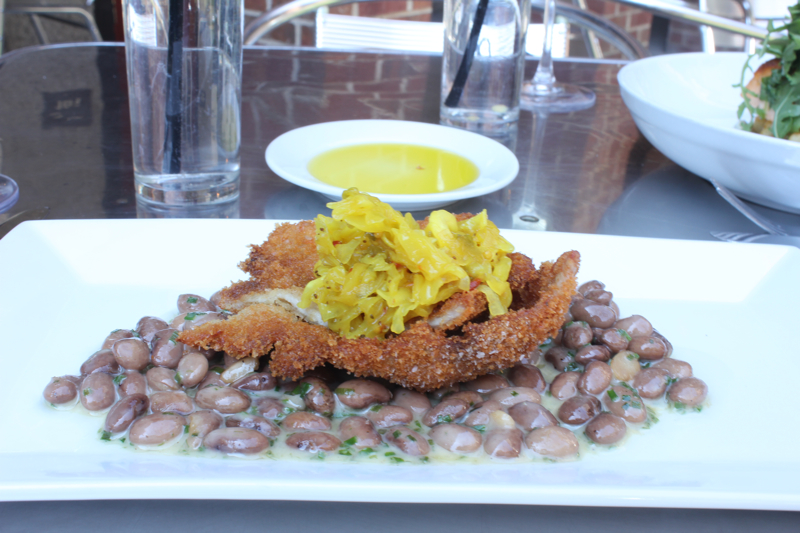 She said it had a lot of flavor.  The flattened pork tenderloin was slathered in mustard before being breaded in Panko crumbs and deep fried.  The smooth cranberry beans and piquant chow chow relish sounded to me like the perfect balance of flavors.  So I had to see if I could make it at home.  I am very happy with the results.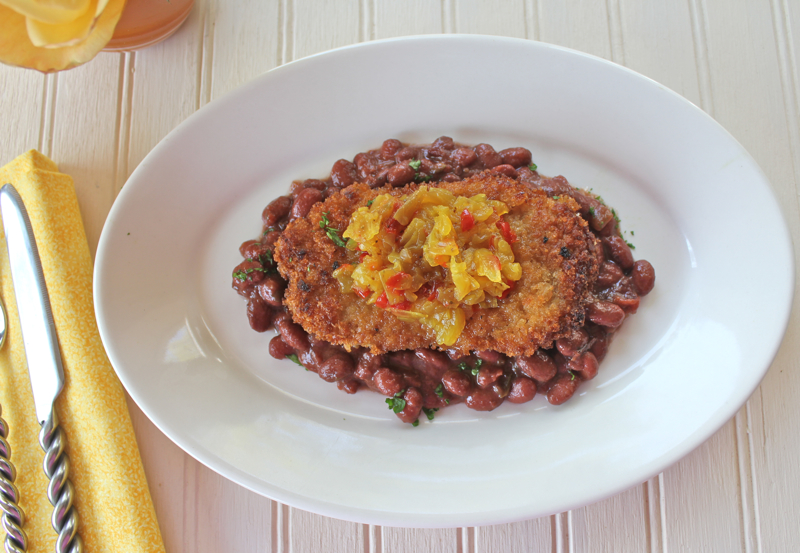 I could not find cranberry beans, so I substituted simple red beans.  I pan fried the flattened pork tenderloin filets after dipping them in flour, thinned Dijon mustard and Panko crumbs.  I bought the chow chow relish at a local roadside stand.  This made a wonderful meal.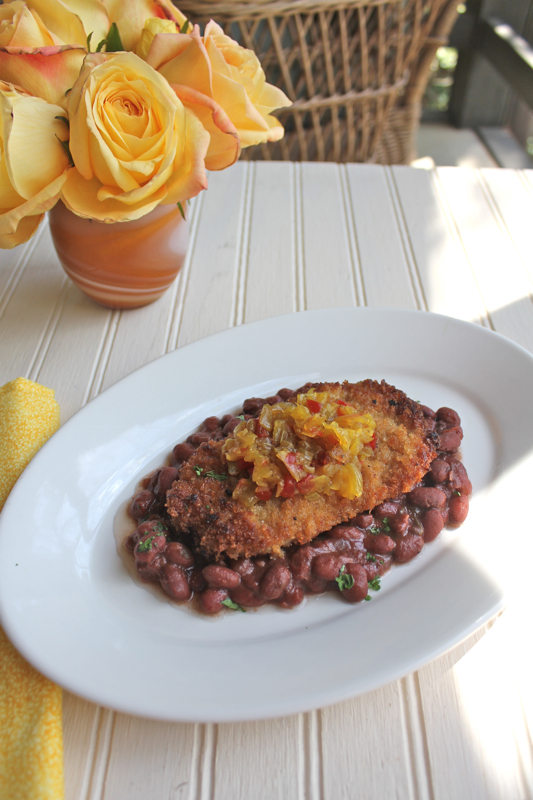 It feels good to get inspirations from a restaurant and be able to come up with a new and special dish.  Although this came from a French inspired restaurant, it has all of the earmarks of a true Southern dish, albeit with German overtones.  I guess you could call it Global.  I am linking this to Tasty Tuesday at Penny's Comforts of Home.
PORK SCHNITZEL WITH RED BEANS AND CHOW CHOW
1 (1 1/2 lb.) Pork Tenderloin, trimmed and cut into 3-inch pieces.  You should get about 5 pieces
1/2 cup flour
Salt and pepper to taste
1/2 cup Dijon mustard thinned with a little water (You may need more)
1 cup Panko crumbs
Enough vegetable oil to come to 1/2 inch in a large skillet
Pound each pieces of pork tenderloin, cut side up, between 2 sheets of waxed paper until the meat is very thin.  Dip each piece into flour that has been seasoned with salt and pepper.  Then coat with mustard mixture.  Finally dip into panko crumbs to cover.  Place the pieces on a sheet pan and refrigerate for at least 30 minutes to set the crumbs.
Heat oil in the large skillet.  When hot, saute the pork pieces until they are browned on each side.  Watch carefully so they do not burn and adjust heat as needed.  You may have to do this in batches.  When they are well browned they should be done.  Keep warm in slow oven if you are not ready to serve.
Place each individual pork cutlet on top of a serving of the red beans on individual plates.  Top with store bought or homemade chow chow relish.
RED BEANS
Cook beans according to directions on a one pound bag of dried beans.  One hour before beans are done, saute one chopped onion with 1 cup of cubed ham until onions are soft and ham is browned.  Add to the bean pot along with 1/2 cup of cider vinegar and 1 tablespoon of sugar.  Season with salt and pepper.  When beans are soft, add 1/4 cup of chopped parsley and serve.