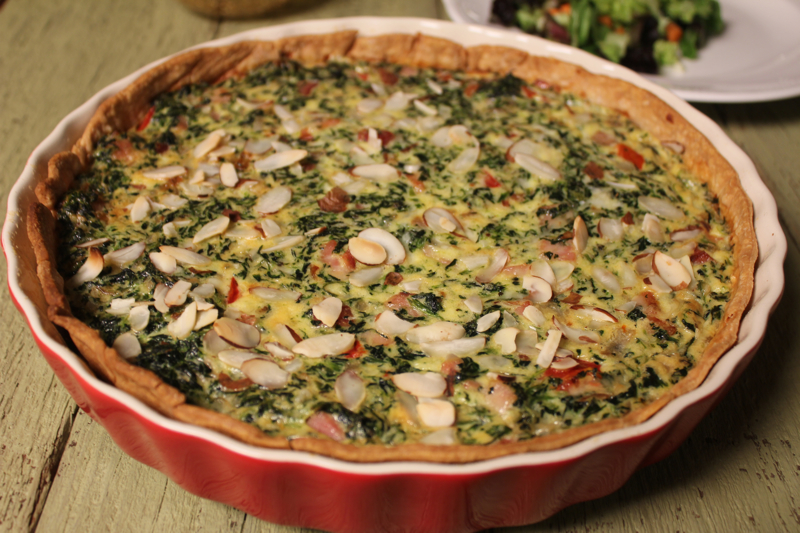 There are many foods that we associate with Easter; ham, eggs and chocolate bunnies to name a few.  In Italy this Spinach Torta is made around Easter time to celebrate the season.  There are many versions of the dish.  Some are made with a yeast crust and a lattice top.  Some top the dish with pine nuts, instead of the almonds that I used.  I added ham to my version.  To me this would make a perfect brunch dish to celebrate Easter.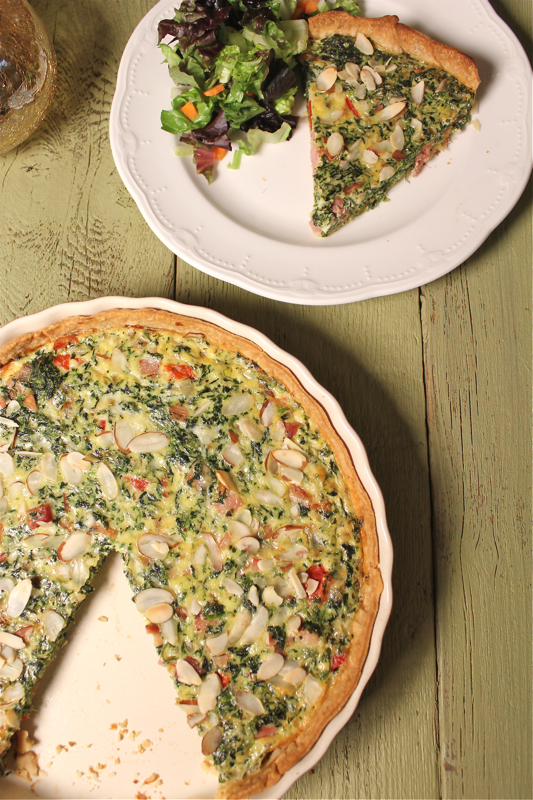 The torta is an Italian version of a quiche.  The flavor additions include Mozzarella and Parmesan instead of Swiss or Gruyere, Italian seasonings instead of a hint of nutmeg and a pine nut or almond topping.  The spinach, eggs, roasted red peppers and cream round out the dish.  Since I was in a hurry I used a store bought pie crust, but you could certainly make your own or leave it out completely.  I actually made another version of this torta a few years ago that is also great to make ahead of time for a brunch party.  Here is the link.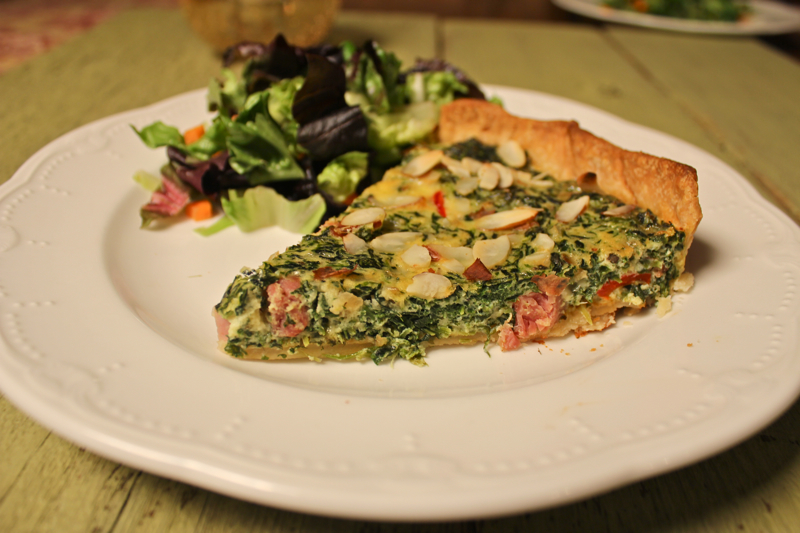 This makes me wish for a trip to the Amalfi Coast.  Since that is not possible, David and I will be attending The East Tennessee Italian Fest blogger party at Big Dude's Almost Heaven South on Saturday June 7th.  For details see Larry's post here if you are interested in joining us.  I am linking this dish to Tasty Tuesdays at the Comfort of Home.
TUSCAN SPINACH TORTA RUSTICA
1 Refrigerated Pie Crust or Homemade 1 crust pie pastry
1 Tablespoon Dijon Mustard
2 Tablespoons butter
1 cup diced cooked ham
1/2 cup chopped red onion
1 9 ounce package frozen chopped spinach, thawed and squeezed dry
1/4 cup diced roasted red pepper
1/2 teaspoon dried basil
1/2 teaspoon dried oregano
1/4 teaspoon garlic powder
Salt and pepper to taste
4 eggs, beaten
1/2 cup heavy cream
1/4 cup shredded Mozzarella cheese
1/4 cup shredded Parmesan cheese
1/2 cup sliced almonds
Preheat oven to 425 degrees F.  Fit pie crust into 10-inch tart pan or 9-inch pie plate.  Blind bake in oven for 5 minutes.  Remove foil or parchment paper lined bean weights.  Paint bottom of pie crust with mustard.  Return pie crust to oven and bake for 5 more minutes.  Remove, set aside and reduce oven to 350 degrees F.
Melt 2 tablespoons butter in a large saute pan over medium high heat.  Add ham and onions and cook until onions are soft and ham is slightly browned.  Add red peppers, spinach and seasonings and cook a few minutes to meld flavors.
Beat eggs in large bowl.  Add cream and shredded cheeses.  Add the spinach mixture from the skillet and stir to combine well.  Place in prepared pie crust.  Sprinkle almonds over the top.  Place tart pan in oven and bake for 25 to 30 minutes or until custard is set.